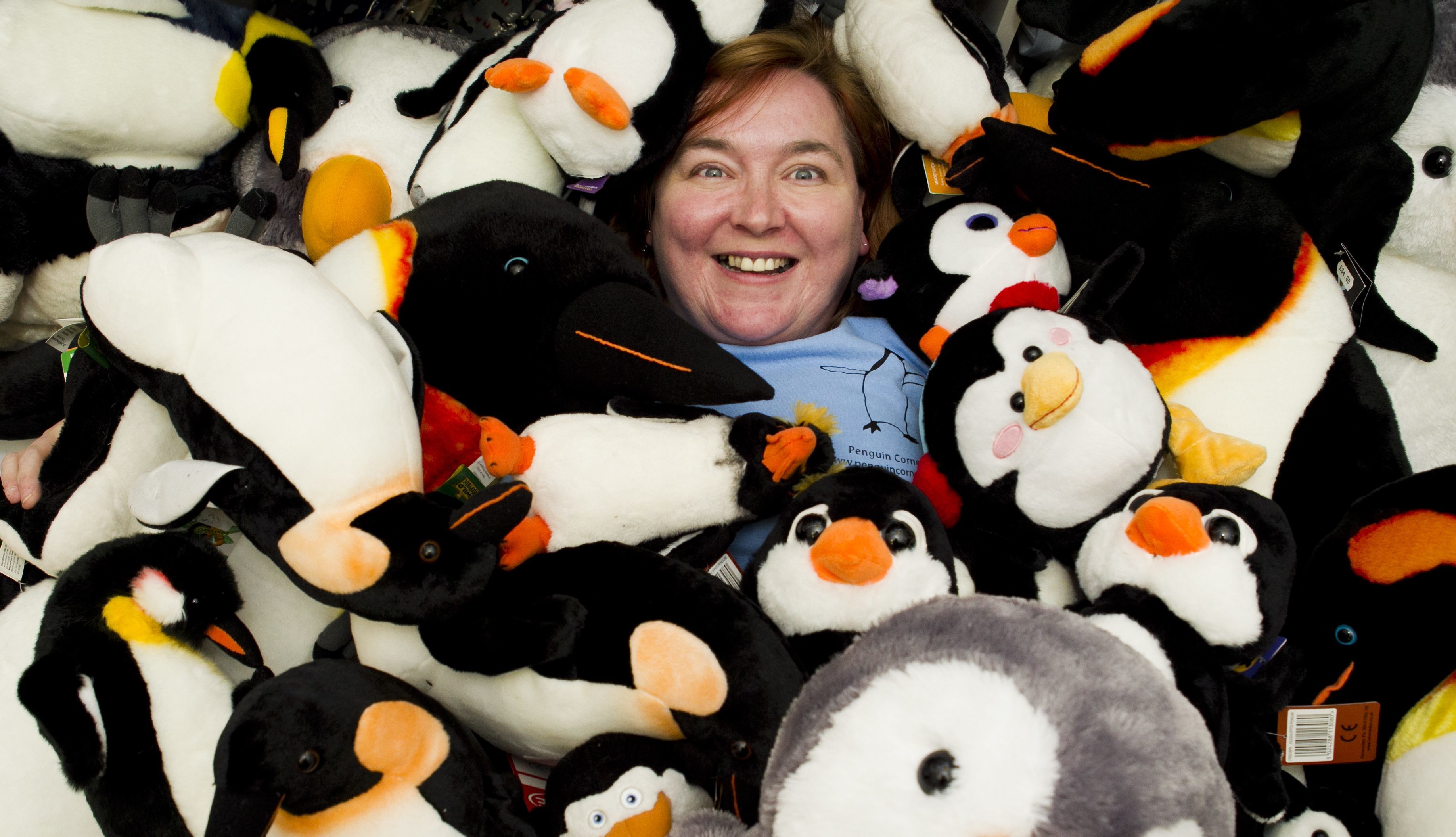 GILLIAN SLOAN went on holiday to the Antarctic – and came back with the p-p-p-passion of a lifetime.
An encounter with 100,000 penguins on a remote shore saw her fall in love with the creatures. Now Gillian – known locally as the "mad penguin lady" – runs a Fort William shop devoted to every kind of gift featuring her feathery friends.
Husband Gwyn has hand-counted at least 400 – from 40p pencils to hefty £260 ornaments – with more than double that available through their website.
That has seen orders flood in, even from as far afield as the penguin-packed Falkland Islands.
And the couple's love affair with the birds is such that they travelled all the way to South Africa to take part in an international penguin conference.
"I always liked them but I wasn't obsessed. It was that trip to South Georgia, the Falklands and Antarctica back in 2004 that changed everything," Glasgow-born Gillian told The Sunday Post.
"I found myself on a beach filled with them and the sight – and the smell – was just amazing. It was overwhelming being surrounded by so much nature. It was sensory overload.
"You're not supposed to get within five metres, but no one had told the penguins and one was actually nibbling my feet. I just totally fell in love with them."
When Gillian and Gwyn came back they tried to buy each other penguin Christmas presents and, failing to find any, reckoned there could be a market.
Once they moved back from London to Scotland seven years ago they set up picture-framing shop, Gallery In The Fort, in the Highlands town and started adding a few penguin items for sale.
The initial 40 available in the shop and through the penguin corner.co.uk website soon rocketed as Gillian came across more and more accessories.
Bibs, sunglasses, scarfs, purses, handbags, pendants, cufflinks, rugs, hot water bottles, bone china plates and salt and pepper sets are just a few of the items now filling all corners.
"Soft toys are the biggest sellers but there's everything from bedding to a full penguin costume too," says Gillian.
"We've had orders from just about every corner of the world.
"Unofficially we're known as 'the penguin shop' and I know some people call me the mad penguin lady. There are worse things I could be called!"
As well as surrounding herself with penguins every day, Gillian has swotted up on the creatures which fascinate her so much.
The couple travelled to Bristol for a conference and then went much further last year, to South Africa.
"I knew a fair bit about them before but I learned so much at the conference," added Gillian.
"There was a lot about the foraging habits and their diet. I've seen all sorts now including Kings, Rockhoppers, Adelies, Gentoos, Macaroni and Chinstraps.
"They are such brilliant, hardy little animals. You can't help but love them.
"The South Africa conference was an academic one but we went to see some beforehand and when we got off the bus there were 20 experts clicking away like tourists at the first one we saw."