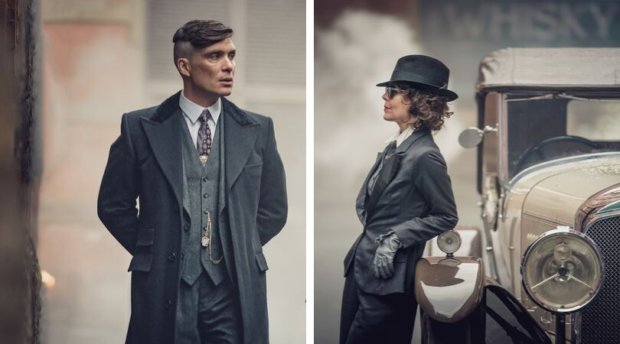 She has dressed some of the brightest stars in some of the biggest movies in Hollywood.
But, it's styling TV's Peaky Blinders that has won Alison McCosh new acclaim on this side of the Atlantic.
The costumes for the moody but dapper mobsters of 1920s Birmingham have been hailed by critics as the fifth series of the BBC drama hurtles to a close tonight.
Alison, 51, has been the costume designer behind the last two series as the Blinders sport an eclectic twist on 1920s glamour, helping to fuel the craze for Peaky-inspired styles on the high street.
So impressive is the Peaky aesthetic that David Beckham has created a fashion line inspired by the show, while series five's first episode saw a 300% increase of searches for baker boy caps on eBay.
The online resale site has also seen searches for overcoats double, a 135% increase in searches for three-piece suits and a 55% rise in people searching for flapper dresses.
And the Office for National Statistics recently added the Peaky Blinders gang's signature peaked caps to a list of UK shoppers' top buys.
So what is it about the Peaky Blinders costumes that resonates so much with fans?
"I think basically everyone just wants to be Tommy Shelby," laughs Alison, who was nominated for the BAFTA for best costume design last year.
"He's got such a strong visual, and when he's walking about in those overcoats and iconic suits, he has such a presence, such power.
"What I find so interesting about Tommy is that he's basically a thug, but everyone still loves him.
"And I think it's because we know he's got a good heart and we know his background and what he's been through.
"Everyone's always rooting for that underdog, and that keeps people watching."
As part of a small production team, Alison, from Glasgow, works extremely closely with Cillian Murphy, who plays iconic gangster Tommy Shelby, and Helen McCrory, who plays Shelby family matriarch Aunt Polly, to create their signature looks.
"It's very much a collaborative process – it's so important to listen to the actors when it comes to the costumes," she said.
"Working with Cillian and Helen, or any of the actors, you really have to make sure that you listen to them and what they think about the process because they're the ones who are playing the role and they have to feel right in what they've got on.
"They have to feel that what they're wearing is what that character would wear and that what I've created for them is in line with where they are with the character and tells their story well."
Coming in as the show's fourth costume designer has meant Alison has had many other shoes to fill. However, she knew exactly what she wanted to do aesthetically, especially for the female characters. "When I started on the show, we're at 1927, so time has passed a little since the last series, which meant it was slightly easier for me to put my own mark on things," she says.
"Tommy Shelby was still at the forefront, but I'm always interested in who's behind, and who is that in this show? It's the women.
"Who does Tommy rely on? The women.
"So for me, I wanted to bring the female characters forward stylistically and really make them present and on an equal level to the men.
"It was about bringing in more bold choices, especially for Polly as she's such a strong character.
"I wanted to have her and all the other women front and centre, side by side with their male counterparts."
Alison sources original garments for the characters from all over the world, but it's right here in Scotland that many of the key pieces in season four and five hail from.
"All of the pieces are either made from scratch, or we find an authentic vintage piece and adapt it," she said.
"Starry Starry Night, a vintage shop in Glasgow's West End is a fantastic source for me, and Tommy's new glasses were designed by Iolla, a small glasses company with shops in Glasgow and Edinburgh."
Returning to Scotland five years ago after a long career in Los Angeles, working on films like The Hangover, GI Joe and X-Men: Days Of Future Past, Alison has come full circle.
She now lives on the outskirts of Glasgow with her husband and twin daughters, 10.
"I started out doing a fashion course at Cardonald College in the 1980s," she says.
"Then I went travelling, ended up in America and had a very lucky meeting at a Hollywood studio. They liked me and decided to train me up and the rest is history.
"I've now worked all over the world, but one of the interesting things about coming back here was realising that my heart has always really belonged to Scotland.
"I find working here so rewarding because many of the projects have such shoe-string budgets and you really just have to work hard with what you can and be clever with resources, whereas in Hollywood, there's always money.
"I'm so glad to be back and raising my kids here because I really wanted them to have a normal childhood.
"The only thing I have to admit I would maybe swap for Los Angeles is the weather."
---
Alison on Polly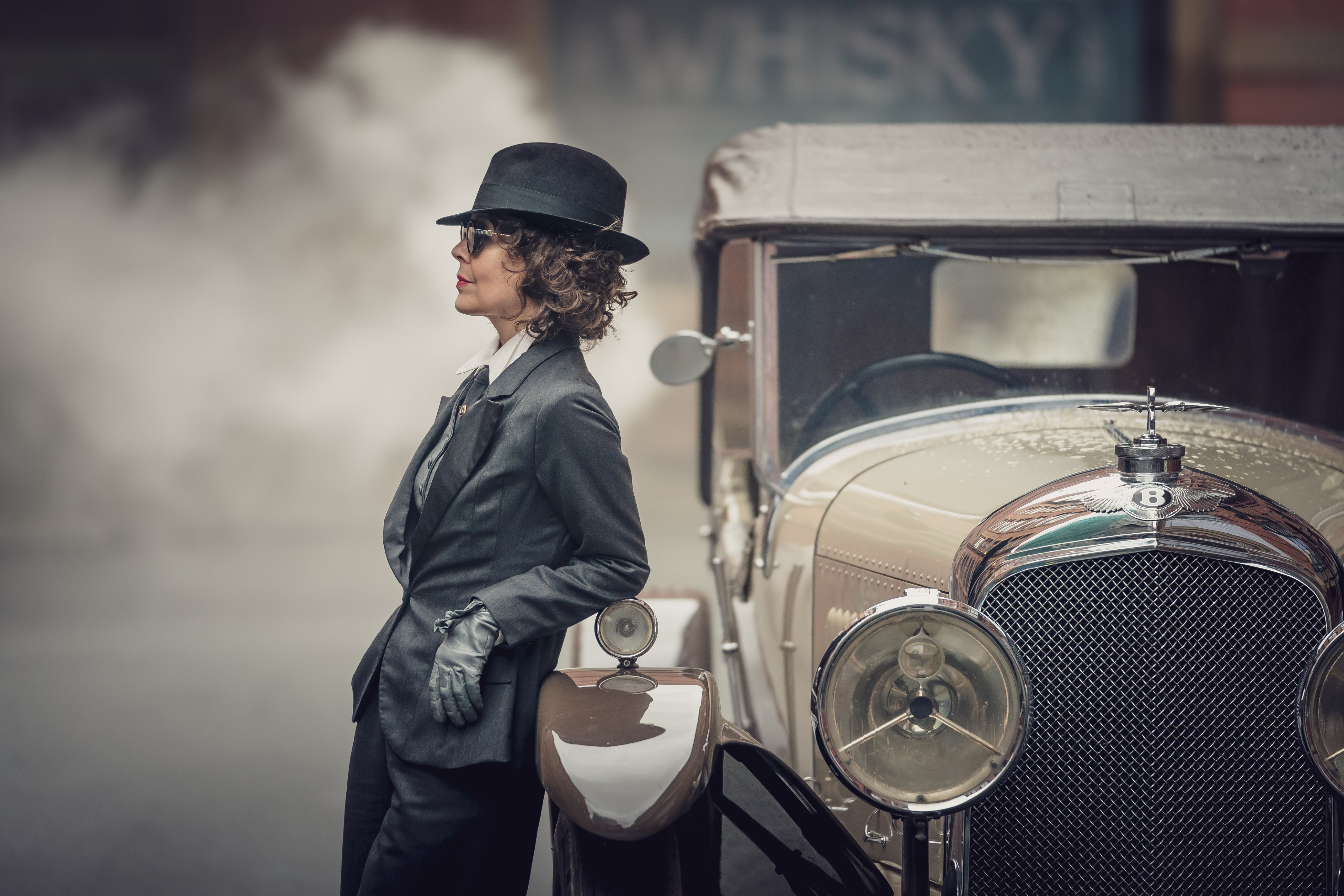 So with Polly, she's becoming a lot stronger, a lot bolder and that's really reflected in her costumes in season four and five.

I really loved the idea of putting her in trousers and a suit just to make a real statement. "You can really see the transition in Polly from season one – each season and costume designer has added something to reflect her growing wealth.

Now the whole family is at the height of money, of course, and Polly is really embedded in that wealth and power and that really projects now, with the fabrics, the colours, the intricacies of the materials.

There's really a portrayal of status now projected through their clothes.

But it's also reflected in the set – you can see their wealth in their homes, their possessions, their art. There was a coat I actually found in Paris and we adapted it with the fur. Fur is really a statement of wealth in the 1920s. The dress was an original piece, which was slightly falling apart, so we had to restructure it, and added the appliqué on top and the belt.
---
Alison on Tommy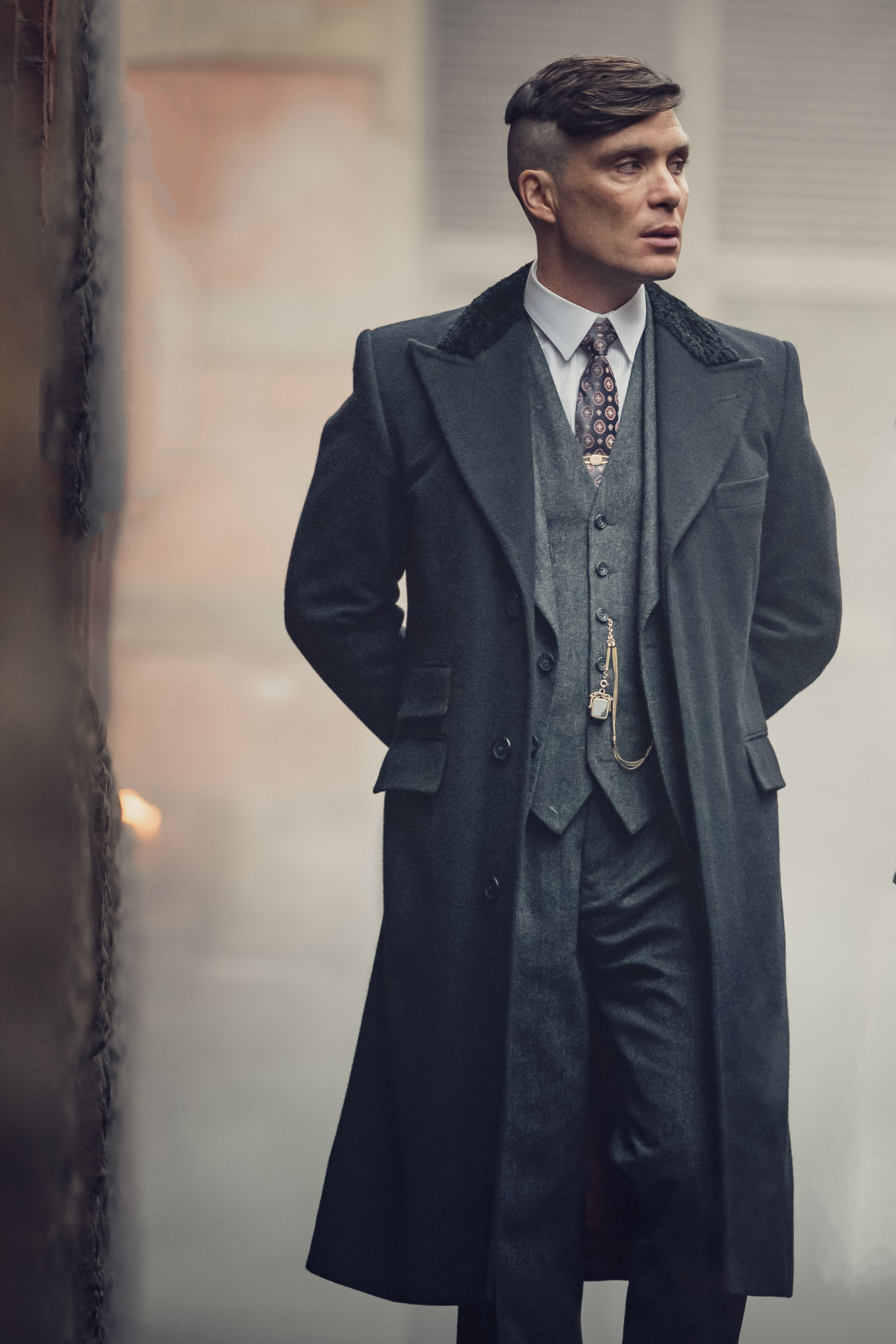 As we move through the timeline with Peaky Blinders you can really see the reflection in the character's costumes.

For example with Tommy, in season four, he's getting into politics, so that's conveyed through the sharpness of his hat, his suit, the colours and the textures.

His woollen coat also really represents that power of his character.

It's all conscious. I've also included a move into bluer tones to reflect the fact he's getting into higher society now.

Tommy also gets glasses in series four – Cillian loved that idea – and I used Scottish glasses company Iolla for the frames.

I had found an original vintage pair that I loved for him. I liked the size, I liked the shape, but the colour was off ever so slightly. I'd heard about Iolla, and I love supporting small, entrepreneurial companies and also like to bring it back to Scotland.

So I contacted them to see if they could help out, and they were able to manufacture several pairs for the show. Because you can't just have one old vintage pair that are hanging on for dear life.

They're great, though, because they're a replica of the actual vintage piece. But what was great was that they could adapt them specially for Cillian's face.
---
The Peaky Blinders series finale is on tonight at 9pm on BBC1.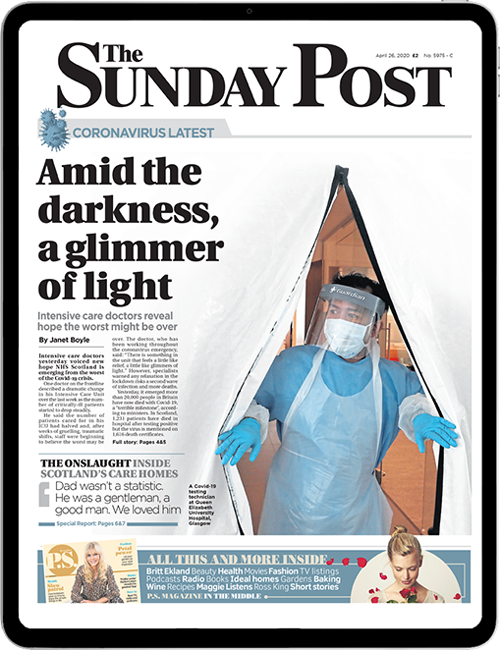 Enjoy the convenience of having The Sunday Post delivered as a digital ePaper straight to your smartphone, tablet or computer.
Subscribe for only £5.49 a month and enjoy all the benefits of the printed paper as a digital replica.
Subscribe