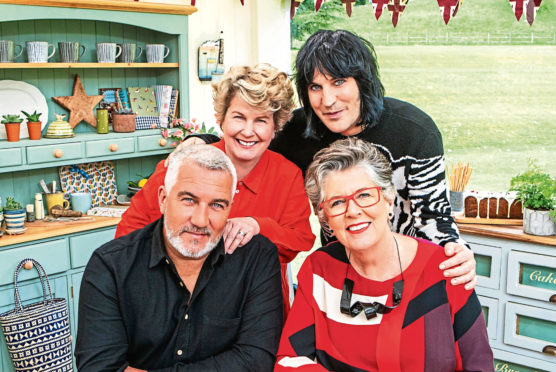 The Great British Bake Off specialises in unlikely mixtures of ingredients that, when put together, somehow just work.
And, like a butternut squash pecan pie, the new presenters of Channel 4's version of Bake Off have blended together nicely. That's according to series veteran Paul Hollywood.
Sandi Toksvig and Noel Fielding were the improbable replacements for the much-loved Mel and Sue, but Paul has been impressed by the presenting duo.
"They are both genuinely lovely and very, very funny," he explained.
"Sandi is great and worries about everyone and is very empathic. Noel is just Noel, which is great.
"I have to say he has been a bit lazy on the baking side, he keeps putting it off. The last bakes he did looked good, he sent me some pictures. He is a good pupil though, and he wants to learn."
Of course Paul has also been joined by Prue Leith, who he only met when she auditioned to take over from Mary Berry in the famous Tent.
"I feel I have known Prue all my life, and she is so lovely," explained Paul.
"When I first met her at the auditions, she came in and she had this smile which lit up the room. And she is so clever, she dresses fantastically with her bright colours, she is so vibrant." Paul has hit the headlines for non-Bake Off related reasons over the past couple of months with a much-publicised love split.
It doesn't mean he's lost any form in the tent, according to Prue.
"I really respect him as a professional, and what I love about him is that he is so direct on most things," she said.
"I think he could give a masterclass on television on how not to blink. When he describes something he is so concise and accurate, whereas I waffle away and take ages but, thankfully, the edit makes me look good.
"His timing is perfect and he has such a great sense of humour.
"We are a bit yin and yang. Paul doesn't need a second take ever, but he has been doing it for 10 years!"
And when it comes to Noel and Sandi, Prue admitted she's made fast friends with both.
"Sandi is so kind and looks after us all, I think Sandi and I will be friends for life as we do get on so well," added Prue.
"Sandi is a much stronger feminist than I am, but we both care about fairness and politics.
"Noel – well he is adorable and sweet – and it's like having a lovely big puppy around. Enthusiastic, excitable and a bit mad."
---
The Great British Bake Off, Channel 4, Tue, 8pm