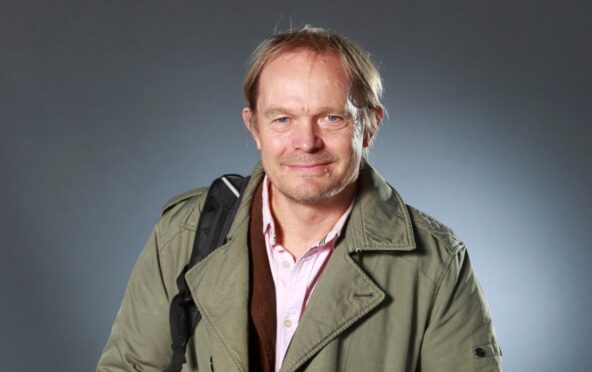 In the obliterating darkness, drenched by torrential rain, beneath the shadow of Buachaille Etive Mor, Paul Murton struggled to dampen a growing sense of dread.
The elements were foreboding enough but the teenager's rising terror had more to do with the Creag Dhu mountaineering club, nicknamed the Glencoe Mafia and made up of tough, hard men from Glasgow.
Legend had it that the group would menace any unsuspecting mountaineers they found sheltering for the night in their Jacksonville bothy, and Murton had given their patch a wide berth on every previous visit.
This night, however, Murton and his friend had struggled to hitchhike and arrived to the glen late, well after the sun had set and facing down intensely bad weather that made it impossible for them to pitch their tent.
The pair had no choice but to seek shelter at the infamous bothy although, much to their relief, found the hut empty on arrival. Still, the boys were so afraid of being discovered they refused to light any candles or use torches, petrified they would give themselves away to an angry Creag Dhu member.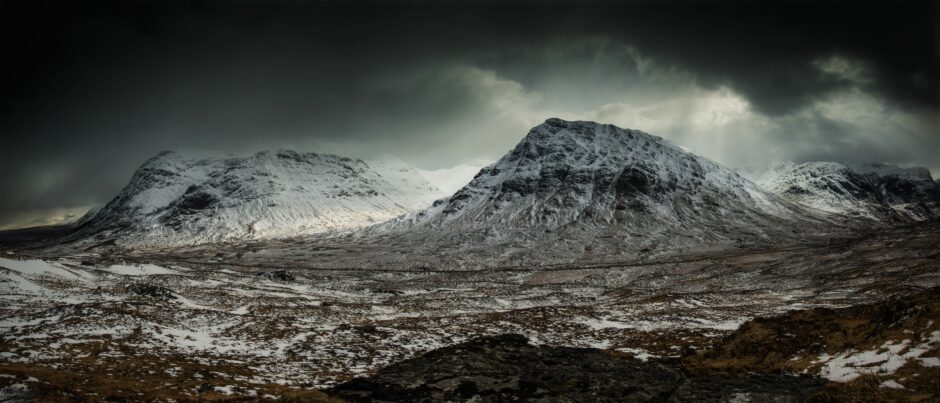 Today, Murton, one of Scotland's most popular presenters behind a series of travel programmes charting the Highlands and islands, can laugh about his schoolboy fear but admits his treks through the high country can still make him a little nervous – although he says that is a part of what draws him there.
He said: "The Highlands can be scary. The mountains can be dangerous and the weather can be dangerous. But if there was no danger there would be no excitement. I think the whole point of the Highlands is there is that wee frisson of danger to the experience. It's a challenge, but it's good to have a challenge and to measure yourself against it," said Murton.
"If you go to Edinburgh Castle you won't feel anything because you're surrounded by thousands of people. You're not going to have a strong atmosphere, but some places do, like the ruins of a wee township. You can sit in the doorway of these ruined houses and get a strong sense of the people who lived there. There's plenty of places like that in Scotland."
Childhood fascination
Murton was fascinated by the Highlands even as a small child, growing up on its borders on the shores of Loch Long, looking out to the Arrochar Alps and Breadalbane. His love for exploration was fostered by his father, whose idea of the perfect family holiday was following a winding road into the Highlands, only stopping to set up camp somewhere beautiful they had never been before.
The Highlands called to Murton even when he grew up and moved away, first to university in Aberdeen when he would often return to climb and explore on weekends to de-stress from the responsibilities of coursework. His new book, The Highlands, is part travel guide and part a hike down memory lane.
Murton, who has presented hit TV shows like Grand Tours Of Scotland and Scotland's Clans, uses the book to give readers insight into the history of some of the Highland's most famous landmarks, all the while weaving in his own personal experiences of these areas too.
"If you know a country or a city or a town really well, its various landmarks can form an index of your life. It's almost as if your own story is written into its landscape. I've got a very intimate relationship with the Scottish Highlands because it's part of my story," said Murton.
Some of Murton's anecdotes are from the recent past, recounting his travels through the cliffs and gullies of Coire an t-Sneachda with friend and actor Greg Wise, while others hark back to his days as a 13-year-old hitchhiker, alone for the first time in the Scottish mountains. Unlike travel guides designed to get the reader from A to B, or the fantastical but remote romances of Sir Walter Scott, Murton's book populates the often empty landscapes with memories, his own and others, bringing them alive for readers, a place of excitement and adventure and even danger.
Inspirational predecessors
Murton was inspired to thread the personal throughout his book by inspirational predecessors, travel writers from the past who loved the Highlands then just as much as he does now. The first was Scottish mountaineer WH Murray, who wrote his book Mountaineering In Scotland while he was a prisoner of war and missing home during the Second World War. The second was the remarkable Sarah Murray (no relation), a 52-year-old English widow who ventured into the Highlands to better understand her late Scottish husband in the summer of 1796. Her book about the experience, A Companion And Useful Guide to The Beauties of Scotland, was published in 1799.
"She was a gentlewoman living in Kensington in London and married later in life to John Murray, a Scotsman. He died early in the marriage, and to remember him better she went on this pilgrimage in his honour to the Scottish Highlands. She was a woman travelling alone with a driver in a horse-drawn cart, which was very unusual. When she wrote, she loved describing torrential rain and getting soaked to the skin and enjoying waterfalls."
Murton added: "She was great and in a way that was my approach to writing The Highlands. It was based on her idea of incorporating the personal, because it really gives you this wonderful sense of place."
---
I clambered onto a narrow ledge, breathless with fear
Here, in an extract from The Highlands, Paul Murton remembers a schoolboy climbing trip to Glencoe that changed him forever
It was early December. I was a member of a school climbing party organised by my English teacher, known teasingly as "Ned" because he shared the same surname as the notorious Australian outlaw Ned Kelly. We left the minibus parked in a lay-by and marched over the moor towards the towering rocks of the Buachaille. If ever a mountain has frowned down on you, this is the one, I said to myself.
The Buachaille grew more intimidating the closer we drew to the base of its great cliffs. It looked like a vast pile of ancient, mouldering masonry: a huge ruin, riven with deep, snow-filled gullies, plunging to obscurity between soaring ridges and buttresses. Vertical rock walls – hundreds of feet high – disappeared into gloomy clouds from which flakes of snow were beginning to fall.
We stopped for a breather beneath the Water Slab – a massive ramp of wet stone – where a waterfall dropped 30 feet over an overhang. It was a cheerless place, made even gloomier by a small cairn and a plaque commemorating the death of a young climber who had been killed in a fall a couple of years earlier.
We roped up just above the Water Slab, Ned leading, a lad in second year following him, and I played tail-end Charlie.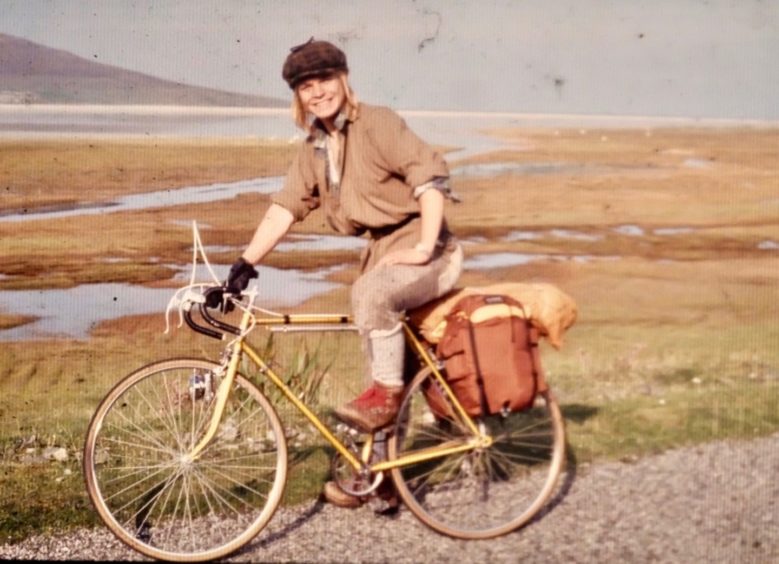 Our route up Curved Ridge took us into the heart of the mountain. It was a spectacular situation. On the eastern horizon a pyramid-shaped mountain drew my eye.
"That is Schiehallion – the fairy mountain of the ancient Caledonians," Ned explained, following my gaze as I clambered on to a narrow ledge beside him.
At the top of Curved Ridge, the rocks disappeared beneath a snowfield. The way ahead presented an intimidating spectacle – a narrow snow-filled gully, which tapered and steepened until it ended in a gap between a huge tower of rock and the summit cliffs.
It was getting dark; snow continued to fall from a leaden sky.
"We can't hang about here long," Ned said. "Let's go."
We moved together, trying to kick steps in the iron-hard snow. My boots made little impression so I edged my way up, putting my weight on my ice axe for balance and support.
I felt frightened. I knew if I – or any one of us – slipped, we'd all be pulled off. I pictured us sliding uncontrollably over the snow, and then hurtling down the cliffs.
I was breathless with fear by the time I reached Ned. He was perched on a narrow ledge of snow in the gap between Crowberry Tower and the summit. It was a very exposed position. Behind him, the deep slit of Crowberry Gully plunged a thousand feet into darkness. The only way was up.
Ned left me, climbing out of sight around the rocks above. I shivered as a sudden gust of wind blew a flurry of snowflakes through the gap where I crouched in a state of fear and nervous excitement. This was a truly amazing place to be: dark, forbidding and deathly dangerous. I felt utterly alone.
---
The Highlands by Paul Murton is published by Birlinn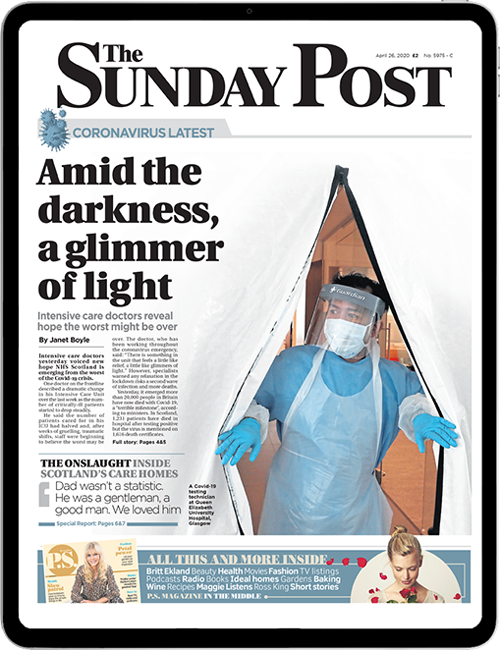 Enjoy the convenience of having The Sunday Post delivered as a digital ePaper straight to your smartphone, tablet or computer.
Subscribe for only £5.49 a month and enjoy all the benefits of the printed paper as a digital replica.
Subscribe