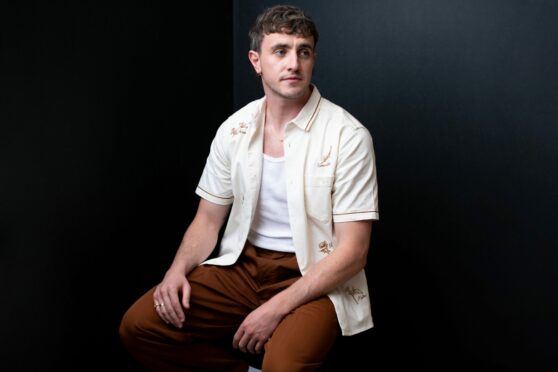 His television debut as brooding teenager Connell Waldron in the triumphant television adaptation of Sally Rooney's novel Normal People won Paul Mescal an army of fans during lockdown.
Two years later, he has hurtled into fatherhood on screen in his first leading role in a movie.
Aftersun, written and directed by filmmaker Charlotte Wells, based on her own haunting memories of her last holiday with her dad, is already being hailed as a masterpiece on both sides of the Atlantic, ahead of its UK release later this month.
Mescal, 26, says he fought hard for the part of 30-something Calum despite an unwritten rule in the industry that ambitious young male actors should never play dads so early in their careers.
"I read Aftersun when I was preparing for another film, God's Creatures, and immediately thought 'I will do bad, bad things to be in this film'", he said. "I wasn't really aware of the politics of 'you shouldn't really be playing dads, you're 26'. I just thought that this was a fantastic character and I was going to do everything I can to play Calum."
The gamble seems to have paid off, with Mescal being tipped for Best Actor awards for his tender performance as an Edinburgh man nurturing the bond with his daughter Sophie, played by 11-year old newcomer Frankie Corio, as they holiday together at a budget resort in Turkey.
Set in the 1990s, Calum is desperate to give his daughter a memorable experience as he struggles with the break-up of his relationship with the girl's mother. Despite not being dad, Mescal said he immediately identified with the character.
"I'm not a dad, and I'm nowhere near being a dad, but right off the bat, Calum felt like somebody a little bit closer to me than some of my other roles – but yeah, it's quite a journey from a teenage drama like Normal People to becoming a dad in just two years."
The "bad things" Mescal did to get the part, included making an audition tape of himself dancing to Blur in his kitchen and teaching himself tai chi by reading Tai Chi For Dummies. However, the real hard work was the Scottish accent.
After landing the role, he and Wells, who is from Edinburgh but based in New York, discussed rewriting his character as an Irishman, but Mescal opted to work on an east coast accent."I stayed in accent for this throughout filming," he said. "It's something I've always wanted to do and Charlotte gave me her blessing but coming to the Edinburgh Film Festival for the British premiere of Aftersun made me nervous; it's like taking my accent into the lion's den."
Equally important to the story is the relationship between Mescal and Corio, a firecracker from Livingston who beat 800 other girls to the part, despite never having acted before. "She would do things in a scene that would make me go. 'wow, I wish I'd thought of that', said Mescal.
The co-stars made use of an extra two weeks in Turkey before filming began to get to know each other better as father and daughter. The extra time they spent together shows in their performance, their rapport on screen being described by one film critic as "a marvel".
"I asked Frankie's mum and dad if I could be her pretend dad and we spent time together every day," Mescal said. "We'd head for the beach and bond over Nutella crepes, get ice cream, and swim in the sea. Frankie's character is supposed to be really good at playing pool, so we spent a lot of time working on that, too."
At Corio's age, Mescal had no ambition to be an actor. Instead, he had his heart set on becoming a Gaelic football star. It was only in his final year at school that he decided to apply for a place at Dublin drama school.
He later reluctantly gave up playing football after a broken jaw persuaded him that his two passions "don't coexist, unfortunately".
Lockdown changed his life when the BBC series Normal People starring opposite Daisy Edger-Jones, turned him into a pandemic heartthrob. Student Connell and his chunky silver necklace became a bingewatch sensation. He was nominated for an Emmy Award and soon Hollywood came calling.
Mescal says he thinks carefully about projects, and so far he's avoided the blockbuster films that actors often choose after a high-profile breakout role.
Instead, he's secured supporting roles opposite Olivia Colman in The Lost Daughter, and Emily Watson for God's Creatures. He's also back working with another Scottish moviemaker for his next project, the spy-thriller A Spy By Nature. Directed by The Last King Of Scotland award winner Kevin Macdonald, the film casts Mescal as a twentysomething who swaps a job in telemarketing for MI6.
He's also broken a few hearts by going public with his relationship with hip singer-songwriter Phoebe Bridgers. They met on Twitter during lockdown and quickly became an item, appearing in the newspapers and PDAs in Bridgers' Instagram walking their dog, visiting Paul's hometown, holding yoga mats, and wearing skimpy Gaelic footie shorts, Mescals' go-to attire.
He himself has shunned social media, shutting down his Instagram and Twitter accounts shortly after Normal People. "I just think it's a scary place sometimes," says the rising star.
"I feel a little bit more invisible, and stepping back means I can get on with the part of the job that I love."
---
I'd often go on holiday with just my dad when he'd get mistaken for my brother… which he didn't mind at all
Our desire to eat fresh vegetables has left us with the idea that vegetables are only good if they're cooked just before being eaten. But many of the best vegetable dishes are created over time.
Each week, I buy whole bunches of the leafiest, stemmiest vegetables I can find. Then I scrub off their dirt, trim off their leaves, cut off their stems, peel what needs peeling, and cook them at all once.
I like to roast vegetables – I can fill my oven once and create a week's worth of healthy, delicious ingredients. Oversalted pasta should be saved, mixed with unsalted butter and a lot of fresh herbs, like parsley, rosemary and marjoram, and made into a pasta frittata. Remember not to salt the eggs.
The skins from onions, green tops from leeks, stems from herbs must all be swept directly into a pot instead of into the garbage. Along with the bones from a chicken, raw or cooked, they are what it takes to make chicken stock, which you need never buy once you decide to keep its ingredients instead of throwing them away.
If you have the bones from fish, it's fish stock. If there are bones from pork or lamb, you will have pork or lamb stock.
Tail ends of loaves of bread are as good as their heads, and perhaps more useful. Warm olive oil, add a sliced garlic clove and a finely sliced leek, cook them slowly for a few minutes, add four cups of cubed crustless stale bread, two cups of any meat broth, two cups of any combination brothy portions and let it cook into a thick, unrecognisable, delicious soup.
Parsley leaves stay good picked off their steam and stored in a closed container for weeks. All the rest of the herbs stay good for longest when kept whole and dry, side by side in single layers in paper towels. Stack layers in a roasting pan and wrap tightly in plastic.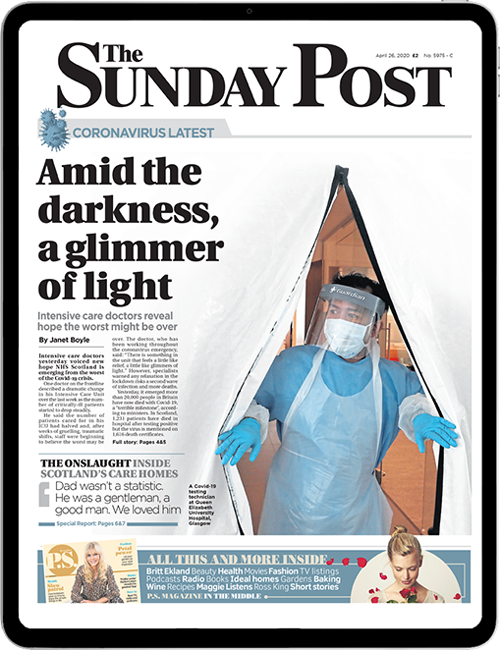 Enjoy the convenience of having The Sunday Post delivered as a digital ePaper straight to your smartphone, tablet or computer.
Subscribe for only £5.49 a month and enjoy all the benefits of the printed paper as a digital replica.
Subscribe