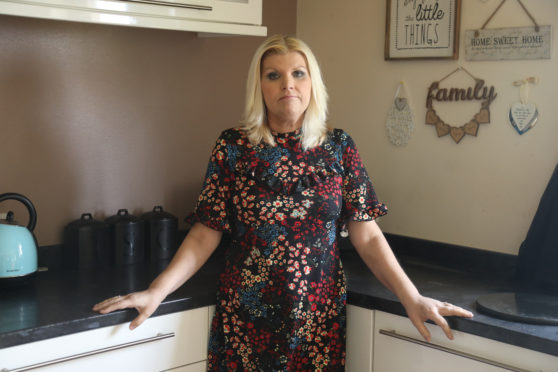 A mother has voiced fears that her cancer was missed for months because of alleged ­mismanagement and infighting at a specialist NHS unit.
Lorraine Shearer, 46, told how it took more than eight months to diagnose an aggressive mouth cancer after she was told a battery of tests, including biopsies and scans, were negative.
It was only when parts of her mouth started falling off that her cancer was confirmed.
She was treated at Aberdeen Royal Infirmary, where the head and neck cancer unit was accused of being dysfunctional because of feuding among doctors.
Now Lorraine, from Orkney, fears problems at the specialist clinic delayed her diagnosis.
She said: "I can't help but believe mistakes have been made at Aberdeen Royal Infirmary where I was treated.
"My oncologist has been superb but the diagnosis was slow and allowed the cancer to develop.
"I have had to undergo major cancer treatment for a chance to survive.
"When I discovered more about the situation at the maxillofacial unit I couldn't help but wonder if that had impacted on my treatment.
"There were employment ­tribunals, staff shortages and sickness that are hardly going to enhance the performance or patient treatment at any hospital."
Evidence at an employment tribunal in November heard claims the atmosphere at the unit was toxic and patients were put at risk.
The tribunal heard oral cancer patients were sent to Glasgow as staff sicknesses and suspensions impacted on the amount of treatment that could be carried out.
At one point the unit discussed sending oral cancer patients to Manchester to try to operate within a reasonable space of time, but decided against it.
Dr Nick Renny's claim he was forced out of his job was rejected by the employment tribunal. However, NHS Grampian admitted he left as a strained relationship between him and the three other consultants who led the maxillofacial department became increasingly fractious and, eventually, untenable.
Dr Renny had left the health board in 2016, before Lorraine's delayed diagnosis last year, but sources suggest problems in the unit continued.
One said: "The cancer service has had a history of absence through sickness and senior staff leaving.
"There was great unhappiness in the unit and evidence of ineffective team work. Dysfunctional relationships between staff had potential to impact on services."
Lorraine first noticed something might be wrong in January last year. She said: "I noticed my uvula was leaning to one side at the back of my throat.
"I was checked by my local dentist and a biopsy gave me the all-clear.
"Between February and March I was given an ultrasound and told there was no evidence of cancer.
"By then I had a hole in my soft palate in the roof of my mouth and my voice had changed.
"Food was coming out of my nose.
"I also had a lump in my upper neck, just below my ear but I was reassured that my scan was normal.
"In April a specialist from Aberdeen came to Orkney to examine me and said everything seemed fine. He added there was no sign of anything suspicious.
"A check-up in June by another mouth specialist was postponed. I was told this consultant was off on sick leave. A lump came away from my mouth in August and I was referred to Aberdeen Royal Infirmary immediately.
"On September 4, four biopsies were taken from my mouth
"Those showed there was cancer in my throat, a larger than normal tumour, and in my soft palate.
"A CT and tracing PET scan revealed that it had spread to the lymph glands in my neck."
Lorraine was determined to pull through the gruelling treatment and was supported by partner Alan, and three children, Cavan, 19, Darcy Mae, six, and Kian, two.
Treatment involved surgery, chemotherapy and radiotherapy.
Radiotherapy meant being bolted to a treatment table with a custom-made mask to prevent her moving even a centimetre as the cancer-killing beams destroyed the malignancy.
"It was horribly claustrophobic but I did it for my kids," she said.
"To be honest, I felt I was going through hell with my partner by my side. It was tough for us both.
"My family, particularly my sister Donna, were my rock. She was always there to carry me through when I needed her.
"And, when I felt I couldn't endure any more, she kept me going."
Back home in Orkney the rest of the family cared for Lorraine's children.
She didn't want them to see her ill and, by then, seriously underweight and at her worst.
Today, just seven months on from the start of her treatment she is still unable to eat and is fed by a tube directly into her stomach.
"This will be for the foreseeable future, sadly," she explained.
"I don't envisage me ever being able to eat properly again.
"My swallowing has been badly damaged by the radiotherapy as a result of the very invasive seven-week treatment. . .possibly necessitated by the delay in diagnosis."
NHS Grampian said: "As a health board we cannot comment on individual patient cases, but would strongly encourage Ms Shearer to contact us regarding any concerns.
"When a patient does make direct contact with us we are more than willing to discuss their case with them – including their diagnosis, treatment and any further care they received."
A source said any problems in the unit were historical and Lorraine, who is now in remission, paid tribute to her cancer consultant in Aberdeen, Dr Rafael Moleron.
But, she added: "Others have made mistakes at Aberdeen Royal Infirmary. It's a situation that needs to improve to help saves lives.
"One biopsy is never enough. If they had taken from more areas at the outset then the cancer would have shown up.
"The spread would've been less, the tumour smaller and my treatment less invasive."
A cancer specialist said: "It is not always easy to see why any patient's cancer was not diagnosed earlier.
"If you get a change and it persists then it needs continuous monitoring.
"It could be this patient's cancer was not easy to discover through a biopsy or scan but persistent symptoms should never be ignored."
---
Passive smoke linked to rising number of oral cancer cases
Oral cancer has risen by two-thirds in the past 20 years but survival has barely improved in 40 years, according to experts.
Patients are getting younger and are also expected to rise by another 50% in the next five years.
Mum-of-three Lorraine Shearer, who was diagnosed with throat cancer in September after it was missed during an earlier biopsy, said: "I just want everyone to know that mouth cancer is increasing and early diagnosis is vital. I also want them to keep going back to their doctor or dentist if it persists or doesn't heal."
An oral cancer specialist said: "It's important to biopsy the right bit. Treatment is pretty full-on when cancer is diagnosed later on. The battle is to treat it earlier, yet it is in one of the most accessible parts of the body."
Hope for earlier diagnosis lies in a new stain test that shows up cancerous areas. It's a paint-on dye that shows by colour chart when cancer exists, but it is not used by all centres. Previously, oral cancer struck mainly men but the numbers of women are soaring.
Passive smoking is suspected to be one of the driving causes. One in four patients has never smoked.
A specialist said: "We have all endured passive smoking, if not at home then at family parties, often since childhood. The latent period is thought to be 20 to 30 years."
Dr Nigel Carter, chief executive of the Oral Health Foundation, said: "Survival figures have not improved for about 50 years, mainly because of late diagnosis.
"Oral cancer patients used to be mainly men at a ratio of five to one. Women patients are increasing and it's now two to one.
"It's a mystery why younger patients are increasing.
"Stain testing is a useful tool used with other diagnostic ones.
"There are 8,000 cases in the UK."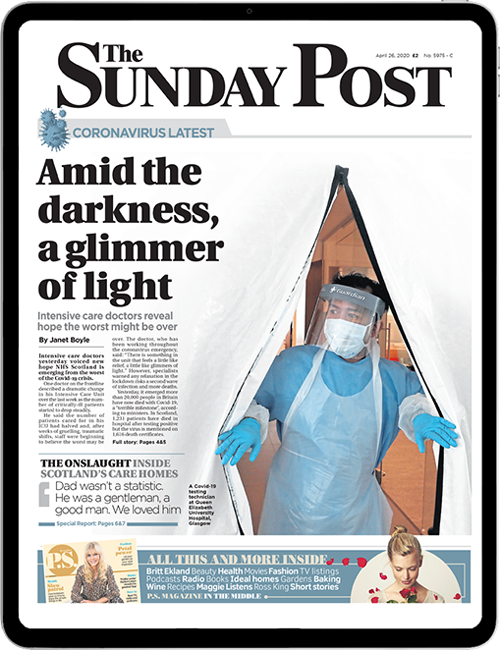 Enjoy the convenience of having The Sunday Post delivered as a digital ePaper straight to your smartphone, tablet or computer.
Subscribe for only £5.49 a month and enjoy all the benefits of the printed paper as a digital replica.
Subscribe