EMERGENCY services were called to a London Underground station after reports of an explosion on a train.
Scotland Yard have confirmed that the explosion is being treated as a terrorist incident.
Pictures appeared to show an explosion in a bucket towards the rear of a train.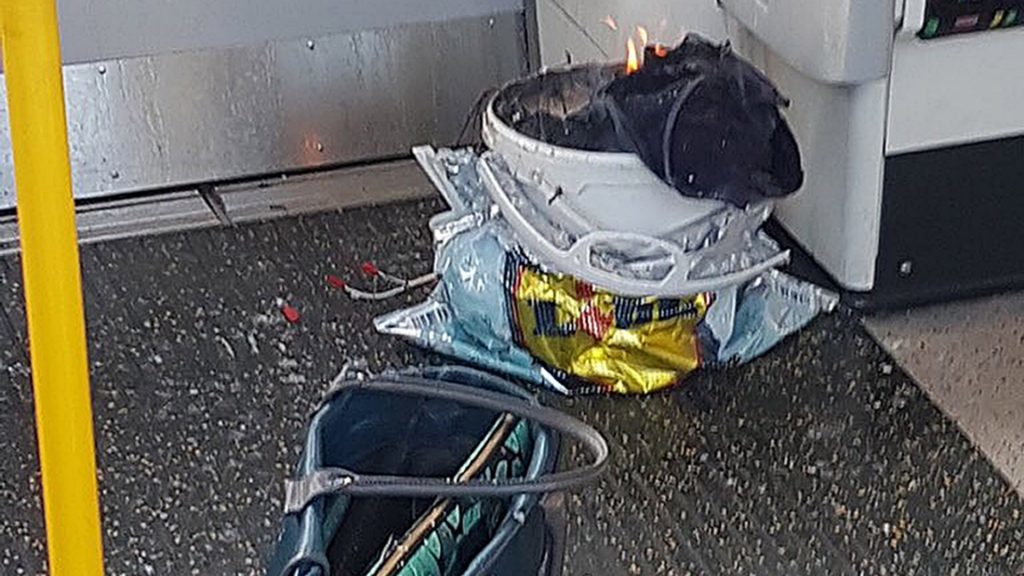 The incident occurred at Parsons Green Tube station on Friday morning.
A metro.co.uk reporter said passengers suffered facial burns.
British Transport Police said: "We're aware of an incident at Parsons Greenstation. Officers are at the scene. The station is closed."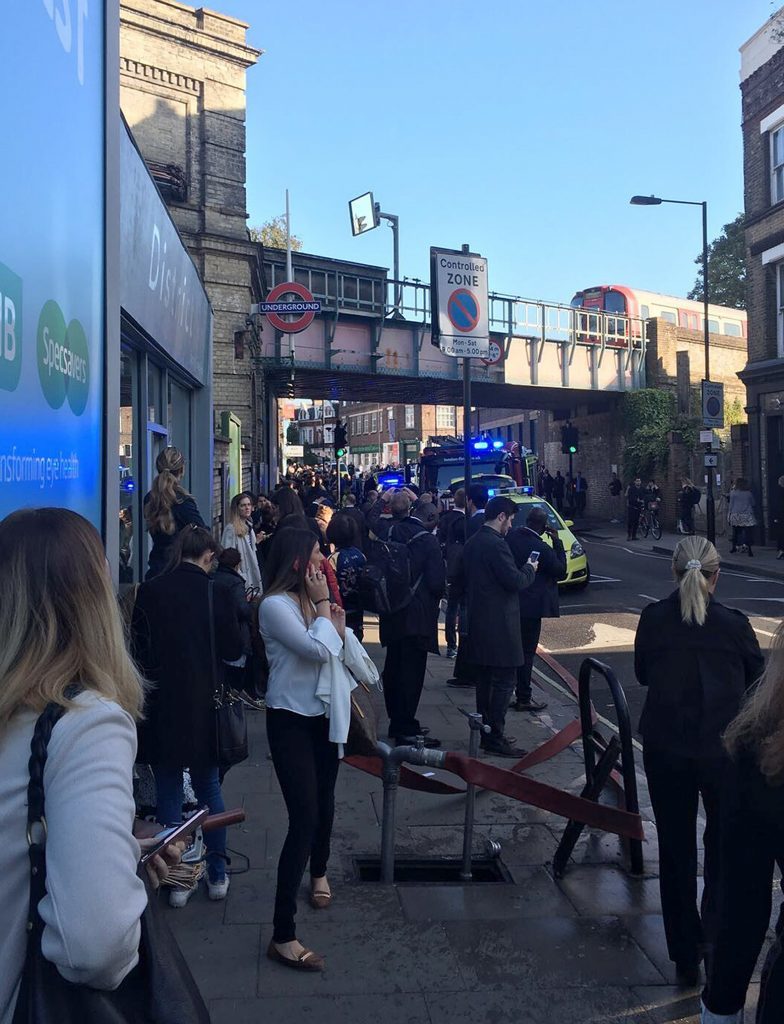 Transport for London said it is "investigating an incident at Parsons Green" and urged customers travelling between Wimbledon and Earls Court to use alternative routes.
A London Ambulance Service spokesman said: "We are on scene alongside the Metropolitan Police at Parsons Green."
London Fire Brigade said they were called to the incident at 8.21am on Friday.
Press and Journal Live Blog:
The London ambulance service has confirmed that 18 patients have been taken to hospital, none of which are thought to be in a 'serious or life-threatening condition.'
We have taken 18 patients to a number of London hospitals. None are thought to be in a serious or life-threatening condition #ParsonsGreen pic.twitter.com/3B13JznAqZ

— London Ambulance Service (@Ldn_Ambulance) September 15, 2017
Media technology consultant Richard Aylmer-Hall, 53, was sitting on the District Line train bound for central London when panic unfolded at around 8.20am.
He said he saw several people injured, having apparently been trampled as they tried to escape.
He told the Press Association: "I was blissfully reading my paper and listening to a podcast and suddenly the whole world charged past me down the platform, down the Tube.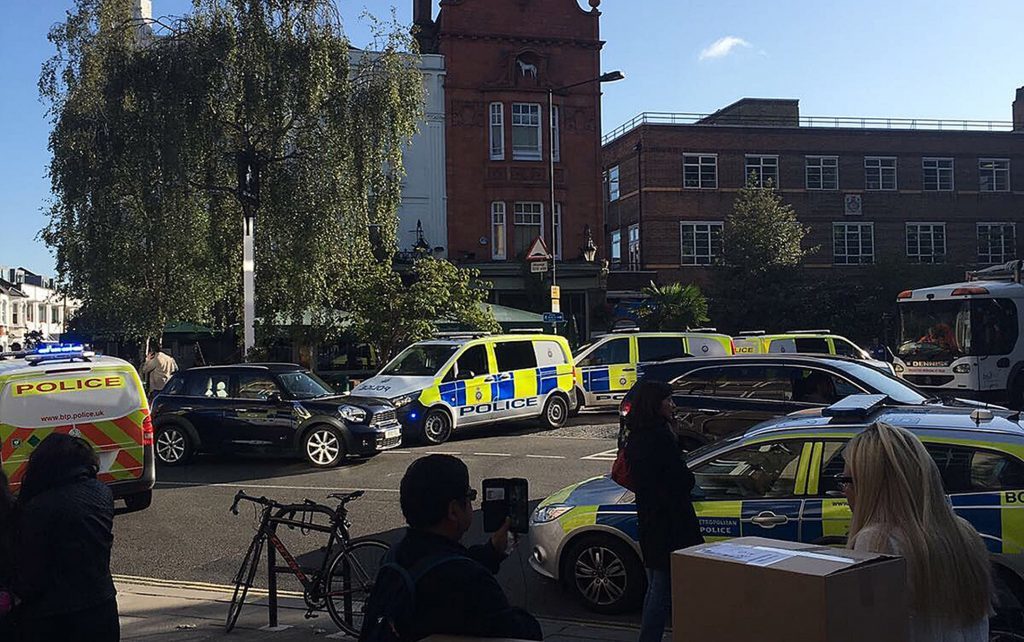 "I was on the Tube, we had just stopped at Parsons Green, I was on my way up from Wimbledon towards Paddington and suddenly there was panic, lots of people shouting, screaming, lots of screaming.
"There was a woman on the platform who said she had seen a bag, a flash and a bang, so obviously something had gone off.
"It was an absolutely packed, rush-hour District Line train from Wimbledon to Edgware Road.
"I saw crying women, there was lots of shouting and screaming, there was a bit of a crush on the stairs going down to the streets.
"Some people got pushed over and trampled on, I saw two women being treated by ambulance crews.
"Since then, every emergency vehicle in London has gone past me, fire engines, ambulances, every type of police vehicle."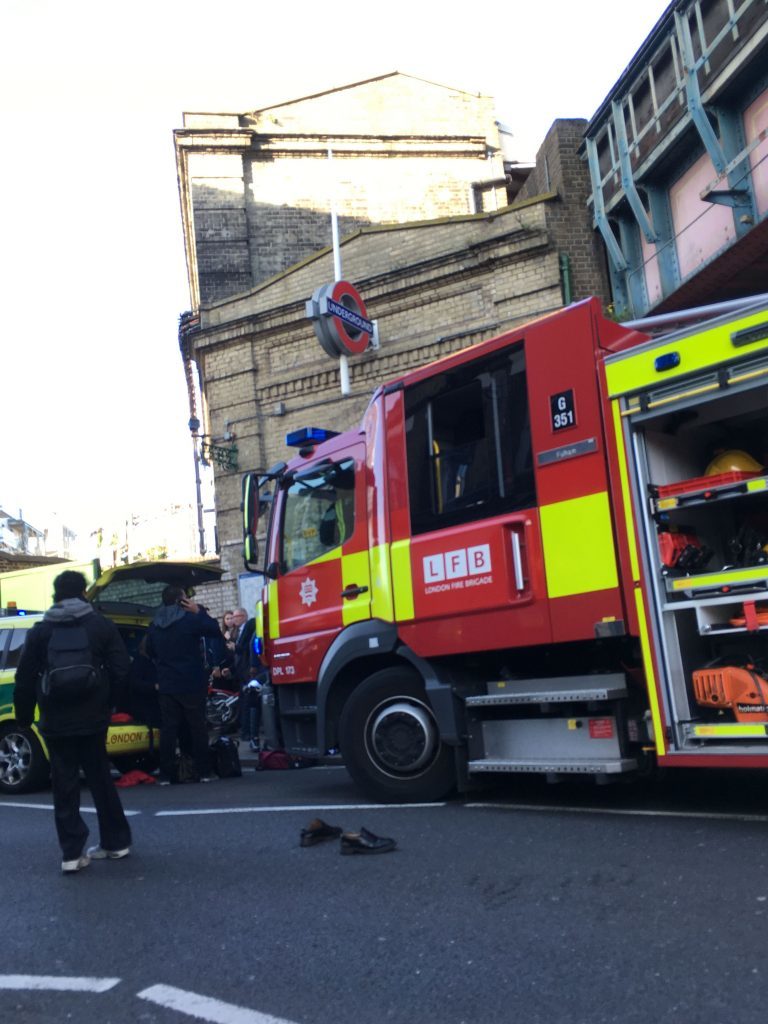 Mr Aylmer-Hall added: "I don't think anyone was hurt by the actual device or whatever it was."
Natasha Wills, of London Ambulance Service said: "We were called at 8.20am toreports of an incident at Parsons Green underground station.
"We have sent multiple resources to the scene including single responders in cars, ambulance crews, incident response officers and our hazardous area response team, with the first of our medics arriving in under five minutes.
"Our initial priority is to assess the level and nature of injuries. More information will follow when we have it."
BBC correspondent Riz Lateef, who was at the station travelling to work, said there was "panic as people rushed from the train, hearing what appeared to bean explosion.
"People were left with cuts and grazes from trying to flee the scene. There was lots of panic."
Foreign Secretary Boris Johnson appealed for calm.
He told Sky News: "I'm afraid my information is limited and it really is important not to speculate at the moment.
"Obviously, everybody should keep calm and go about their lives in a normal way, as normal as they possibly can.
"As far as I understand it, the British Transport Police and TfL are on it and they will be updating their websites as and when we have more information."
The Metropolitan Police are urging anyone with photographs from the scene to upload them to www.ukpoliceimageappeal.co.uk to aid the investigation.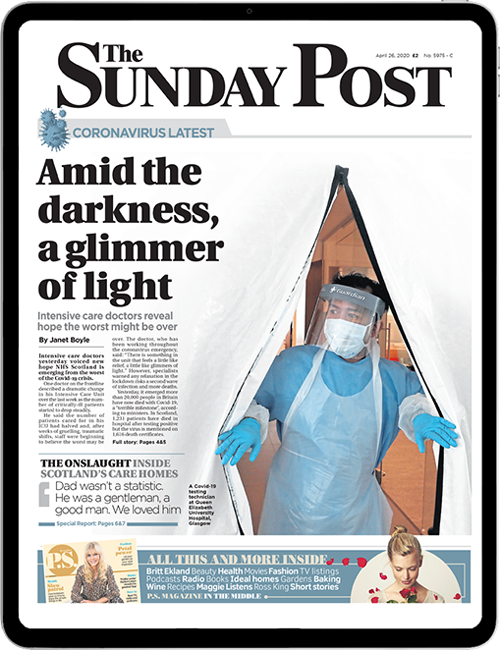 Enjoy the convenience of having The Sunday Post delivered as a digital ePaper straight to your smartphone, tablet or computer.
Subscribe for only £5.49 a month and enjoy all the benefits of the printed paper as a digital replica.
Subscribe