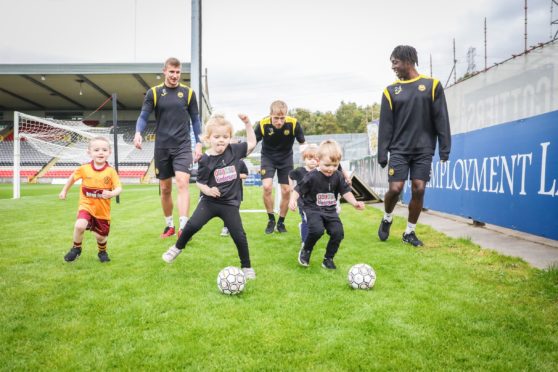 A trio of Partick Thistle stars met their match earlier this week when they faced a team of Glasgow nursery pupils.
11 children from Balmore Kindergarten challenged the professional footballers to a match as part of the nursery's campaign to educate youngsters about the importance of health and wellbeing.
Kids from the 'Penguin' class, which is for children aged three to five years old, took on professional players Sean McGinty, Tommy Robson and Osman Kakay in a head-to-head game, which saw them dribbling, passing, shooting and scoring at Firhill Stadium.
The match is part of a drive from staff at Balmore Kindergarten to encourage health and wellbeing within children, starting from an early age.
Currently, the service offers dance lessons and ball games to all little ones enrolled at the kindergarten, as well as yoga classes and meditation sessions, helping youngsters to become self-aware of their bodies.
Laura Taylor, leader of learning at Balmore Kindergarten, said: The children at Balmore Kindergarten are at the heart of everything we do.
"Our main aim is to give our little ones the best possible start in life through learning, having fun and promoting a healthy lifestyle, and I'd like to thank the team at Partick Thistle Football Club for all their support."
Balmore Kindergarten is based in the north of Glasgow and operates four departments; the Duckling class for new-borns to two-year-olds, the Owl class for two to three-year-olds and the Penguin class, for children aged three to five.
Partick Thistle Football club will be holding football camps for children at Firhill Stadium throughout October.
Paul Kelly, Manager of the Partick Thistle Charitable Trust, said: "The players appreciate that their whole career is based on understanding the importance of leading a healthy, physically active life.
"So there are no better people to get this message over to the kids and, as a club we think that it is important to help local organisations with good messages."
---