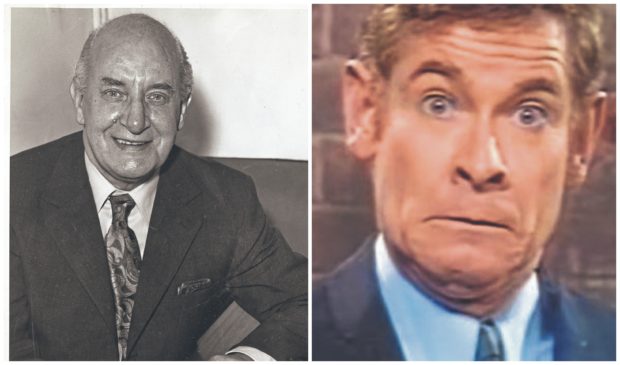 It is a simple enough question but comedy genius Stanley Baxter's polite inquiry of a vegetable stall-holder remains a classic from the Parliamo Glasgow phrasebook: "Izzat a marra on yer barra, Clara?".
The sketch, which also famously featured tamarras and Mia Farra's farra, involved Baxter – in the most precise received pronunciation – translating the accent and slang of Scotland's ­biggest city. Along with the other Parliamo Glasgow sketches, it remains iconic in Scots comedy.
The scriptwriter is less renowned, however. Alex Mitchell, a writer who worked for The Sunday Post and our sister paper The Weekly News, for 45 years, was the man behind the scripts.
Known to all as Sandy, he became a close friend of Baxter and also wrote material for Rikki Fulton and Jack Milroy's Francie and Josie characters, and comedians Duncan Macrae, Tommy Morgan, Alec Finlay and Dick Emery.
Now, some of Sandy's best work is to be republished in a book, Little Stories From The Police Courts. The features originally ran as a comedy feature in The Weekly News for about 30 years.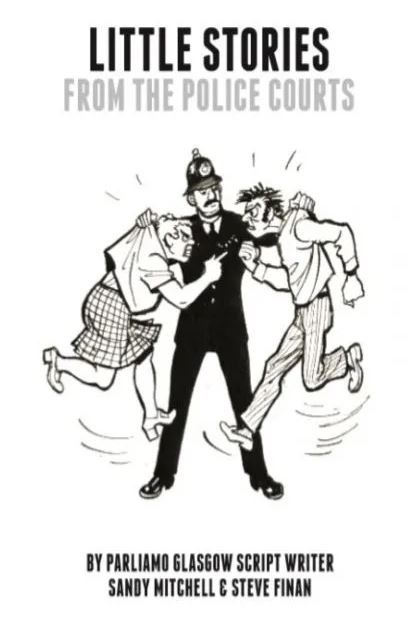 Sandy would take inspiration from real cases coming before the Glasgow courts, change names, add a little poetic licence, hilarious dialogue and his own brand of piercing humour.
Author Steve Finan scoured Weekly News archives to select the best of the Little Stories and the more he read, the more his respect for Sandy grew. He said: "Sandy knew everything there was to know about Glaswegian, and English. His insightful grasp of language is the reason that these stories work as comedy.
"It takes a gifted writer to paint ­stature, looks, personality and life history in just three or four words. Yet that is what he does in these stories.
"These are stories of their time, of course. They are as much social history as they are comedy. The world has changed but this is what tenement life looked and sounded like.
"Sandy was intimately aware of his audience. He knew that people reading his Little Stories would easily recognise the type of people he was weaving stories around. They walked the Glasgow streets, drank in the corner pubs, and went out to the city's dance halls.
"Sandy could describe one man but encompass thousands more. It is the quality of his writing that allowed him to do that. In a pale mimicry of Sandy Mitchell's Parliamo genius, I have attempted to translate some of the colourful patter into the common tongue – Anglish, I have called it, as I feel English doesn't quite cover the fact that, quite apart from southerners, even other parts of Scotland might need a hand with some of the slang."
Sandy died in 1990, aged 84, and despite his best efforts, Steve could not track down his family to let them know about the book.
He said: "Sandy retired in 1971 and no one left in The Post or Weekly News knew much about his family. His wife Mary died before him, and they had a daughter, Jay. Try though I did, I couldn't find Jay or any further family.
"I feel Sandy deserves more ­recognition. He was a comic genius."
Available at www.dcthomsonshop.co.uk
---
A BLAW UP AT THE DANCIN'
Archie and Davie, attired in their new charcoal-grey suits, waited patiently at the street corner. "D'ye think thae Judies'll turn up?" asked Archie a trifle anxiously.
His crony beat a severe look upon him. "Judies!" he echoed frostily. "That is nutt no way to talk about Shirley and Lucy. Fur once-t we've goat a date wi' a perr o' dames that's been well brung up."
"Ye're right therr," conceded Archie. "Shirley's that partic'lur aboot hur appearance tae. Thon night we took them tae the picturs, she spent hauf the time combin' her herr."
"Aw, aye. They've goat class," agreed Davie. "Thur no' like this perr that's comin' alang."
And he stared disapprovingly at two young ladies in the distance. One wore blue trousers and the other red trousers.
"If therr's wan thing Ah canny staun', it's weemin in troosers," stated Archie, averting his eyes from the grievous sight.
"Me an' a'," said Davie, also turning his back on the betrousered damsels.
Two minutes later, they were greeted by that well-known Glasgow salutation – "Hullawrerr!"
The cronies turned and were dumbfounded to see that the trouser-wearers who had been approaching were none other than Shirley and Lucy.
"Oh, ah didny … didny reckanise ye!" faltered Archie.
"We knowed ye widny!" cried Shirley, who was wearing the red trousers.
"We pit oan wur jeans because it wiz that dampt cauld. Thur rerr fur the cauld weather."
Davie, appalled, could think of only one thing – getting the young ladies out of sight as quickly as possible.
"Well, whit aboot gaun' tae the picturs acroass the street therr?" he suggested.
"Heh, Ah thought we wiz gaun' tae the dancin' the night?" said Lucy.
"The dancin'?" mumbled Archie. "But yiz canny dance in thae…"
"Canny dance in wur troosers?" exclaimed Shirley. "That's whaur you're wrang, pal! We kin eckshully dance mair better in them. Sure we kin, Lucy?"
"Of course we kin," said Shirley briskly. "Come oan, let's get gaun'. Ah could dae wi' a spoat o' jive tae warm me up."
"Wait a minnit," said Davie desperately. "Me an' the china here's no' very hoat at the jivin'."
"Ach, ye don't need tae worry aboot that!" Lucy assured him. "We'll learn ye."
There was nothing for it. The cronies had to take the young ladies to the small dance hall.
Archie and Davie were greatly embarrassed by their reception. Wolf whistles resounded throughout the hall.
Then, clear above the clamour, came the somewhat strident voice of Wee Sadie. "A coupla blinkin' bachles in thur pyjamas err!" she cried.
Shirley, who was vainly trying to teach Archie the intricacies of jive, stopped between a rock and a roll. "Haw, ur you gonny let that wee midden talk tae me like that?" she asked her chap.
"She canny talk ony other way," he said. "Hur wallies don't fit hur awfy well."
Shirley gave him a keen look. "Ya scunner!" she howled. "Ye're takkin' the mickey oota me!"
Without further ado she smacked Archie's face. He then grabbed her arms to prevent a further onslaught.
Lucy wrongly assumed her girl friend was being roughly treated. She gave a yell, dashed up to Archie and pummelled him in the back with her fists. Davie, in turn, tried to pull Lucy away.
A noisy scene ensued. It culminated in the foursome being ejected.
Next day Shirley and Archie appeared in court on breach of the peace charges.
The young lady wept and was admonished.
Archie was morose. "Anough tae mak' ye immigrate tae St Kilda!" he growled as he paid his £1 fine.
---
A RAMMY ATTRA RAFFLE
There was even more excitement than usual in the Okeydokey Club when Fred and his Band of Boogie Woogie Bachles discoursed the impressive fanfare that heralded the appearance of Wee Andy, MC.
As the eager throng milled round the front of the band platform, they held in their hands numbered tickets that had been issued to them as they paid for admission to the Grand Lucky New Year Carnival Dance.
The expression on the face of the Master of Ceremonies was especially benign.
"Ladies and gents," he began. "I trust that each and every one of youse have been gave a ticket with a number thereupon it. On certing of them tickets is a lucky number. Now, the holders of them tickets will be the reciputents of magnificent prizes. So, without no furder procastronation, the lucky numbers will now be drew by me from the box you see fornent me."
The draw began at once. One young lady received a compact. A gent was handed a packet of 10 cigarettes.
Big Ella, a large damsel, found herself the winner of a remarkably small headscarf. "That'll never cover hur big bawheid," came the loud comment from Rita the Critic.
"Ah'll cover that big mooth o' yours wi' ma haun'!" called the outsized young lady.
"Ladies! Ladies!" cried Wee Andy in shocked tones. "Kindly do not forget to remember that the season of goodwill isn't not yet terminiated. Do not let us have no more adiposity."
The draw proceeded, Rita looking on somewhat grimly as her number failed to come up.
Suddenly the Master of Ceremonies beamed with increased pleasure. "For the holder of this number," he exclaimed, "there is nothing more nor less than this handsome bottle of whisky!"
And teetering forward in her long dress to receive the star prize went Barbara the Blonde.
Wee Andy directed his most winning smile on her and, as he handed over the bottle, he modestly lowered his eyes as the blonde kissed him on the cheek.
"It's a dampt disgrace!" declared Rita.
The Master of Ceremonies was mortally offended. "How dare you implicate that this young lady's salutation to me is unproper!" he protested.
"Ah'm talkin' aboot hur getting' that boattle!" Rita cried. "It's a ruddy carve-up!"
"Madam, this is absolutely outrageful!" cried Wee Andy indignantly.
"Aw don't try tae kid us," Rita bawled. "Yiz ur winchin', an' it wiz a cinch she'd get the best prize in yer lucky number swin'le."
Barbara, the elegant blonde, now intervened. "You shut yer big gub," she ordered Rita. "I don't want my afferrs talked about in public".
"By jings, if we talked aboot a' the afferrs you've hud we'd be here fur two weeks" Rita shrilled.
"If you do not detract these malnutritious allygations, drastic action will be took at once," Wee Andy warned her sternly.
"Ah'll settle hur hash fur hur!" announced the blonde, carefully handing her prize to a friend and marching towards her critic.
"Ladies! Ladies!" cried Wee Andy, hurrying to the scene. "I beg of youse – do not indulge in no unseemly violence, if youse please!"
But Rita's handbag was swinging through the air. It just missed the head of the Master of Ceremonies as he stepped back adroitly, and caught Barbara full on the make-up.
A low emergency whistle was emitted.
Five minutes later Rita was being charged with assault and breach of the peace.
"Ah only gi'ed that blonde bizzim wan scud," she said in court. To her disgust, this solitary scud cost her £3.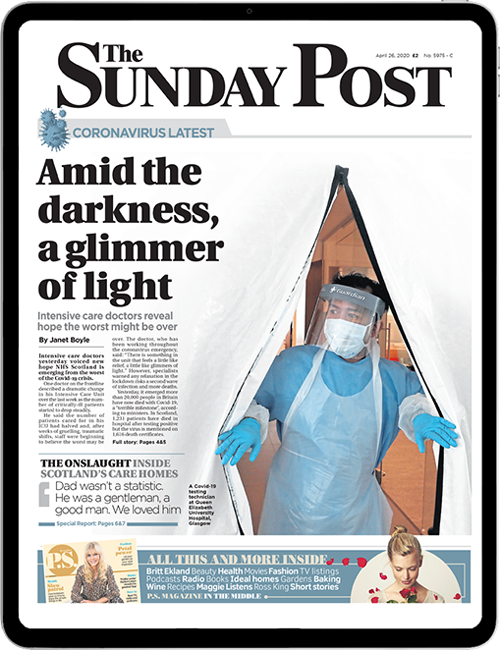 Enjoy the convenience of having The Sunday Post delivered as a digital ePaper straight to your smartphone, tablet or computer.
Subscribe for only £5.49 a month and enjoy all the benefits of the printed paper as a digital replica.
Subscribe