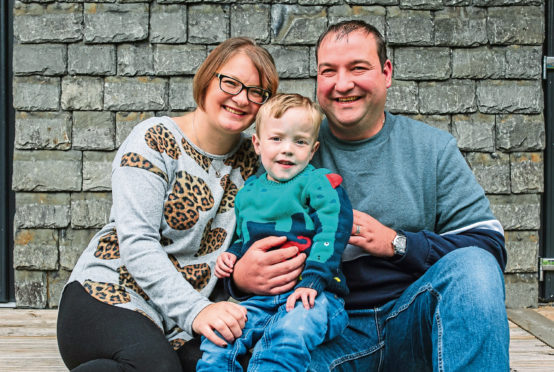 There is a cupboard in Jack Sneddon's home and inside is a packed suitcase that his parents hope to use soon.
Their three-year-old son is on standby for a heart transplant after being born with a major cardiac defect which meant only half his heart worked.
The nursery school pupil has survived three major heart operations, three cardiac arrests, two strokes and an ensuing bowel infection and is being kept alive and able to live a normal life thanks to breakthrough drugs for heart failure.
However, his heart team has come to the conclusion that only a transplant will allow him to survive childhood. His mum Fiona, 38, an administration assistant, says: "Jack has a smile that charms everyone he meets. He is a very happy wee boy who thrives at nursery and is interested in everything he sees.
"While he has a great love of life and play, he can only attend half days because by lunchtime he is tired out.
"Surviving the Covid pandemic has been scary and we are doing everyone possible to keep life as normal as possible and keep Jack safe. It has taken a lot of courage to let him attend nursery but we are buoyed by research which says children are relatively unaffected by the virus."
Jack's major heart defect was discovered by a routine ante-natal scan when Fiona was 20 weeks' pregnant.
Fiona and husband Paul, from Woodfarm, East Renfrewshire, were devastated by the news.
"We were given three choices. I could have a late termination, continue with the pregnancy and let Jack pass away at birth without treatment, or use everything medical science had to save him," she said.
"The condition, called hypoplastic left heart syndrome, was so serious and there was no guarantee that he would survive. We desperately wanted to give our baby boy every chance to survive. I told the doctors, 'Do the surgery, do everything to save him'."
The drive to save Jack began when he was born six weeks early by emergency caesarean section at the Queen Elizabeth University Hospital in Glasgow.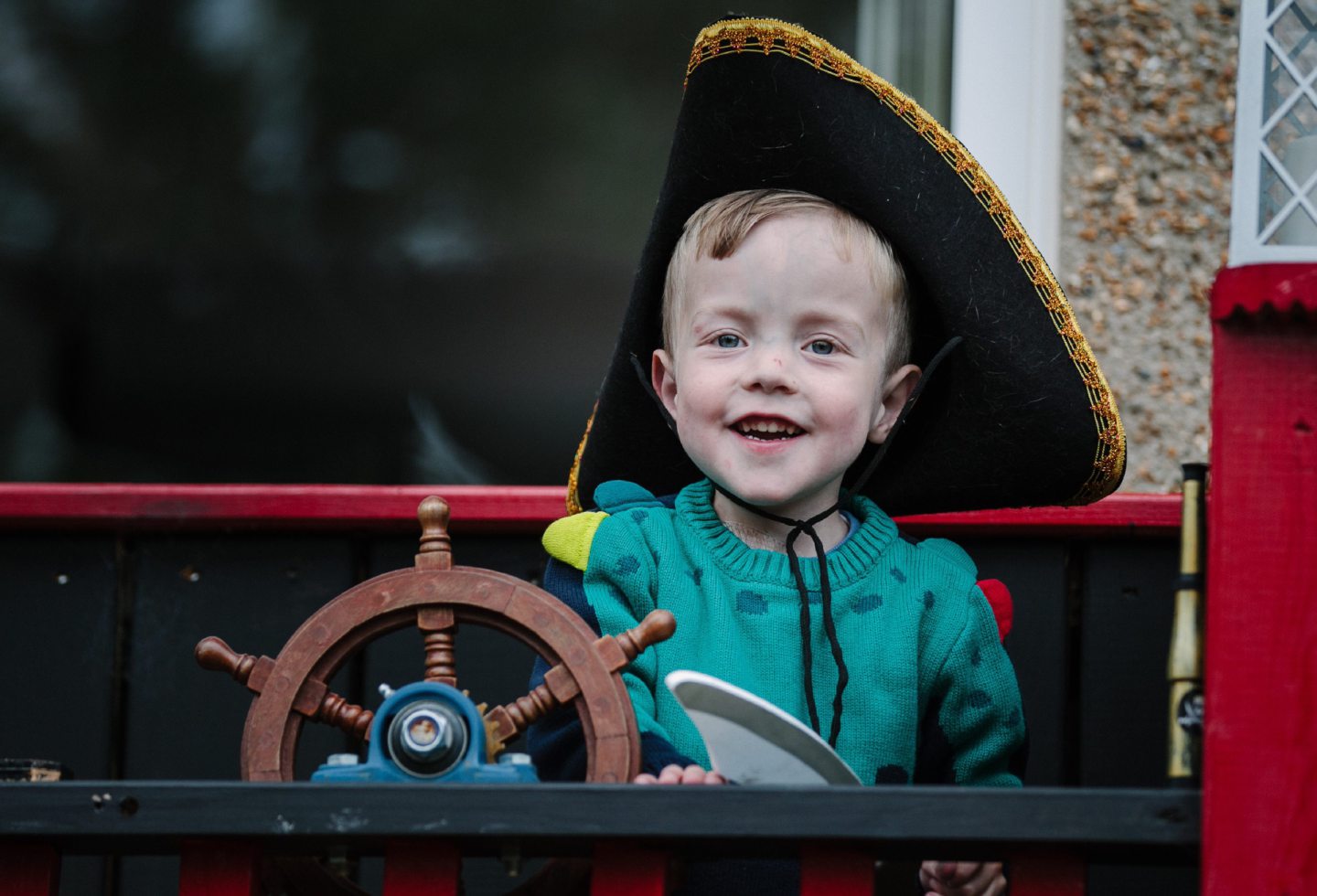 Fiona developed seriously high blood pressure and he had to be delivered early to save them both but he surprised everyone by weighing in at a good 5lbs 6.5oz despite being premature.
At just one day old he was flown to the children's heart unit at the Evelina Hospital for Children in London with Paul at his side. Fiona was unable to travel so soon after the surgical birth and ensuing blood transfusions, but followed five days later with Paul's mum, Mary Anne.
"My health board, NHS Greater Glasgow and Clyde, arranged the flights and insisted I didn't fly on my own so soon after a caesarean."
The couple were told that they would only stay a couple or so weeks before returning to Glasgow but Jack suffered a series of complications including the cardiac arrests and strokes and stayed for six months. It was at The Evelina that Fiona and Paul met the Duchess of Cambridge while she opened the Ronald McDonald house for parents from all over the UK to stay.
"She was genuinely interested in Jack and in us as parents, and if she reads this, I would like her to know this is how far we are in our journey to keep him healthy," Fiona adds.
Family members travelled from Glasgow to London to support Fiona and Paul.
Jack's condition affects the blood flow through the heart. It happens while babies are developing in the womb preventing the left side of the heart from forming properly.
Despite their son's plight, the couple are fundraising for other families also treated by the hospitals that have treated Jack.
Fiona is doing the equivalent of a John O'Groats to Lands End 1,000-mile walk to raise funds to be equally shared among the cardiac ward at the Royal Hospital for Children in Glasgow, the Children's heart transplant ward at the Freeman Hospital in Newcastle, and for the family's living costs in Newcastle where they will be for three months after the transplant. Once he has the transplant operation, Jack will be at greater risk of infection, and will have to shield.
Paul had to give up work for 12 weeks during the Covid lockdown to help care for Jack. He has returned but will shield again for another 12 weeks after surgery. Fiona said: "Paul will have to give up being a self-employed joiner to shield Jack during Covid and I will try to continue working in my part-time job.
"Covid has been challenging because Jack loves speaking to people and will call and wave across the street at our neighbours. He's a happy boy who thrives on speaking to everyone he meets and despite all he has been through, he is as sharp a tack and is even learning to write his name."
In a cupboard in their home is a packed suitcase, ready and waiting in case the family are told a heart has been found for Jack.
When they get that call, the Sneddons will have just four hours to get to the Freeman Hospital, in Newcastle, where the transplant operation would take place.
"We are telling our story because I want people to know how much organ donation can save others," Paul says. "We all carry donor cards, although Scotland now has an opt-out system."
There are more than 40 children in the UK waiting for heart transplants. It is especially difficult to find a donor for children and babies, says the UK's NHS Blood and Transplant authority. Fewer transplants have been carried out during Covid because of the drop in numbers of fatal car accidents, a spokeswoman said. Child patients need a similar-sized heart to the one that is being removed.
Paediatric cardiologists strive to transplant children before they become too ill to endure the surgery and Dr Zdenka Reinhardt, paediatric transplant consultant, said: "Congenital heart defect affect around 1% of births annually. The number detected, especially mild types, is increasing through better detection of anomalies. The prevalence of other types has remained stable."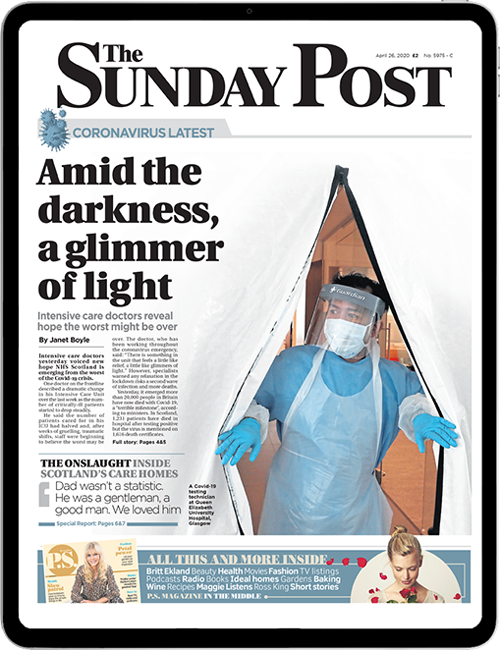 Enjoy the convenience of having The Sunday Post delivered as a digital ePaper straight to your smartphone, tablet or computer.
Subscribe for only £5.49 a month and enjoy all the benefits of the printed paper as a digital replica.
Subscribe