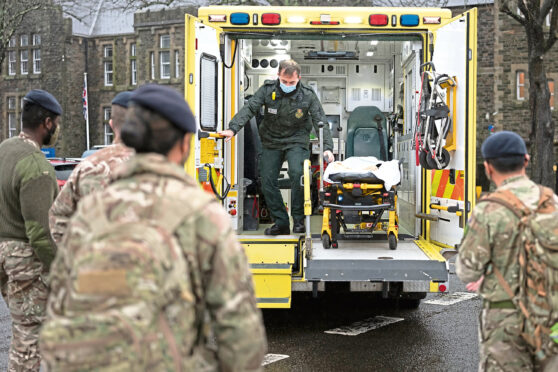 Paramedics and politicians are calling for soldiers to set up field hospitals in Scotland's biggest cities to ease pressure on the crisis-hit ambulance service.
Last week the Scottish Government called on the Ministry of Defence to provide 110 personnel to run Covid test centres to free up ambulance staff who currently run the sites. Scottish Government officials then sent a second request to the MoD, this time for 90 military drivers.
Now medics and opposition MPs want the measures to go further, saying the overstretched A&E departments do not have the capacity to take patients and queues of ambulances outside will only get longer.
Scottish Labour leader Anas Sarwar said the move is crucial to clearing the increasing backlog and suggested the Army should have been called in sooner.
Sarwar used first minister's questions to raise the cases of Gerard Brown, 65, who died at his Glasgow home while waiting 40 hours for an ambulance, and Lillian Briggs, 86, of Edinburgh, had to wait eight hours for an ambulance after suffering a fractured hip.
Unite Convenor at the Scottish Ambulance Service Jamie McNamee, said: "This is the worst it has ever been for waiting times but it isn't just about being short of staff, it's about what we do with patients when we get them to hospitals.
"We need capacity in A&Es to be increased to allow us to hand over patients. You could give me 100 ­additional ambulances in Glasgow tonight but it won't make a blind bit of difference as they'll be queued outside the Queen Elizabeth University Hospital. You'll just have longer queues.
"We need a field hospital to ­enable us to hand over patients to clinicians to free up mobile resources because people are dying due to delays, quite literally."
Family doctors warn care is being jeopardised by overwork and stress
Another paramedic, who asked not to be named, said: "You pick up a patient after a 999 call and take them to hospital, and then you're waiting with them in the car park for hours. The system is broken – waiting eight or nine hours for an ambulance is not unusual at the moment – but one short-term solution could be for the military to set up temporary field hospitals."
Figures obtained by The Sunday Post show a 100% increase in the number of complaints about delays in the two years before the pandemic. Between April 2018 and March 2019 there were 174 complaints and 343 in 2019/20.
Scottish Labour leader Anas Sarwar said: "I'm glad that the government has called for the Army to be brought in to help with this crisis, but it is all too clear they only did so after political pressure.
"But the SNP's complete failure to ensure our NHS has proper surge capacity means that our hospitals are now at breaking point.
"The Scottish Government must give serious consideration to asking the Army to set up field hospitals if they will work to ease the pressure on our NHS."
Dr John Thomson, vice-­president of the Royal College of Emergency Medicine Scotland, said bringing in the Army should cut waits for ambulances but won't help overstretched A&Es.
He said: "It's not going to have any impact on waits in emergency departments in any way shape or form. It's slowly getting worse. There are an increasing number of eight to 12-hour waits and decreasing performance overall so things are continuing to deteriorate. We're in for an exceptionally difficult winter.
"What will fix this, from an emergency department perspective, is increased capacity."
GMB Scotland organiser Karen Leonard, who represents ambulance workers, said: "Bringing in the Army now is the equivalent of putting a sticking plaster on a gaping wound, leaving staff and patients paying a high price for this political failure."
The Scottish Ambulance Service said: "It is extremely challenging across the NHS just now and our staff are working incredibly hard to help patients across the country.
"We are currently at our highest level of escalation and are working with health boards and the Scottish Government to address the challenges being faced through a range of actions, including the potential for targeted military assistance as in other UK ambulance services. We're still in discussions with the Scottish Government about the details of military assistance."
It comes as the number of people in hospital with Covid increased again, after two days of decline. There are now 1,052 in hospital, up 12, and 99 in intensive care, up 15. Another 27 Covid deaths were also recorded yesterday, and a total of 117 in the previous seven days – the highest seven-day death toll since early March.
There were 6,116 Covid cases recorded yesterday, however the Scottish Government said numbers may be higher due to a backlog following technical issues at Public Health Scotland. Paramedics believe that when soldiers are deployed they should be setting up field hospitals as well as driving ambulances.
UK Government sources said yesterday it could be the end of this week at the earliest before soldiers are deployed because the requests from the Scottish Government have not yet been signed off by the MoD.
One official close to the process said: "There is still a lot to be worked out between the MoD and the Scottish Ambulance Service."
The MoD said it had received the requests from the Scottish Government and officials are working to identify how best to assist.
Scottish Health Minister Humza Yousaf is expected to update parliament about the military deployment this week.
The Scottish Government said: "Because of the pandemic and its knock-on effects, the Ambulance Service is under the most pressure it has ever been since the inception of the NHS in 1947.
"We are giving urgent consideration to temporary admission wards to ease bottlenecks between ambulances and our hospitals – and we are investing an extra £20 million to fund almost 300 new ambulance service staff, some of whom have already started work.
"Despite the pressures of the pandemic, our ambulance crews, who serve some of the most rural areas in the UK, responded in 2020-21 to over 70% of highest priority calls in under 10 minutes and more than 99% in under 30 minutes."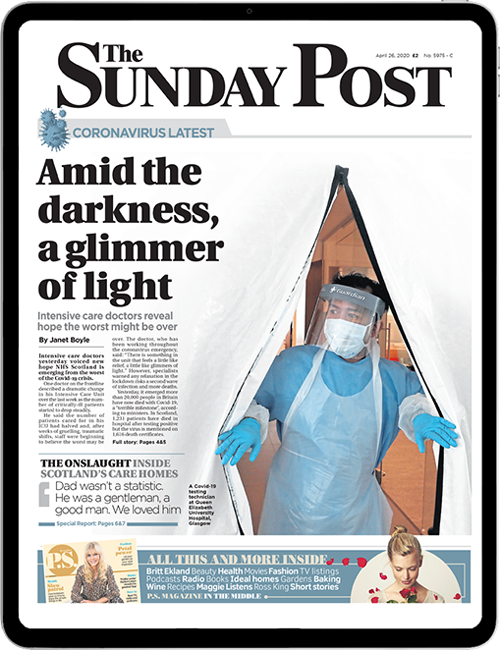 Enjoy the convenience of having The Sunday Post delivered as a digital ePaper straight to your smartphone, tablet or computer.
Subscribe for only £5.49 a month and enjoy all the benefits of the printed paper as a digital replica.
Subscribe