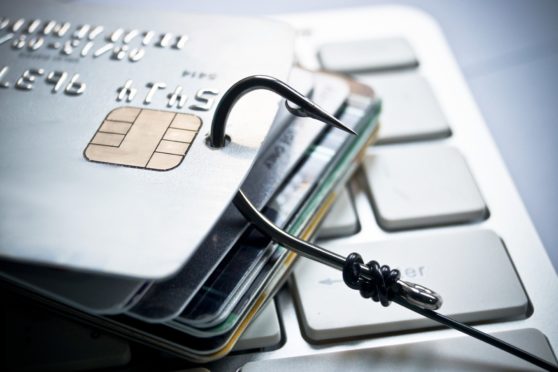 Fraudsters have stolen more than £86 million from Scots as the pandemic eases their route to locked-down victims, experts warn today.
Police Scotland figures show that reports of fraud were up 60% year-on-year in January, and 45% in February. The crime statistics mean that 2021 has started the same way as last year ended, with crooks making the most of new opportunities to target large numbers of people working from home or on furlough.
Consumer advice and ­government agencies are alarmed at the record numbers of victims contacting them about being scammed. Age Scotland says calls to its helpline have soared by 53% in the past 12 months while Trading Standards estimates that more than £5m has been stolen in Covid-related scams alone.
These types of frauds include track-and-trace scams, such as bogus apps, emails and texts telling people they have been in contact with coronavirus and to click a link or call a number. Home working scams – in which fraudsters may impersonate payroll departments and internet providers – are also on the rise.
"It is difficult to get a true picture of the sheer volume of fraud going on during lockdowns as most people don't want to come forward and report these due to perceived stigma or embarrassment," said Katherine Hart, lead officer at the Chartered Trading Standards Institute.
"It is believed the amounts involved could total well above £86m and at least £5m of that has been stolen from people via direct Covid scams alone. These criminals are now so ­sophisticated and convincing that just about anyone could be taken in by them."
In the past, it was mainly the elderly and the most vulnerable who were targeted by fraudsters but now growing numbers of young people are being scammed out of cash too, according to Graeme Paton, chair of the Society of Chief Officers of Trading Standards in Scotland.
"I have seen evidence that older people who could previously look after themselves with no trouble are more than twice as likely to need home care or go into a home within two years of being scammed," he said. "Their confidence takes a hammering and they find that they then struggle to cope.
"But now we are hearing from ­people in their 30s and 40s who are being targeted, as more of them are at home in front of a computer.
"These are often bright ­individuals who feel embarrassed they have been duped and it can lead to them becoming depressed and even ­paranoid that someone is watching them or tracking their every move online. Some even feel suicidal because of it. The sheer scale of this problem is a big concern."
Consumer agencies report the most recent frauds include Covid scams, bank scams, HMRC scams and "phishing" messages supposedly from online firms such as Amazon.
People are also being conned via cloned and fake websites, business scams such as fake grants, cold callers, counterfeit goods and misleading energy marketing, and the illegal puppy trade is booming.
"Younger victims are even less likely to report a fraud, or even tell their own family about it, because they feel they should know better," said Colin Mathieson, spokesperson for Advice Direct Scotland. "But these criminals can fool just about anyone. Even the most logical and level-headed people can be taken in."
Ruth Mendel, policy officer for Citizens Advice Scotland, said fraud was a very real crime, often with lasting financial and emotional consequences for victims. "If someone had their ­ wallet stolen from their pocket, they would soon report it but many see reporting being conned as admitting to being weak or even stupid," she said. "But dealing with this on your own without a support network can make some people feel even worse.
"The more people report these sorts of incidents, the more other people will become aware of them."
The surge in fraud is also causing backlogs in the courts.
Scotland officially recorded only one high-profile fraud case for the entire period of 2020 as Covid-19 continues to pose significant logistical challenges for the country's justice system.
KPMG's UK head of investigations, Roy Waligora, said increased costs to businesses through fraud were likely to be passed on to customers. "We expect that it will be at least another 18 months before things start to normalise," he said.
Police Scotland said it was committed to investigating all types of fraud and urged more victims to report suspicious or criminal activity.
Detective Superintendent Dave Ferry said: "Over the past year, as people have stayed at home, more and more of our business has been carried out online; whether that is social engagement, shopping or working from home.
"We already know that those who are involved in carrying out fraud and scams are undoubtedly attracted to the online space and, as a result, we have seen an increase of reported frauds in these areas.
"Reporting these crimes to police is very important in our effort to tackle fraud, as it enables us to identity areas of concern and find patterns of behaviour."
He added: "This information is ­invaluable in ensuring that we have a true picture of the types of fraudulent activity taking place across the country. With this we can put appropriate measures in place that allow us to further investigate and also support victims of these types of crime."
---
The victims
Conmen stole almost £60,000 but I felt guilty
A fraud victim has spoken of the psychological impact after losing almost £60,000 to scammers.
Michael Rossall, a retired teacher from Glasgow, said he was tortured by guilt after transferring the cash from his bank account to crooks over three days last year after he had reported a broadband router fault to his internet provider.
Michael, 74, was convinced he was dealing with technical staff from Virgin Media when they contacted him. The scammers told him to download security software, which turned out to be spyware. The criminals stole his bank details and passwords and raided his accounts.
Michael described the ordeal as a "nightmare". "It was all I could think about from morning to night for three months," he said. "I felt like a zombie.
"The money had been inherited and I felt like it was the family's money, not mine, and that I had let everyone down. I've never considered myself to be gullible but these crooks were so convincing I fell for it.
"It has been an ongoing nightmare dealing with three different banks, the police and the ombudsman. The banks have only given me a portion of the money back as they said I approved most of the payments myself."
Michael now wants banks to do more to protect customers by introducing increased safeguards.
I started getting things I had never ordered
Joan Gavigan feels she had a lucky escape after her Amazon account was hacked and she was charged for items that she never ordered.
Joan, from Clydebank, became suspicious when dog-related products arrived at her home in June last year.
"I don't have a dog and when I checked my bank I discovered I had been charged almost £50 for things I hadn't ordered from Amazon," she said.
Joan, 73, had been targeted by an increasingly common fraud in which scammers use people's email details to hack into online shopping accounts.
Typically, at first, they send low-cost items to people and if the victims don't notice they hadn't ordered these themselves, the crooks then set up alternative delivery addresses and start using a victim's bank details to order and pay for much more expensive items.
Amazon secured Joan's account before any further damage was done.
"The experienced has certainly changed me and I am now a lot more suspicious of everything," Joan said. "I don't answer the phone if I don't recognise the number and I don't respond to unsolicited emails or texts, even though they might be genuine.
"I was never like that before but sadly I am now."
---
The gangs: Bribers blackmail bankers to help them
Criminals are using bribery and blackmail to enlist bank staff to bolster their scams with insider information and expertise, according to fraud investigators.
Inquiries suggest the drive to recruit bank insiders is gathering pace with the Dedicated Card and Payment Crime Unit, a police unit part-funded by the banking and card industries, saying it had 43 referrals from bank staff contacted by criminals last year, up from 23 the year before.
However, it is rare for rogue staff to get away with these crimes because of the high security that surrounds banks. A Scot, armed with information passed from bank insiders, became one of Britain's biggest fraudsters after heading a sophisticated bank scam operation that pulled in £113 million.
Feezan Hameed Choudhary was jailed for 11 years in 2016. He led a gang of scammers who phoned victims pretending to be from the anti-fraud department of the Royal Bank of Scotland or Lloyds before conning them into divulging their account details.
Choudhary, 27, from Glasgow, blew a fortune on luxury cars, jewellery and lavish trips to Dubai.
---
The cons: Thieves claim to be from health service
Trading Standards Scotland reveals five scams that are claiming victims during the pandemic:
Vaccination
Since the Scottish Government began its Covid-19 vaccination programme, there have been reports of scammers sending emails and texts claiming to be from the NHS, telling people that they are eligible to apply for their vaccine.
Scam messages usually ask the recipient to click on a link leading to an online form which looks similar to the real NHS website – these bogus websites ask them to enter personal and financial details.
There have been reports of scammers posing as NHS staff who have visited vulnerable people at home and offered them the vaccine for a fee, or even administered fake vaccines.
Test and trace
People are being warned to be wary of fraudsters posing as contact tracers working for NHS Scotland's Test & Protect service.
There have been reports of cold callers telling people they have been in contact with someone who has tested positive for Covid-19 and asking them to pay money to take a test. Genuine contact tracers may first send you a text to let you know that you will receive a call from NHS Scotland.
Shopping
Fake online stores are becoming more common. These websites offer high-demand items at cheap prices and look like legitimate businesses.
There have been complaints recently from Scots who have bought sportswear, gardening equipment, clothing and electrical goods from bogus online stores.
In all cases, the companies do not reply to emails or phone calls.
Be wary also of pop-up adverts. These may ask you to enter personal details in return for a discount code or special offer.
However, they are often simply harvesting data, which can then be used to develop a target profile for fraudsters.
At the door
There have been reports of companies offering to "cleanse" properties of Covid-19 bacteria.
Also, look out for cases of fraudsters cold-calling households and posing as NHS or Red Cross staff. They might offer to help people with their shopping in return for payment, attempt to sell home testing kits or ask for donations to fund a vaccine.
Genuine staff from the NHS or Red Cross will not turn up at your door unannounced to ask for money or to sell home testing kits.
On the phone
Unsolicited telephone calls are one of the most popular methods used by crooks to find victims.
These typically involve fraudsters deceiving people into believing they are speaking to a police officer, a member of bank staff or a representative of another trusted company or agency such as a government department.
Usually, the fraudster will convince an individual that they have been a victim of fraud, gain their confidence and will then ask for personal and financial information in order to gain access to their bank account.
---
The help: Beware scammers, but they can be beaten
What is being offered seems too good to be true – for example, a holiday that sounds much cheaper than you would normally expect.
Someone you don't know contacts you unexpectedly.
You suspect you're not dealing with a real company, for example, if there's no postal address for the firm.
You have been asked to transfer money quickly. Never be rushed or pressurised into making a decision about parting with money no matter how much urgency a scammer might place on this.
You have been asked to pay in an unusual way, for example, by iTunes vouchers or through a transfer service such as MoneyGram or Western Union.
You have been asked to give away personal information including passwords or personal identification numbers.
There is no written confirmation of what has been agreed.
If you have been scammed, you need to: protect yourself from further risks; check if you can get your money back; and report the scam to the police or relevant authority.
If you are not sure if something is a scam, contact Advice Direct Scotland for confidential help. The organisation's consumer service offers free information. Call 0808 164 6000 or visit consumeradvice.scot
There are warning signs to look out for, but if you fall victim, help is at hand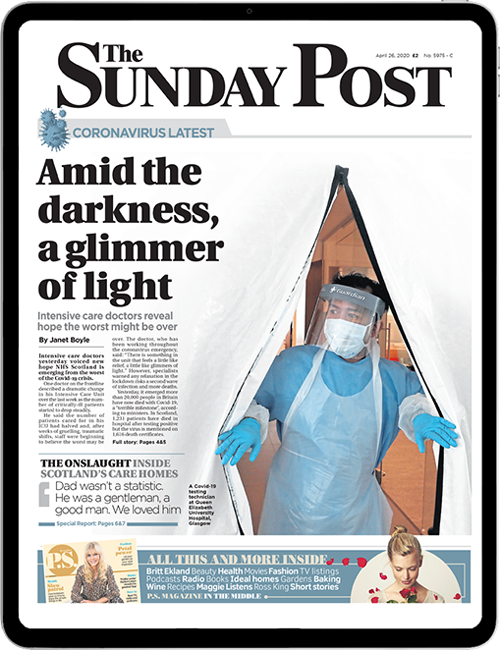 Enjoy the convenience of having The Sunday Post delivered as a digital ePaper straight to your smartphone, tablet or computer.
Subscribe for only £5.49 a month and enjoy all the benefits of the printed paper as a digital replica.
Subscribe