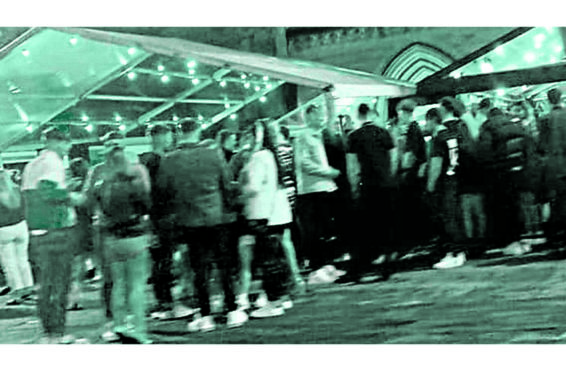 Cold beer and pizza never tasted so good. It was Sunday, July 26, lockdown had ended, pubs had opened, and, inside the bar, customers hoped the pandemic was, at last, over.
While masked staff ferrying food and drink to the socially-distanced tables seemed a little strange, if this was the new normal it quickly felt, in the Hawthorn at least, strangely normal.
By Thursday, four people at the bar, also known as the Adams, would test positive for Covid-19. It would be the beginning of an outbreak – the first after Scotland emerged from lockdown – that spread rapidly as public health teams fought to gain control.
It lasted five weeks, would eventually involve 263 linked cases with more than 1,200 contacts, and force the closure of the city's bars and clubs.
Most of those infected were in their 20s or 30s, with a small number of hospitalisations and no deaths, but beyond that, in the wider Grampian area there were 203 cases – mainly people in their 50s and 60s. Chris Littlejohn, Grampian Health Board's deputy director of public health, says a link is suspected but not yet established.
He said: "We could not find the link between them, that does not mean the link was not there. It goes to this idea about allowing it to rip through the younger population while trying to keep older people protected. How on earth do you do that? Some of the younger people who were in those bars were care workers, NHS workers, carers, they have got vulnerable family. There is no division between young and the old, our society is not built like that."
So why Aberdeen and, why then, after a month when no new cases had been reported in 17 days? Holidaymakers returning to the city are now thought most likely to have brought the virus back to the city.
But after that? Mr Littlejohn said: "It could be a mixture of things: the release from lockdown, the need felt to socialise, the inherent risks in venues where you bring people together. There might have been a super spreader, somebody who actually visited multiple venues and transmitted to multiple people over one or both of those weekends but we are also open to the possibility that we perhaps had a number of infected people.
"Ultimately, I think we were unlucky. Nothing was happening here that was not happening elsewhere in Scotland. It happened here. It could have happened anywhere"
Today, as Scotland battles a second wave and fears a third, we speak to officials and scientists in the eye of the storm in Aberdeen to detail how the virus spread and was fought back day by day and case by case.
They explain what they did then and what they know now while national experts and government advisers explain the lessons that must now be learned from past outbreaks to combat those still to come.
---
An emergency unfolds
Thursday, July 30
It has been a welcome respite but brief. Towards the end of the summer, coronavirus is close to being eliminated in Scotland after the first lockdown, which began in March with about 300 strains.
Professor David Robertson, head of viral genomics and bioinformatics at the University of Glasgow's Centre for Virus Research and co-author of a report to the Scientific Advisory Group for Emergencies (Sage), says: "We were surprised at how low the levels got. Any introduction after the summer was from outside of Scotland, from holiday travel and business travel.
"The lesson we didn't learn from the first wave was that you have to make sure you stop the virus coming in, which New Zealand and other countries have made a much better job of.
"If you control the introduction you can stay on top of it through contact tracing because you don't have the same number of infections."
The report estimates that during the period from July 17 to August 30 there were 46 import events into Scotland from elsewhere and, after four weeks with no cases, Aberdeen has four and all are linked to the bar diner in Holburn Place. NHS Grampian's Test and Protect system swings into action, quizzing the four about their recent movements. It is only when two contact tracers compare notes they spot a link. All four have been at the Hawthorn Bar the previous Sunday. Engineer Keiran Lumley has been in a few days before that.
Keiran, 29, of Aberdeen, says: "I've been to the Hawthorn many times before and, although like most people I've not been out much since the pandemic began, I met with a friend I'd not seen for a while and we decided to go there for a burrito.
"I remember thinking when I walked in that things appeared well organised. My first impression was of a venue trying its best. As soon as we entered, a member of staff wearing a mask asked both of us to fill our names in a book then sanitise our hands before we sat down at our table. The staff member said someone would come over to us and take our order.
"Everything was cleaned and carefully looked after, even to the point that we had a new batch of cutlery brought to our table, as opposed to picking our own from a basket.
"I am in there quite regularly so I noticed all these changes. It seemed a little strange but we knew what they were doing and why.
"I think there is a large degree of randomness in terms of where a cluster might happen and it could have happened in any bar really.
"I certainly never developed any symptoms after visiting the Hawthorn. There just seems to be a degree of luck or fate for it to have happened at that time, in that bar. It started there but could have started anywhere."
Friday, July 31
NHS Grampian's Incident Management Team (IMT) – made up of clinicians, public health and environmental health experts, meet to discuss the new cases, the first in the city for more than a fortnight. Chris Littlejohn, deputy director of public health, remembers: "Sunday 26 July was the date that was catching attention. They had been in two groups, three friends who had gone together and another person, unconnected to them.
"Initially we are going into it thinking we have had cases in a bar. Does that mean they've passed it on within the bar, or was it just a coincidence that this was just one of the places where they had been?"
Professor Corri Black, who is co-director of the Aberdeen Centre for Health Data Science at the University of Aberdeen, says the virus will have spread in the air and on surfaces: "It could have happened in any venue that is relatively small, busy and noisy, where people are speaking loudly. At the time, we didn't ask people to wear face masks, there was music and sound in pubs. So some of things that changed since were not in place at the time. Lessons have been learned from experiences that will make it more difficult for it to happen again.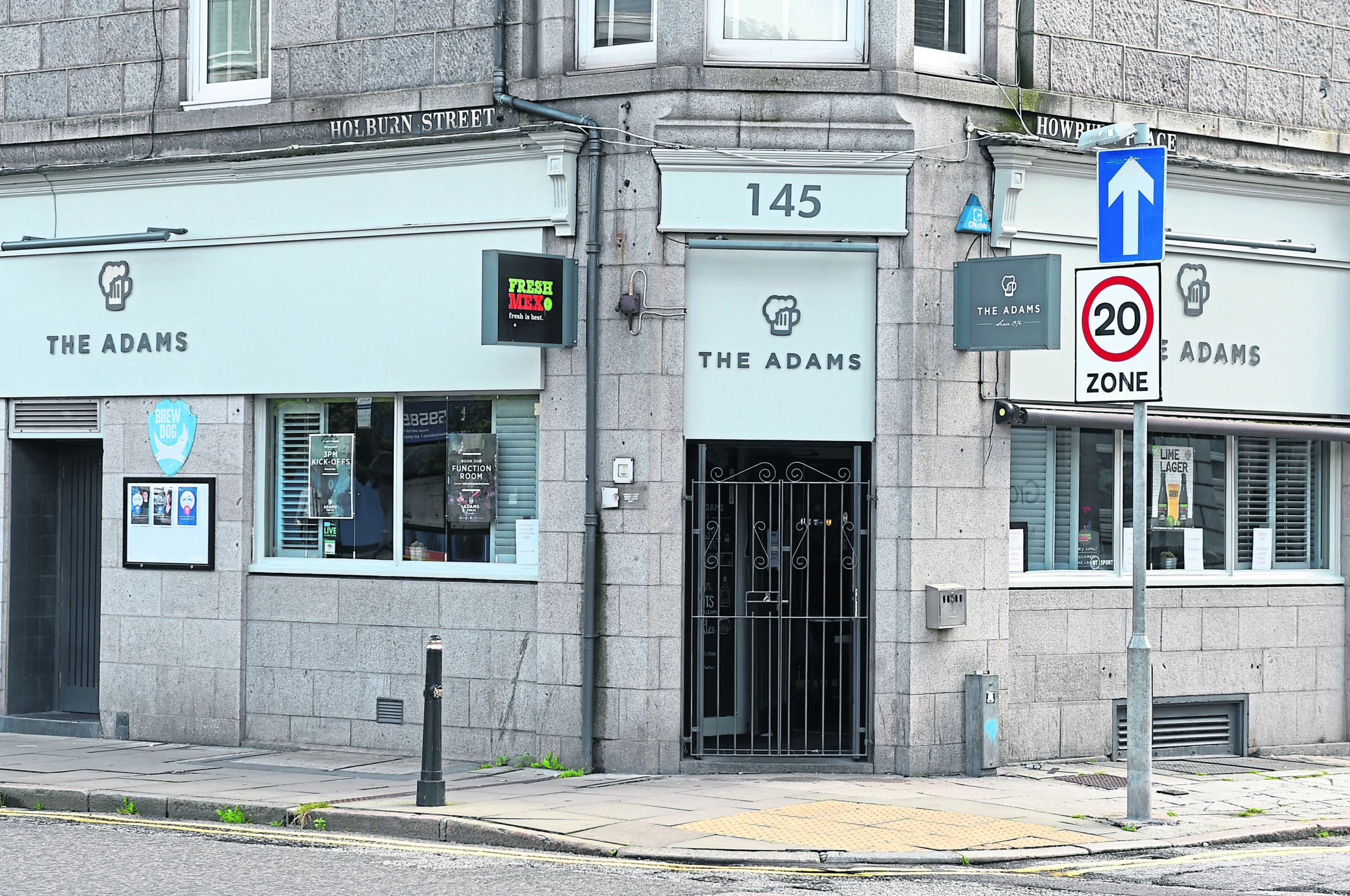 "However, if you are in a venue where you have been allowed a one metre distance and then people lean in to hear what is being said, to join in the conversation, the risks go up. Any measure that allows people to sit closer together increases risk.
"That's why that policy of one metre was a special dispensation as an acknowledgment of the challenge the hospitality industry had to open at all and maintain that level of physical space and still be viable.
"If you could seat everybody eight metres apart, from a public health perspective that would be safer."
Environmental health officers immediately visit the Hawthorn and its adjoining lounge, The Adams, to check the safety guidelines are in place – they are. They also collect the list of customer details – which the bar has voluntarily collected – to pass on to contact tracers.
Saturday, August 1
A second IMT meeting is told there are more cases, but only within the households of the original four. Mr Littlejohn says that, generally speaking, the picture is "positive".
Sunday, August 2
Pictures taken on Saturday night and now shared on social media show crowds swarming outside the Soul Bar, a lively, popular venue, in the city. First Minister Nicola Sturgeon later says the images make her "want to cry".
Mr Littlejohn says there is an unforeseen reason for the crowded pavements: "It seems that Aberdeen city, the good folks, went out for a good night out that weekend and to the bars, using the booking system of course.
You had to use the booking system to get in and you only got to stay in for a fixed period of time. What seemed to happen was that people then left the bars at the end of their slot, but then tried to get into other bars, to see if there were cancellations. The bars were allowing people in if there had been no-shows and that created these large crowds outside the bars." Meanwhile, the Hawthorn voluntarily closes to allow for a deep clean.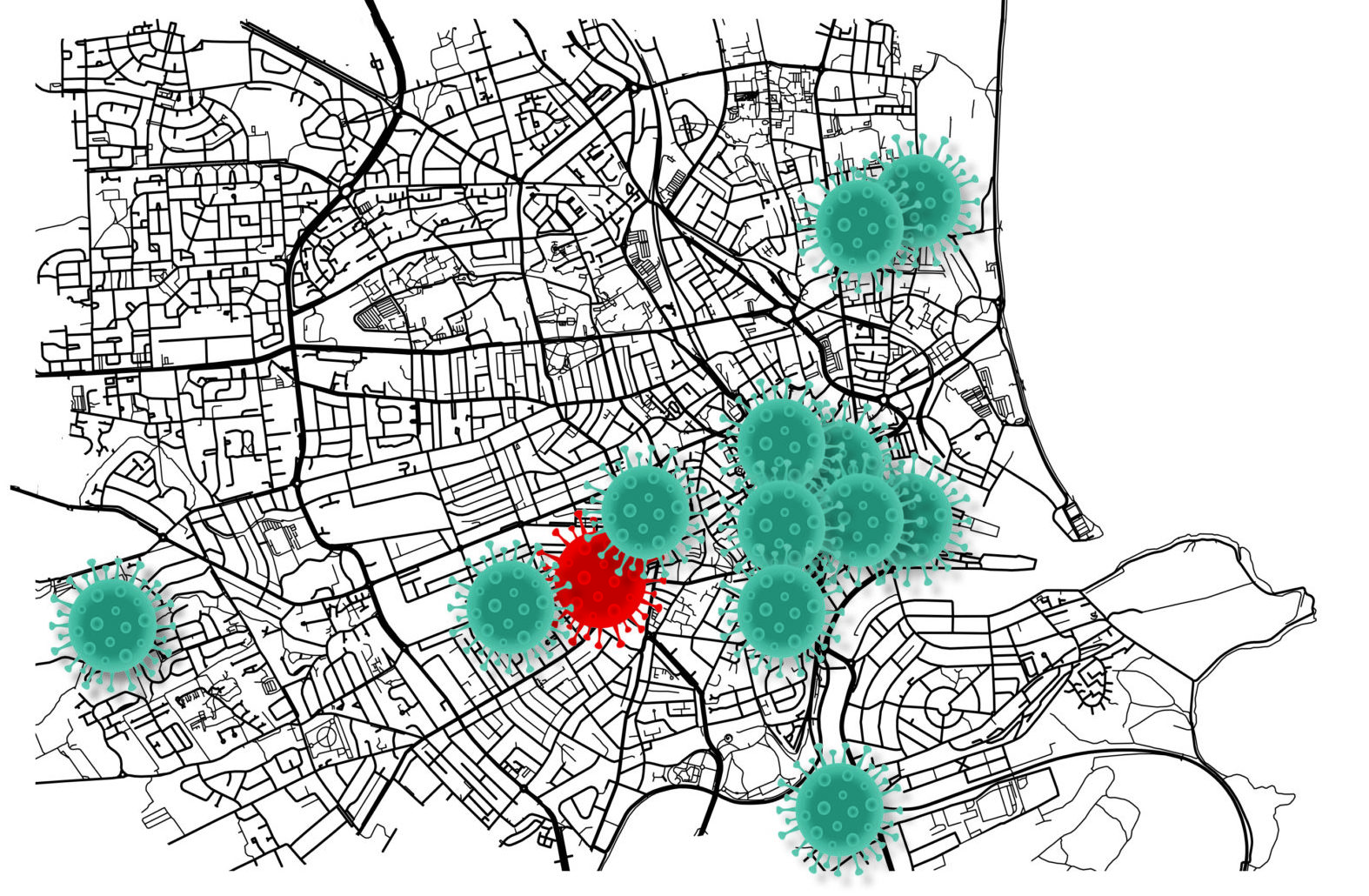 Monday, August 3
The number of positive cases jumps to 27 – including two members of staff at the Hawthorn – and 123 contacts. Mr Littlejohn says: "There was a phenomenal effort going in, literally from a standing start with no cases to 27 cases and 123 contacts, all of them needing to be called. We had to be on top of that, while environmental health officers had to actually go and inspect these premises.
"It was already self-evident that at outside venues there had been no physical distancing and no masks, but we were hearing that, within some venues, it felt very busy and physical distancing had been really challenging to achieve. However, elsewhere there were orderly venues with the table service, with pre-booking and everybody seeming to be following the rules.
"By Monday we have got a number of premises causing some concern in terms of their queue management so, while we were thinking about managing the initial situation, we also begin to think about the coming weekend. We had Police Scotland on the IMT, so there were conversations about what were the legal powers of local authorities to close bars and the powers of the police to disperse crowds in the street. We were thinking: how are we going to manage this? We need to plan for the possibility that this weekend is going to be the same again."
Tuesday, August 4
With a rising number of cases and worrying images of drinkers breaching social distancing on social media, a Scottish Government Resilience Room (SGoRR) meeting is called. Mr Littlejohn says: "We were the first city in Scotland post-lockdown to be seeing signs of a possible outbreak around our nightlife.
"There was huge media interest in what was unfolding. Understandably the Scottish Government was all over it and convened the resilience room to understand what was happening."
At this point the Soul Bar closes after it emerges that a customer from the Hawthorn, who has tested positive, has also visited that venue.
We had arranged for five more test centres
Wednesday, August 5
New cases are being confirmed at an increasing rate and the testing system is starting to buckle. The Scottish Government acts, closing all 519 hospitality venues in the city, and reintroducing a ban on indoor visiting and a five-mile travel restriction for people living in Aberdeen.
Mr Littlejohn says: "We were up to 54 cases, 191 contacts, growth was exponential, the Aberdeen Airport testing facility had been overwhelmed, and we had arranged for an additional five mobile testing units to be deployed into Grampian. We also had 23 hospitality venues being named multiple times by our cases.
"We had gone from four cases notified on the Friday to 54 cases on the Wednesday, and the city effectively being put back into a local lockdown. We'd gone from thinking was this a single transmission event and it was beginning to feel very unlikely that it was a single transmission event, or was this multiple introductions into the nightlife, which again sparked this outbreak?
Thursday, August 6
There are now 79 cases and 233 contacts. The authorities publish a list of 28 bars, cafes, restaurants and hotels that have been linked to the outbreak, along with three golf clubs and a football club.
Some of the businesses face fierce criticism on social media. Aberdeen City Council's protective services manager Andrew Morrison remembers: "The suggestion was that, because businesses had been named or visited, they had been involved in onward transmission. This wasn't necessarily the case, it was because we knew they had been visited by at least one positive case. The naming was about being transparent and open, but also to allow customers to show greater vigilance if they had been in these premises."
It emerges two Aberdeen FC players tested positive after visiting the Soul Bar on the night of Saturday, August 1. It emerges they had been part of a party of eight players from the club who had spent the evening at the bar, in a clear breach of regulations agreed between the government and football authorities. Nicola Sturgeon describes the players actions as "unacceptable" and they apologise.
Saturday, August 8
Linked cases reach 110. Mr Littlejohn says: "By this point we are starting to differentiate between cases that have links into the Aberdeen hospitality and those that are now representing community spread."
Monday, August 10
The total of 134 cases linked to Aberdeen nightlife rises to 165 cases the next day and, by Thursday, 182. The total continues to rise over the next few weeks until finally plateauing at 263 cases, with 1,265 contacts traced.
Monday, August 17
Aberdeen's environmental health and trading standards teams face the enormous task of checking every one of the closed premises before it can reopen. The council sends out a formal request for mutual aid to other Scottish authorities. Within minutes responses come in, with a total of 21 councils lending their staff to Aberdeen for the follow-up work.
Mr Morrison explains the plan: "We split premises into higher and lower-risk groups. The higher risk was the pubs and bars, some golf clubs and social clubs, some hotels where local knowledge said these were venues where people went for a drink."
Some 166 higher-risk premises are visited by 20 Aberdeen officers in person, beginning on August 20, while 353 lower-risk premises, such as cafes, coffee shops and hotels without a busy bar, are mainly phoned by officers from outside authorities.
Mr Morrison says: "It was then that we hit one of our first problems – the contact details we had for businesses were contact details for when they were trading. So those phone numbers we had are not necessarily being monitored, the emails we have are not necessarily being monitored. So getting hold of businesses was difficult."
He says requests were put out through the media and social media asking businesses go online to enter current contact details. But the delay costs them a couple of days.
Tuesday, September 1
NHS Grampian declares the outbreak officially over and Mr Morrison believes lessons have been learned: "Both the industry and the public have a greater awareness of the need for compliance and the need to abide by the rules. It's noticeable that, of the major cities, we are at the lowest level. I think a lot of that will be about people's behaviour."
Mr Littlejohn says: "The key part of the learning was that you can have all these measures in place, but if an outbreak sparks these measures aren't always enough. We all wondered what would happen once hospitality reopened at the end of August, and we have not seen a re-occurrence of the outbreak, which I think is in part testament to the efforts of the industry in terms of lessons learned.
"The other learning was what do you do with the lists of people. It was voluntary for venues to take names and details for people who were coming in, and it was during the Aberdeen outbreak that it became mandatory. If we had this kind of situation again, half a dozen people within a day or so identified within a venue, what the list does is allow us to move quickly to contact people, telling them to self-isolate and try to put a lid on it. We learned how little time you have to do that."

---
Drinking with people we know is a recipe for disaster

Professor Stephen Reicher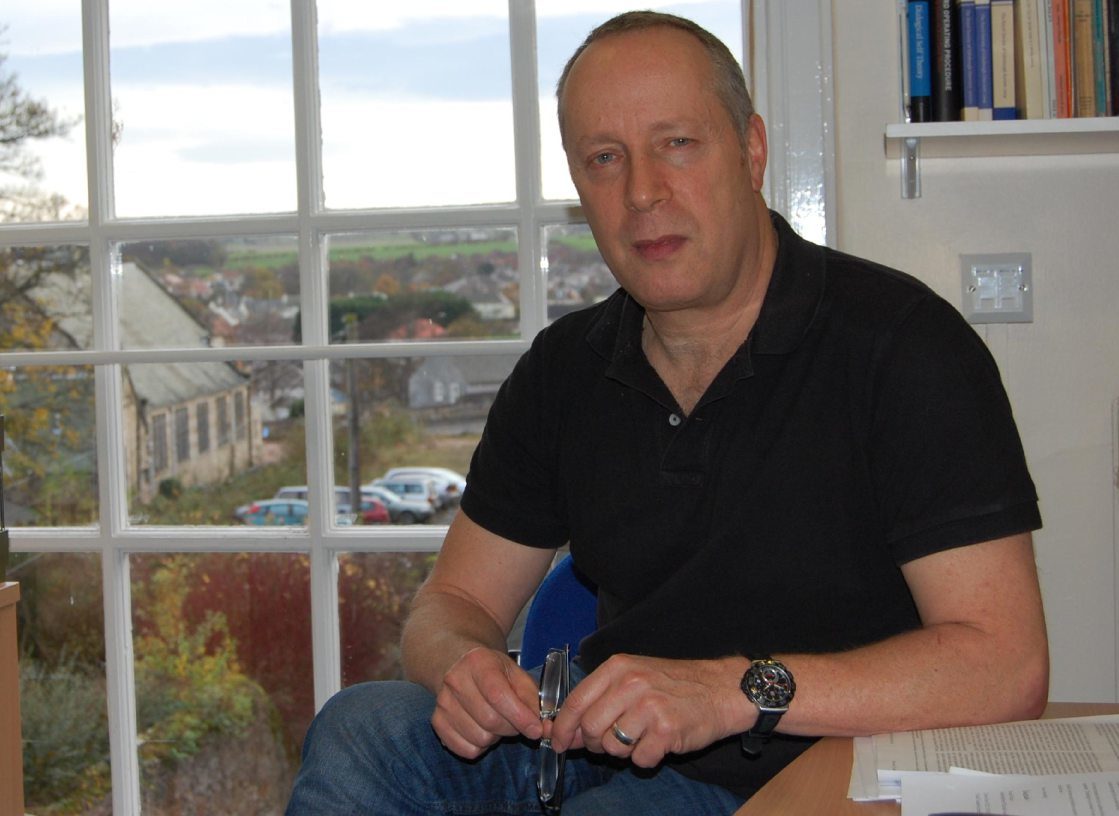 Pubs are the ideal setting for the transmission of coronavirus, according to a behavioural psychologist and government adviser.
Professor Stephen Reicher of St Andrews University said studies show drinkers
are less likely to adhere to social distancing.
He said: "The first and most obvious thing is alcohol lowers inhibitions so clearly that will have an effect. There are also various spaces where we behave differently because they are familiar or because we are with people we feel close to.
"We have done research where you divide people into two groups and you say to them you're going to talk to somebody and all you know about them is whether they are a member of your own group or the other group.
"You then ask them to arrange the chairs to be comfortable. With an in group member they arrange the chairs about 20% closer because with people who are of us and like us we tend to believe we are safer and we tend therefore to physically get closer to them.
"With a pub, if it's your local and you're with people you know you tend to be more intimate and that leads to people getting closer.
"We have also done research which shows we are literally less physically disgusted by people in our group.
"We gave people sweaty, disgusting sweatshirts which either had the logo of their own group or another group and we get them to smell them and then go and wash their hands. If the sweatshirt has the logo of our own group we walk over much more slowly to wash our hands, we use less soap and we don't wash our hands for as long.
"So if you take a pub where you're with familiar people and combine that with alcohol and a lack of ventilation, it's a recipe for disaster."
---
We still know remarkably little about how it moves and spreads

Sir Ian Boyd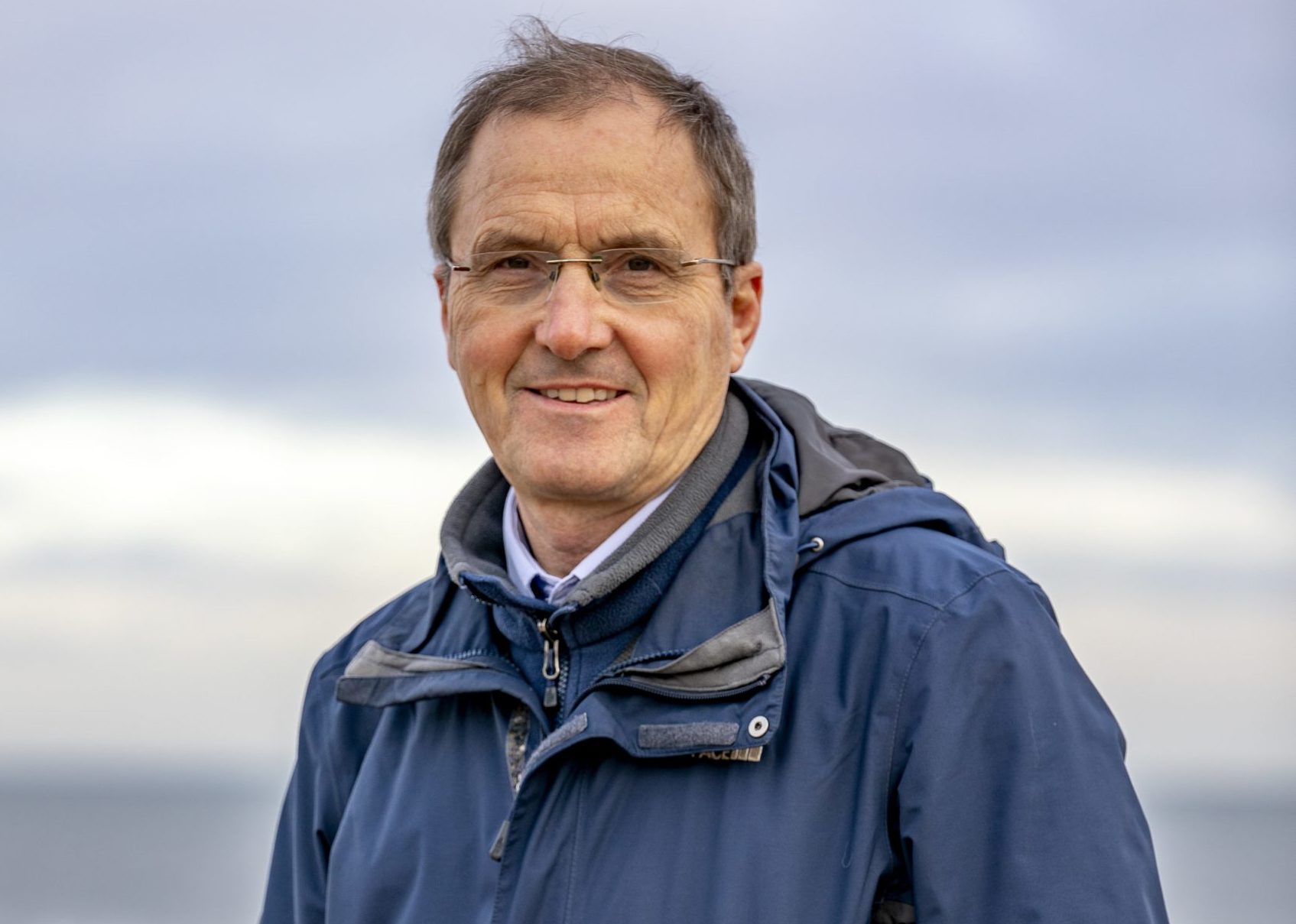 We still know remarkably little in detail about how the virus spreads because it is very difficult to study.
We are learning, however, that some measurements of virus presence on surfaces, for example, using DNA, are not very good at telling us when a virus is "live" and therefore infectious. Much viral DNA discovered is from dead virus.
Viral spread is likely to be very specific to the context. What the evidence tells us is that indoors conditions with poor air circulation tend to lead to more infections but this does not actually say very much about how the virus actually moves between people.
The suspicion is that aerosols are important but the key is for people to understand that there is not one route which can lead to infection. All are important and all have to be managed. Where there are more people in close proximity for long periods of time there is a high chance of transmission by any route.
People most at risk include those who live in households with large numbers of occupants, and especially where there are elderly people mixing with young people.
This is because of the extensive networks of contacts which young people often have, such as those associated with going to school, and the vulnerability of people in old age, or who have other conditions including obesity, adds up to a high risk of infection and the occurrence of a severe form of Covid-19.
People who work in industries, such as hospitality, where they have contact with large numbers of people who are unfamiliar to them, are also at greater risk. This is because many people who have Covid-19 and who are infectious do not know they have disease.
Perhaps as many as one-third of infections are asymptomatic.
It is still too early to know what kind of long-term immunity is created by getting Covid-19. It is likely that different people will react in different ways and some will develop long-term immunity or resistance more than others. There is some weak evidence to suggest that people who have mild symptoms may not develop a strong or lasting immune response. Only time, and research, will tell us the answer.
Sir Ian Boyd is professor of biology at St Andrews University, chairman
of the UK Research Integrity Office and a member of the government's Scientific Advisory Group for Emergencies.
---
Scientists: Ventilation is key. It can hang in air for 16 hours
Social distancing does not stop the spread of coronavirus in poorly ventilated pubs because the virus can travel up to eight metres in the air and remain there for up to 16 hours, experts have warned.
At the beginning of the pandemic scientists believed larger droplets from coughs and sneezes caused outbreaks but it is now also known that smaller aerosol particles from exhaled breath are a key driver of Covid-19 infections.
Dr Zeshan Qureshi, who worked in the intensive care unit at St Thomas' Hospital in London during the pandemic, is a co-author of a report by Oxford Centre for Evidence Based Medicine which found social distancing can be ineffective in stopping the spread of the virus.
He said: "It is very clear that the virus has the potential to spread much further than two metres, up to eight metres, and it also hangs around in the air for up to 16 hours.
"That means there is a problem in a lot of indoor spaces because you don't have good ventilation and the air remains static and then you could potentially pick up the virus from that.
"Certainly the idea that we are safe if we are one to two metres apart is absolutely not true and the overreliance on that rule might be contributory to the outbreaks we are seeing across the world.
"People have felt safe because government advice has been to keep two metres apart or one metre plus and that false sense of security has increased risk, particularly in indoor settings, and we are paying the price for that now.
"There have been strong public health messages around two metres, not touching your face, around washing your hands. Those are all positive messages but we could have gone further."
Professor Jurgen Haas, head of infection medicine at Edinburgh University's medical school, also warned that social distancing is not enough to prevent infection in some settings.
He said: "At the beginning of the pandemic we thought it was mainly droplets that cause the spread, and droplets are relatively big and heavy.
"We now know a lot of transmission is by aerosols which are much, much smaller so they spread much further. That's why we see transmission in locations where we see many people in a room for a long period of time, particularly if it's not well ventilated.
"The people that are in the room generate these aerosols which accumulate over time. That is why the hospitality sector is problematic.
"In principle you can be infected even if an infected person has already left."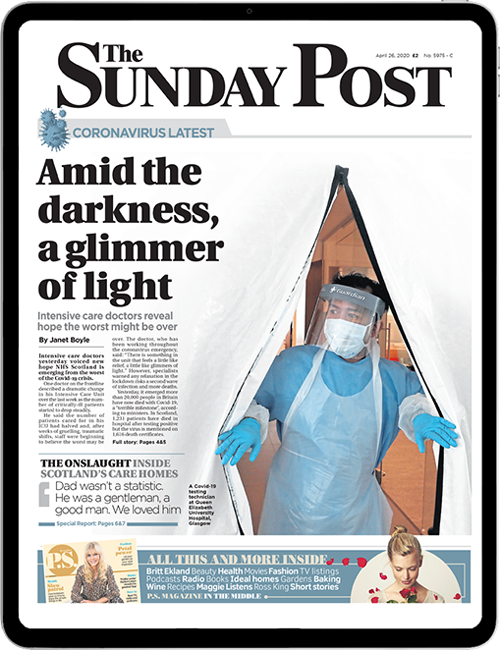 Enjoy the convenience of having The Sunday Post delivered as a digital ePaper straight to your smartphone, tablet or computer.
Subscribe for only £5.49 a month and enjoy all the benefits of the printed paper as a digital replica.
Subscribe