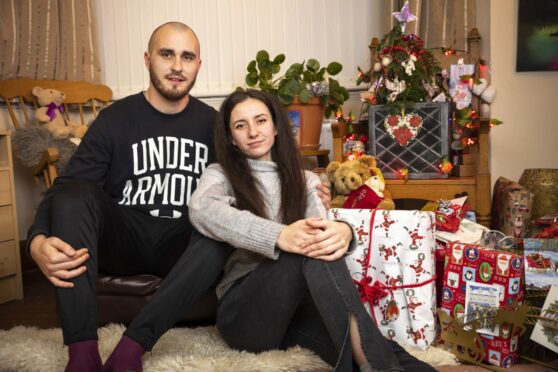 A young Ukrainian couple who fled to Scotland to escape the horror of war have just one Christmas wish… for peace.
Vadym Zakladnyi and Daria Mosiienko spend their waking moments praying for the safety of their families still in the midst of the conflict in Ukraine.
The young couple have been overwhelmed by the warm welcome they have received from Strathaven couple Liz and Graham Findlay but say they are heart­broken thinking of the dangerous, desperate conditions back home.
Vadym, 26, said: "Our hearts are broken as we think of our families in Ukraine. No human should have to live as they are being forced to, losing their sons, living with no electricity, light or heat, as if they are in the Middle Ages.
"We communicate almost every day with our families via the internet and, while they are doing their best to adapt to what is happening, we are worried all the time for them.
"My uncle is sleeping in a tent on the frontline in the most inhumane conditions. It is the second time in eight years that he has fought to defend our country. He is a brave man, like all my countrymen.
"There is still no end in sight. My greatest fear is that the ­conflict will continue for another year. How many more thousands of lives will be lost as Russia pursues the ­genocide of the Ukrainian people?"
Vadym and Daria, from Poltava, near Kharkiv, had been visiting friends in Istanbul when war broke out in February, which meant they were initially stuck in Turkey.
Daria said: "We were both in shock when we realised the war was really happening. It was a miracle that we had been out of the country when it happened or who knows what could have happened to us.
"The first few days we spent in tears, feeling physically sick, shaking, unable to sleep for worrying about our families in Ukraine. That was our biggest nightmare."
The couple realised they had to leave Turkey and, luckily, ­family friends were able to help them find temporary shelter in the German city of Übach-Palenberg where they were joined by Vadym's mother along with Daria's two teenage sisters and her mother.
Daria said: "We will forever be grateful to our German friends for helping us. But, unable to speak the language, we realised we really needed to try to find somewhere we could settle properly and make a new life for ourselves as it was clear the war was not going to end quickly. We heard the UK was launching the Homes For Ukraine programme and we applied. We were very lucky to find Liz and Graham to sponsor us.
"We said goodbye to our families, left Germany and after a long journey we finally found ourselves in London. It felt like a very long train journey to get to Scotland."
Their ongoing fears for family and friends back home make it almost impossible for the couple to think about the future. Vadym said: "It will be our first Christmas here but we cannot celebrate while our family and friends are living in fear in cold, dark houses. Our wish for Christmas is for the war to be over, for peace."
One of the most ­frustrating things for Vadym has been the difficulty of finding a job near the couple's adopted home in Lanarkshire despite his many skills and clean driving licence.
He and Daria now face having to spend their first Christmas apart as Vadym is travelling to a farm in Perthshire to work on the land.
Vadym said: "I've been trying for almost five months to find a job in Lanarkshire so we can stay together. But I have to work and I am grateful to have received this offer to work on a farm so I can send money back home to our families.
"I have a Masters degree in tourism and I speak Russian and Bulgarian, as well as English. I have my driving licence, and I have worked in healthcare as well as in hotels and agriculture. We hoped to be together this Christmas but I need to work wherever I can get it."
Daria, 25, who has a degree in office management, was "very lucky" to find a part-time job with a cleaning firm. She added: "I have met wonderful people in Scotland who have been very kind to us.
"We are grateful to them all for making us so welcome. We have been especially lucky to be with Liz and Graham, who have welcomed us into their family."
The safety of her relatives is a constant concern. "When we get asked how our own family are, we can only say they are OK for now," she said. "We do not know what the future holds for any of us. The destruction of our country has been terrible. The loss of so many lives breaks our heart.
"Life can change for the most vulnerable so quickly, the elderly and the children who cannot leave, and with such a hard winter ahead, with temperatures plunging further, it is unbearable for them living in such conditions with no heating or light."
Vadym and Daria were ­overjoyed by the welcome they received from Liz, 64, and Graham, 77, who spent about £40,000 remodelling their Lanarkshire home to create a self-contained space for the couple.
Graham said: "When the war broke out in Ukraine, Liz and I talked about doing something to help. With lots of space in our house, we immediately thought we could do something practical and offer to take a couple who needed shelter.
"We wanted to make sure anyone who came to stay were able to have their own bedroom, kitchen, bathrooms and living space, so we carried out substantial renovations to give them their privacy, secure in the knowledge we are always here to help if they need it."
Liz, a hypnotherapist, and her husband joined the UK scheme to sponsor Ukrainian refugees but they found Vadym and Daria almost by accident.
The mum of three explained: "My children are all grown up and living and working abroad, so we are delighted to see this young couple becoming part of our lives. They are both hard workers and have so much to give.
"We are very worried that, instead of things calming down, the war seems to continue to escalate. We sit watching the news about all the latest bombings and fighting, and hearing about Vadym and Daria's worries for their own family makes it even more upsetting."
Local MP Dr Lisa Cameron praised the Findlays and urged others to come forward to help Ukrainian families.
She said: "It's wonderful that Scotland has stepped up to support families displaced from the Ukraine through the Homes for Ukraine scheme.
"I've met with Vadym and have heard of his dreams and hopes for the future, including securing employment locally. I hope firms will get in touch with him.
"The Findlays have shown wonderful kindness and their efforts to ensure this couple have a smooth transition to life in Scotland really should be commended."
Once there were lanterns and lights but it is all dark now, just glimpsing lights from cars
by Jen Stout
"The blackouts are constant," says Nikolai Kotlyarov, a retired engineer, from his Kharkiv flat. "When the electricity goes, so does the heating, the water, the light, internet, everything. The 'dead zone'!"
We're talking by video call, but in November, just a few weeks ago, I was sitting on that same sofa with Nikolai and his wife Lyubov, also an engineer, on the outskirts of Kharkiv. The couple, in their 70s, remained in their much-loved fifth-floor home all the way through the last nine months of hell – through the air raids, the missile attacks, the near-encirclement of the city by Russian forces. If all that couldn't persuade them to leave, they're certainly not letting power cuts get to them, they tell me.
On the day we speak, the blackout lasts five hours. Sometimes it's much longer. Snow is falling – as it is outside my window. But Kharkiv, the big industrial city in north-east Ukraine, could soon be much colder than any Scottish city. Temperatures of –10C, or even –20, are not unknown. If heating becomes unreliable, it's not a question of "putting on another jumper". It's suddenly very dangerous.
The problem for Nikolai and Lyubov at the moment is the darkness. They said: "Now it gets dark early, even at half past three it's dark, the ground's slippery, and we old people try not to go outside."
Negotiating a pitch-black city is a daunting thing, let alone with snow and ice underfoot. The Kotlyarovs live on the edge of Kharkiv, next to a big pine forest. "There used to be lanterns, lights, everything," Lyubov recalls. "But now it's so dark, just the glimpses of lights from passing cars."
Indoors, they have candles on hand for the unpredictable blackouts. A big LED lamp with a battery helps, too. "But if the gas is cut off, it's unclear how we will live," Lyubov admits.
The shops and services try to stay open during the blackouts, bank tellers writing things down by hand, and shop clerks accompanying customers around the aisles to make sure no one steals. "We have bread, the products are all there," Lyubov says. "But the prices have doubled. Everything is very expensive now."
"Well," shrugs Nikolai, "that's war". His wife agrees. The state, they say, is still paying their pension on time, for which they are grateful. Local government still functions: workers have been clearing the snow and ice. The lift was repaired recently.
Their son, Dmitry, a university lecturer, is there, too. He recounts how they went to the family dacha – a country cottage, the bolthole of many Ukrainian families – to get warm clothes and blankets. The dacha is in territory to the east, which until September was occupied by the Russian army. Miraculously, the house survived intact.
Nikolai has been getting the flat ready for whatever comes this winter. "I've insulated all the doors, and the windows, and put a heat reflective panel under the radiators. If glass gets blown out in an explosion, we'll board the window up with plywood. Bought nails, got some tools," he says, matter-of-factly, even chuckling a bit. "We're not going to die!"
"Just as long as the house doesn't get blown up, as long as the walls are intact," he adds.
This isn't a far-fetched worry: a rocket hit a street nearby in late summer and blew out all the windows on the other side. The area is residential, quiet, sleepy. What, exactly, the Russians were aiming at isn't clear. But most of the people on Nikolai and Lyubov's stair have come home, they say. Except for the children. And little ones might be the biggest miss this Christmas. Their grandchildren are in Poland with the couple's daughter. There would normally be up to 10 people around Lyubov's table for the big family meal: this year, just four. The festivities take place on December 31: Hogmanay came to be the big date during Soviet times, when Christianity – and thus the January 7 Orthodox Christmas – was suppressed. Trees, tinsel, and a groaning table – their 31st is much like our 25th.
"As hostess I'll try to make all our favourite dishes," Lyubov insists. The table has to include a Napoleon cake: a mountain of pastry and cream, like a custard slice on an epic scale. "A big one", she adds, grinning. Her son Dmitry loves salad with orange slices; Nikolai likes the herring and beetroot shuba. So these things are obligatory. Plus, of course, a big plate of meat in aspic – similar to Scottish potted hough.
It might not be easy, though. "Look: we'll try, we'll do our best," says Lyubov. "There has to be a celebration," adds Nikolai, and she cuts in: "It won't be like before. But thank God we are just alive, alive and hoping to keep living."
"And we'll take joy in that," her husband says. "That's something to be happy about."
I ask how they keep spirits up when the news brings constant horror. The de-occupation of the region east of Kharkiv revealed torture chambers and mass graves; more of the same comes from Kherson in the south, recently liberated and now relentlessly shelled.
It is hard, Lyubov admits. Painful. Her husband talks of his growing anger, the fury and bewilderment which everyone feels towards what used to be the "brotherly nation" next door. "I will never forgive them," he says quietly. They both believe, utterly, in Ukrainian victory "by summer, definitely".
Dmitry then makes me laugh by noting that Pretty Woman and Home Alone are popular in the family right now – "peaceful, family movies. Our tastes have become different". He mentions silly, 1980s US comedies like National Lampoon's Christmas Vacation. It's exactly what would be playing in my childhood home over the holidays. I tentatively ask if the old Soviet classics like Irony Of Fate are still watched, given the complicated relationship with that era.
"Of course we'll watch them – with pleasure!" retorts Lyubov. "We lived with them for so long." Cooking in the kitchen, turning on the TV and seeing those familiar faces – it "means the holiday season has arrived".
"We lived in that era," she says, and her son adds: "It was our country then. Not Putin's Russia."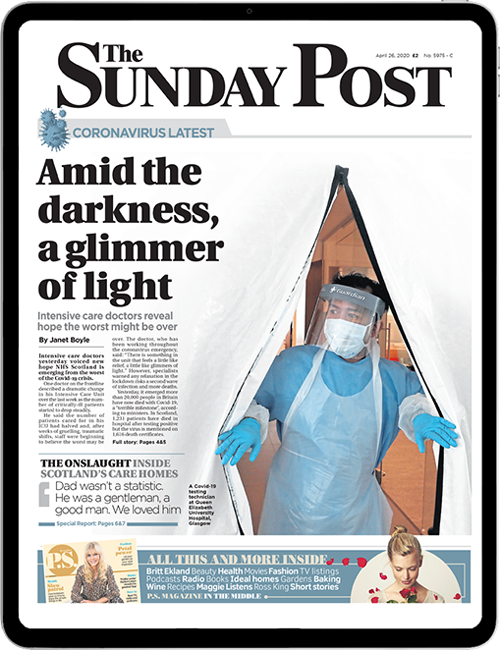 Enjoy the convenience of having The Sunday Post delivered as a digital ePaper straight to your smartphone, tablet or computer.
Subscribe for only £5.49 a month and enjoy all the benefits of the printed paper as a digital replica.
Subscribe