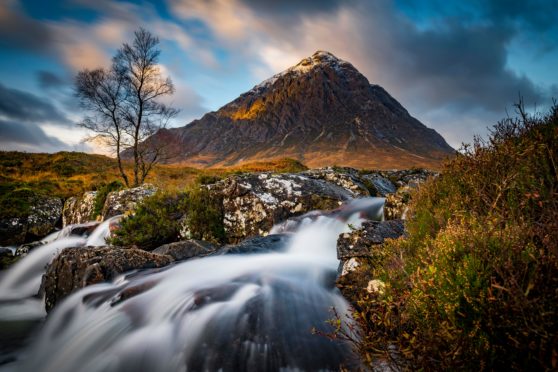 Forget the ominous alleys of No Mean City and the creepy closes of the capital – the majestic glens of the Highlands are the latest happy hunting ground for our best-selling crime writers.
Highland Noir is the thrilling new trend in crime fiction, following the success of bestselling The Hunting Party by Lucy Foley – now being made into a TV series by the makers of Top of the Lake and Lion – and Ruth Ware's The Turn of the Key.
Both of these authors are English, but Scots writers are also turning the Highlands red with blood as murderers stalk our mountains and glens.
Sara Sheridan's latest novel, Highland Fling, which comes out this week, moves her heroine sleuth Mirabelle from 1950s Brighton to the Highlands, while Margaret Kirk set her award-winning debut novel Shadow Man in her native Inverness, and Ayrshire-based Douglas Skelton has moved his thrillers from Glasgow to the Highlands for his latest series.
Literary agent Jenny Brown said: "For a long time, Scottish crime writing was seen as urban, from William Mcilvanney's Laidlaw trilogy and Denise Mina's thrillers set in Glasgow, to Ian Rankin's Rebus in Edinburgh, and Stuart MacBride's Granite Noirs set in Aberdeen. Then it moved out to the islands with Peter May's Lewis Man trilogy and Ann Cleeves' Shetland series. Now this new wave has moved into the Highlands."
When Graeme Macrae Burnet's Man Booker Prize shortlisted historical thriller, His Bloody Project, was published in 2015, Jenny remembers the stir it caused at Frankfurt Book Fair.
"The US publishers loved it and kept asking what else have you got set in the Highlands – I knew then it was the start of a trend.
"The Highlands have given crime writers a different scope – the landscape is fantastic, the weather treacherous, and, as it's not densely populated, dark deeds and secrets can be more easily hidden than in the city.
"Sophisticated readers loved Scandi Noir and the Highlands are the nearest we've got to their remote wildernesses."
It's not only the Americans, with their love of the Outlander TV series who are fascinated with our northern wilderness – homegrown Scots love it too.
"Crime writing is the number one bestselling genre," said Jenny. "But it's even more popular in Scotland than it is in the rest of UK. We love our crime and now we can't get enough of Highland Noir."
Glasgow-based Macrae Burnet, whose novel His Bloody Project was set in the village of Culduie in Wester Ross, said: "My grandfather was from Applecross and I have a strong connection to the Highlands. It's beautiful there but it can also be very barren in the winter. It's intimidating and has a menacing atmosphere. I would never call it pretty but it has a real appeal for me."
Whenever Graeme drives through Glencoe, he's haunted by thoughts of the massacre that took place there after the Jacobite rising.
"I'm drawn to the violence in the landscape, from clan warfare to the Clearances. I came across a quotation by a parish minister from Applecross who said the Highlands are stained with black and bloody deeds. It wasn't a big mental shift for me to set a murder there.
"There are useful elements for a crime book – the bleakness, the isolation, and being further away from the centre of real police power. It's also claustrophobic being in a place where everybody knows your business."
Edinburgh-based Sheridan also ventured north for her latest crime novel. "I'm fascinated by the Highlands in the 1950s when so much was changing," she says. "The Highland character is also unique – Highlanders are famed for their warm hospitality but there is also a trait of taking no nonsense, of being stubborn and having a dry sense of humour. They are hard as nails from growing up in a place that is very dark in winter. You need to be tough to survive.
"There's also a romance to the Highlands and I've had a great response to the cover of Highland Fling, which is all stags and tartan and tweed."
Inverness-based Margaret Kirk has set her police procedurals Shadow Man and What Lies Buried in her hometown.
"There's a romantic perception of the Highlands that goes back to Burns and Walter Scott, and that's been exacerbated by the popularity of Outlander.
"Although we have a fairly low crime rate we also have sensational and mysterious murders in the Highlands, such as the Renee MacRae case," said Margaret, referring to the Inverness woman who has been missing since 1976 along with her three-year-old son. Last September, Bill MacDowell, was charged with their murder but their bodies have never been found.
"It's a big geographical area with incredible scenery, but it's also handy for a crime writer that mobile phone reception is difficult and there's very little CCTV coverage. There's a lot of drug-related crime – it's a mistake to think that rural areas don't suffer from societal ills as much as cities."
Ayrshire-based Douglas Skelton's new crime series is also set in the Highlands. In The Blood is Still, the body of a man in Highland dress with a claymore through his chest is found at the site of the Battle of Culloden.
"When I went to Culloden for research what struck me, standing on this open stretch of moorland with the wind breathing through the heather was the silence – it's eerie.
"I love the Highlands. The landscape is incredibly beautiful but threatening at the same time. You feel as if there are secrets up there. If you stand in the wild places, you begin to believe in the supernatural, that there are ghosts walking about and a monster in Loch Ness.
"As crime writers, we've done the cities to death. It's time to move to this new place with its mystery and solitude, where dark deeds can be committed in secret."
It's no surprise to Krystyna Green, publisher at Constable, that the Highlands are such fertile ground for crime fiction. In 1985 she published the first in a series of Hamish Macbeth novels by MC Beaton featuring the Plockton bobby and his West Highland Terrier, Wee Jock. The popular novels were turned into a BBC Scotland series in 1995 starring Robert Carlyle.
"The Hamish Macbeth books were the original Highland Noir," said Krystyna.
"The Highlands are so isolated, it's easy to see how you could get away with murder. And during lockdown, when we are all stuck at home, these thrillers let you get out into wide open spaces and the wilderness."
---
'I found the guest… I found a body'
Novelist Lucy Foley's best-selling thriller, The Hunting Party, was in the vanguard of Highland Noir when published last year. Here is how it starts.
I see a man coming through the falling snow. From a distance through the curtain of white he looks hardly human, like a shadow figure.
As he nears me I see that it is Doug, the gamekeeper.
He is hurrying towards the Lodge, I realise, trying to run. But the fallen, falling snow hampers him. He stumbles with each step. Something bad. I know this without being able to see his face.
As he comes closer I see that his features are frozen with shock. I know this look. I have seen it before. This is the expression of someone who has witnessed something horrific, beyond the bounds of normal human experience.
I open the door of the Lodge, let him in. He brings with him a rush of freezing air, a spill of snow.
"What happened?" I ask him.
There is a moment – a long pause – in which he tries to catch his breath. But his eyes tell the story before he can, a mute communication of horror.
Finally, he speaks. "I've found the missing guest."
"Well, that's great," I say. "Where?"
He shakes his head, and I feel the question expire on my lips.
"I found a body."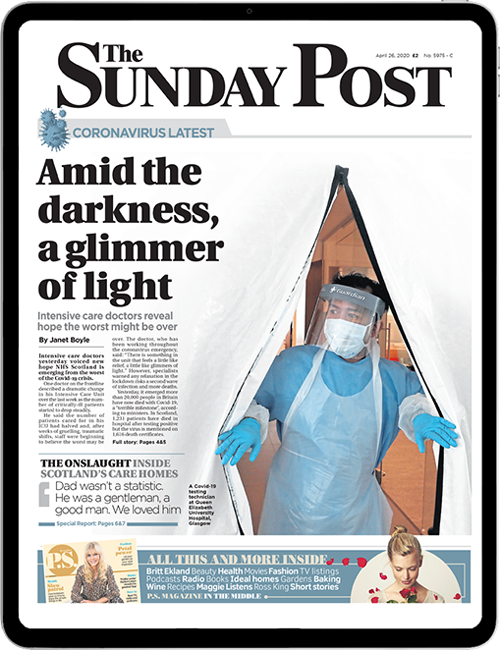 Enjoy the convenience of having The Sunday Post delivered as a digital ePaper straight to your smartphone, tablet or computer.
Subscribe for only £5.49 a month and enjoy all the benefits of the printed paper as a digital replica.
Subscribe