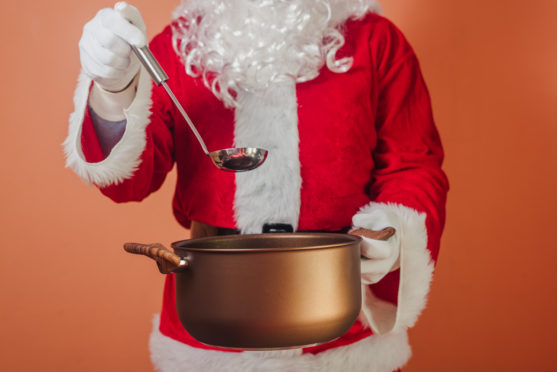 Christmas is a time for family, friends, presents and parties – but cooking for an army of hungry guests can quickly turn it from the season of celebrations to a day of chaos.
Here, ALICE HINDS talks to four chefs to get their top tips for turkey, potatoes and gravy, as well as their secret never-fail ingredients, helping to ensure your Big Day doesn't become a festive flap…
---
Beelieve me, honey hits the sweet spot
This Christmas Day will see executive chef Simon feed more than 1,000 people across three locations at the 5-star Gleneagles Hotel, serving up turkey with all the trimmings.
To add an extra-special element to his dishes, Simon will turn to nature.
He said: "My secret ingredient is bee pollen, which you can buy from good health food stores and specialist suppliers.
"It's gathered by working honey bees and used as a primary food source for the hive. It's very good for you as it contains very simple sugars, protein, minerals and vitamins.
"It looks almost like little pellets, which you can just sprinkle on the top of your dish before you serve. It ties in quite nicely with honey, for example on roasted parsnips, adding
just a little bit more texture and a lovely earthy sweetness."
Simon believes not all the focus should rest on turkey. Instead add extra flavours, spices and fresh herbs to your vegetables for the wow factor.
"Vegetables often get neglected – obviously we still want to get a really good-quality free-range turkey, but it's important to also look after your vegetables, too, making sure you don't overcook them," he explained.
"I add smoked paprika to my roast potatoes. It's a little bit different to salt and pepper, and adds a smoky spice similar to the Spanish dish patatas bravas.
"Rather than having blanched carrots, cook them in butter and vegetable or chicken stock then, at the end, whisk in some horseradish for a little extra punch."
---
Sprouts are plain rotten. Here's how to shake 'em up
Working with local suppliers and farmers, David focuses on Scottish ingredients for his menus, and last year was named provenance chef of the year at the Scottish Food Awards.
Christmas will be a family affair this year, and David says he'll utilise some unusual spices to make his simple meat and vegetables taste even better.
"I've cooked many Christmas dinners at home for large groups and to start with I felt a great deal of pressure to try to create an elaborate banquet – but getting all of that food served hot at the one time with a domestic oven is no easy feat.
"So, after a couple of attempts I decided cooking a simple, tasty dinner was the key. Christmas dinner can sometimes become a little same-y, but a well-cooked turkey is a staple and where you can really step up your game is with the sides.
"Sprouts are the most rotten Christmas vegetable for me,
so I like to jazz them up. I shred mine and toss through some hot crispy bacon and, my key ingredient, roasted cumin – that's how you fix plain, boiled sprouts!
"And, if you really want to break the mould, try serving up a three-cheese cauliflower. It can be easily made in advance and when you pop it down on the table no one will be expecting it."
---
Saucy, silky meat with all the trimmings…hungry yet?
According to Tesco's annual Christmas report, half of shoppers will shun turkey in favour of a less traditional main dish, choosing instead to serve chicken, beef, pork and even fish.
Andy, who will spend the 25th at home with family, says he will add a holiday ham to his meal in addition to slices of juicy turkey.
He said: "I'll serve up a massive gammon joint, glazed in heather honey. I put a big block of butter in with the honey. When you baste the meat it becomes saucy and silky.
"You get great leftovers with ham, too. I go to my parents' on Boxing Day and we have a big pie made with the turkey, ham and trimmings. It's such a versatile option. And who doesn't love a pie? I think it might even be better than the Christmas dinner!
"It's so easy to make. Mix all your leftovers together in a casserole dish, put your pastry over the top, pop it in the oven for 45 minutes and then rest for 10 minutes once it's out, and serve."
If you're looking to add a little heat to your dishes, Andy recommends searching out a very special mustard, only found on the Isle of Harris.
"At the restaurant we use Mustheb from the Isle of Harris. It's not your average mustard, and there is a Christmas edition that features cinnamon, cardamom, clove, aniseed and ginger. This year I'll add some to my gravy to give a Christmassy flavour to the whole meal."
---
A little drizzle lifts every dish. Just don't do it last-minute
After cooking her way through to the final of MasterChef, former Scotland rugby union captain Jilly knows a thing or two about keeping calm under pressure – which will come in handy when she cooks for 19 people this Christmas Day.
"Getting as much done as possible the day before is crucial," explained the history teacher.
"Start by getting all your vegetable prep done the day before.
"Cook your veg on the stove then put into ice-cold water to keep them fresh, and cover until the next day.
"Then all you need to do is heat through or add the extra ingredients, such as bacon or chestnuts. I usually do a braised red cabbage with cranberries, which is easily done the day before.
"Once your meat is cooked, I would recommend taking it out to rest for an hour or more, covering in foil and tea towels. It keeps its heat for a long time, and leaves more space in the oven for finishing off roast potatoes and any other sides."
Whether cooking at home or for a panel of celebrity judges, Jilly admits she has one key ingredient, which always lifts her dishes and adds more flavour, and she might not opt for the traditional turkey.
She said: "One of my secret ingredients I always use is truffle oil. It's not as expensive as buying truffles, but it still lifts the flavour of so many dishes. For example, if you're doing roast parsnips, a drizzle of oil over the top gives a lovely earthy flavour.
"People often think of lamb as an Easter dish, but it can be a great alternative to turkey at Christmas, too. It's a very luxurious meat.
"I love a Scotch Lamb shoulder, cooking it really slow. It's a little bit cheaper than a leg joint and it will go really far with leftovers, too."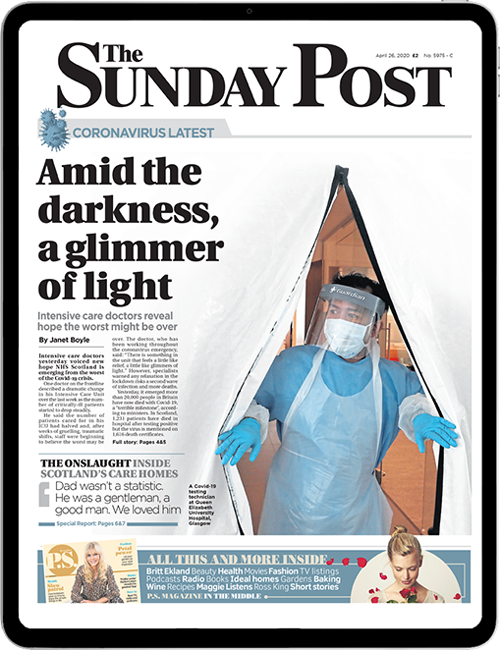 Enjoy the convenience of having The Sunday Post delivered as a digital ePaper straight to your smartphone, tablet or computer.
Subscribe for only £5.49 a month and enjoy all the benefits of the printed paper as a digital replica.
Subscribe