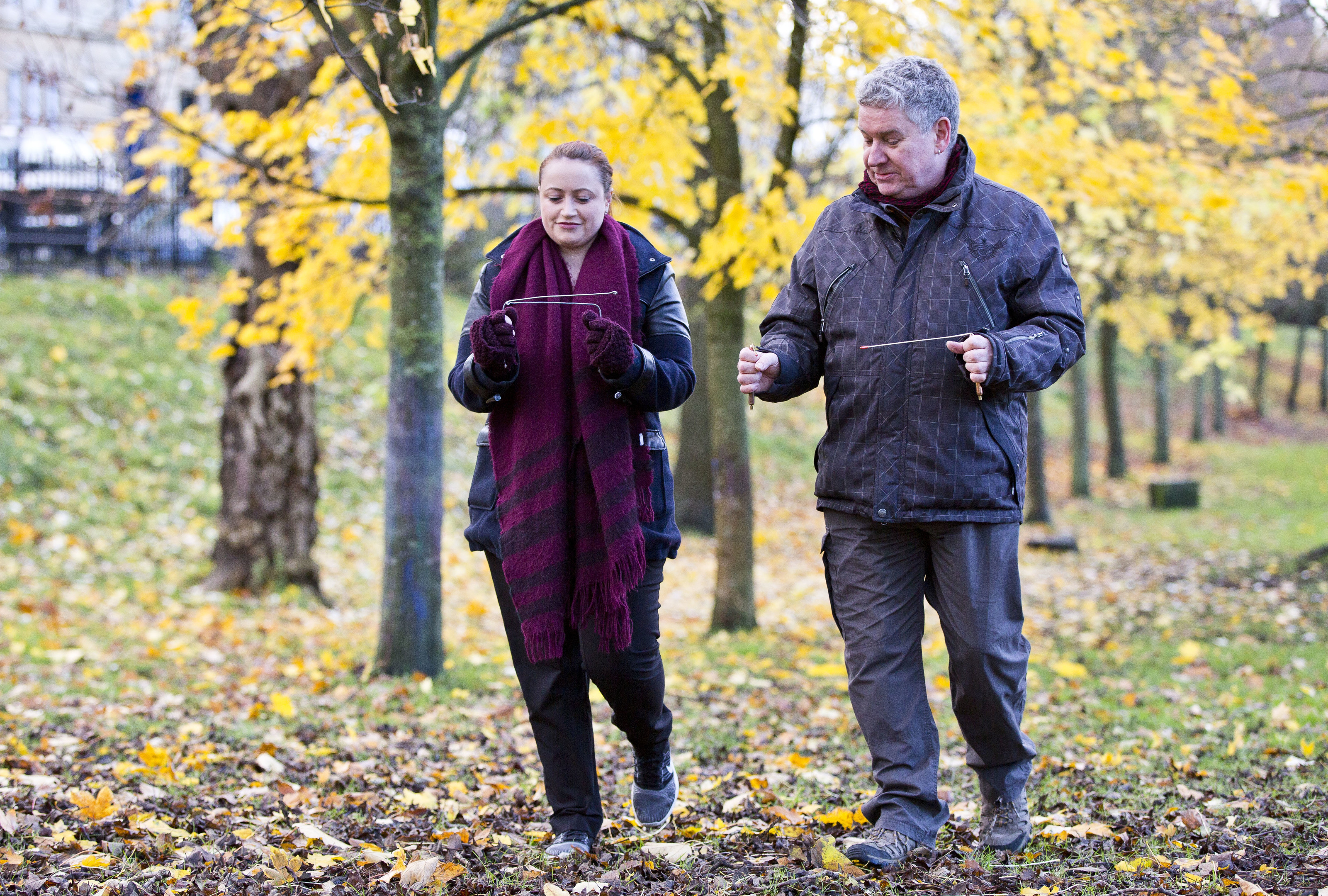 FINDING leaks and pipes can be a tricky but vital job for water companies.
They use all sorts of methods from drones and listening devices to metal detectors and, we learned last week, metal sticks.
Scottish Water surprisingly admitted that along with their high-tech scientific equipment, they continue to enlist experts in the "magic" method of dowsing rods.
The admission came after Oxford biologist Sally Le Page pressed the UK's major utility providers on their use of the centuries-old approach to divining hidden water after her parents witnessed Severn Trent water engineers use dowsing to find a leaky pipe.
Some Scottish Water engineers are using dowsing rod technique likened to 'magic' to find leaky pipes
Ten out of 12 admitted to occasionally using the unorthodox practice.
But Scottish Water was quick to stress dowsing is just one of many methods used by their operatives and "would never be the only method".
Le Page said: "In 2017 I am astonished to find water companies relying on (and paying for) the supernatural to find underground pipes.
"You'll be just as likely to find water by going out and taking a good guess as you will by walking around with divining rods.
"There is no scientifically rigorous, doubly blind evidence that divining rods work."
So say the scientists but, here, we conduct our own experiment – in less than laboratory conditons – with one of Scotland's top dowsers.
---
ON a chilly afternoon I'm standing in a muddy patch of Glasgow's Kelvingrove Park, armed with two bent metal rods and an open mind.
I'm on the hunt for hidden water. I'm not feeling confident but I do feel ridiculous.
By my side is Grahame Gardner, a member – and former president – of The British Society of Dowsers, who's teaching me the centuries-old method of locating underground water sources.
Dowsing, which has never been scientifically proven and derided as "witchcraft" by sceptics, involves holding out a forked stick, angled rods or a pendulum which will move or twitch when walking over water.
While it seems a fairly odd approach for water engineers to adopt in this day and age, dowsing is practiced by thousands of enthusiasts across the UK.
Grahame's been dowsing for more than 40 years. He started in his teens using metal coat-hangers and now does it professionally alongside his day-job as a freelance lighting engineer.
In a location picked by our photographer, we pace slowly side-by-side, holding two thin metal dowsing rods parallel at chest-height, like two skinny pistols.
Grahame says: "Visualise an underground water source. It's all about mental focus. Keep an open mind."
The 61-year-old from Glasgow starts pacing and shouting out "is there a running water source here?" much to the amusement of passers-by.
I concentrate intently on the two rods swinging erratically before me.
Not expecting much, I keep my hands as still as possible.
Then the rods suddenly cross. "We've hit the jackpot!" Grahame triumphantly declares.
Maybe I'm a natural water diviner. Or was it the way my hands tilted as we walked up that slight incline…?
"No I'd say this is an accurate result," confirms Grahame, who admits finding water is fairly easy for beginner dowsers as plenty of water runs under our feet in Scotland.
Of course, I'm sceptical. I take a step back, the rods splay open.
A step forward and they cross again and remain so for roughly a metre before slowly spreading apart like some mad antenna. It seems I've just crossed water.
Grahame claims he can use the rods to find out the width, depth and direction of the water source too.
Using a pendulum, you could also determine the water's clarity and if it's drinkable with the aid of a colour chart. Grahame also sometimes swings his pendulum to figure out what to eat in restaurants and what beers to order.
For now, he's asking what way the water is flowing and confidently marches off "downstream".
I follow, rods still mysteriously crossed.
A few metres away we spot a low L-shaped fence sticking out a thick blanket of leaves.
Grahame kicks them aside to reveal a man-hole.
Maybe we did detect a line of running water. But then again, there's nothing to say the path we've followed is correct. So how does it work?
"If we knew how it worked we'd be making a lot of money. We don't really know," says Grahame, who describes dowsing as a "dark art".
"The idea is there's a narrow band of energy that rises vertically off the water, which dowsers pick up. I guess you could class it as a psychic ability.
"It's not magic or witchcraft, just something we haven't figured how to explain yet."
Scientists argue it's down to the "ideomotor effect", when involuntary muscle movements are caused by subconscious mental activity – similar to how objects "move" on Ouija boards.
Grahame is used to fielding scepticism.
"Of course the rods don't move magically by themselves!" he explains.
"It's the dowser that's the instrument. The subconscious picks up a signal and relays that through a movement in the wrists to the rods.
"What's interesting is how the body gets that signal. That's what we don't know because it means going into the realm of consciousness, which scientists are uncomfortable with."
Grahame then whips out an aurameter, or "bobber", which looks straight out of a low-budget sci-fi film.
This is as high-tech as it gets in the dowsing world.
"Sometimes the aurameter will vibrate if there's a strong energy," explains Grahame as he waves the gadget about and instantly detects water.
I take his word for it as I side-eye a nearby puddle.
Grahame says non-believers should, "try it themselves," but then adds, "sceptics are too close-minded and easily dismissive so it won't work for them."
After wandering around a park waving what looks like a pair of bent tent pegs for an hour and potentially finding underground water twice – but with no real proof – I'm none the wiser.
Each to their own, I guess.
As Grahame concludes, "What's wrong with having something that doesn't quite fit into the scientific paradigm?
"I'd hate to live in a world without… well I guess I have to use the word 'magic'. What's wrong with having a little bit of that?"
Probably nothing, unless Scottish Water engineers are inspecting your house for leaky pipes, I think. To myself.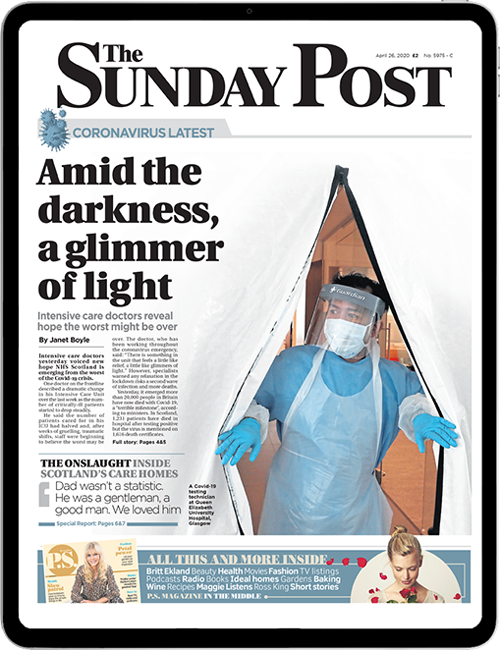 Enjoy the convenience of having The Sunday Post delivered as a digital ePaper straight to your smartphone, tablet or computer.
Subscribe for only £5.49 a month and enjoy all the benefits of the printed paper as a digital replica.
Subscribe