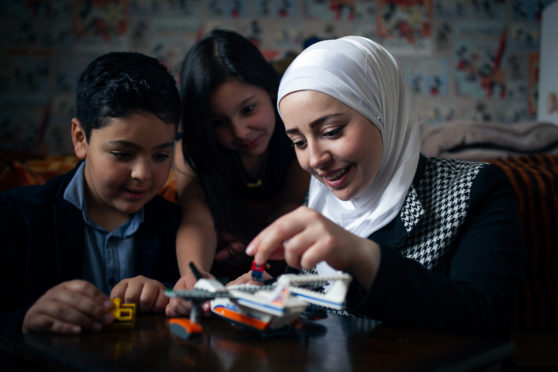 Rana Alzin isn't much like the typical image of a refugee.
Since arriving here from ­war-torn Syria, Rana, her husband and two young children have built a new life for themselves as a family with a bright future in Scotland.
It's been a long journey since the family set foot in Hamilton as the first Arabic refugee family.
"When we came here neither my husband Sameh or I spoke much English," she explained. "There was no community for us here. But after a few weeks we began to make friends. The people here are so friendly.
"We started to talk with our neighbour, and he was very helpful. We didn't speak much English but he took time to speak with us and make us feel welcome.
"Frank is one of our good friends now and I make him food sometimes. If we need help with something, he is there to speak with us."
Rana's daughter Sara, 10 and son Feras, nine, are settling into school and have developed strong Scottish accents.
"It's only been three years but they are very Scottish now," she laughed. "We recently went to London on holiday and we wanted a family picture.
"Sara asked a lady passing by if she could take a photograph. The lady was delighted.
"She was originally from Glasgow but had lost her accent.
"She was so happy to hear Sara's Scottish accent. It was so funny!"
Rana has an economics degree, but last week completed her first year of a business studies course, while her husband has started his own Arabic ice cream company.
"It was difficult for Sameh," explained Rana.
"In Syria, he was in charge of a marble factory, with many people working for him. It was a public company, and it was an important role.
"When he came here, he was unemployed and didn't speak any English. It was a struggle but it was ­better than where we were.
"Now he feels better, and he is supplying a few companies with the food he makes.
"Back home, things got very bad and we had to leave. But I don't want to focus on that. I want to focus on the future now.
"My husband likes Scotland, and so do I. I love every day I'm here. Every day, I thank my god every day that we are here."
---
Yaman's story: Depressed and haunted by the sound of bombs, Glasgow has brought hope
With greying hair at his temples and weariness behind his dark eyes, it's hard to believe Yaman Chalan is a young man still in his early 20s.
But, having fled bombs and bullets in Syria, and travelled alone on a perilous journey across Europe, it's easy to understand why he looks older than his years.
Just 17 at the time, Yaman left Damascus in hope of finding security, after the civil war turned his world upside down.
"I was a student before the revolution started," explained Yaman, now 23.
"I had a life just like anyone else. I was having fun, studying, going out with friends and family. Suddenly, things just turned into chaos.
"I still remember waking up to hear there was a bomb explosion near my house. I would quickly pick up the phone to check everyone was OK, but the moment between knowing a bomb had gone off and hearing their voice felt like a lifetime. A few seconds could change everything.
"Then, when I turned 16, my mother had cancer and life became even worse for our family, especially as treatment can be very expensive and difficult to find in a war-torn country.
"Slowly, depression started to affect me and when my mother passed away the next year I decided I had to leave Syria in hope of finding a better future."
Yaman first travelled to Istanbul in Turkey but, unable to work or study, he was trapped in limbo with no hope.
His only choice was to make the life-threatening journey to the UK, arriving in 2015.
Now settled in Glasgow with a new-found purpose, Yaman has taken part in an exhibition with charity Refuweegee. His photographs will be displayed in Kelvingrove Art Gallery from June 20 to 25 as part of Refugee Festival Scotland.
First taken in 2016 and now supported by Oxfam, the exhibition, entitled Claiming Back the Narrative: A Photo Voice Exhibition, shows an outsider's experience of living in Glasgow for the first time.
Yaman explained: "When I first arrived here, I had a new environment, a new culture and new faces to get used to, so the first six months was hard. But the people I've met here have been so supportive."
He added: "I pray for the war in Syria to end soon. I just want to go back to a quiet, peaceful and thriving country.
"We all love our country and I can be sure most of the Syrian refugees here in Scotland want to go back home. But first we need peace."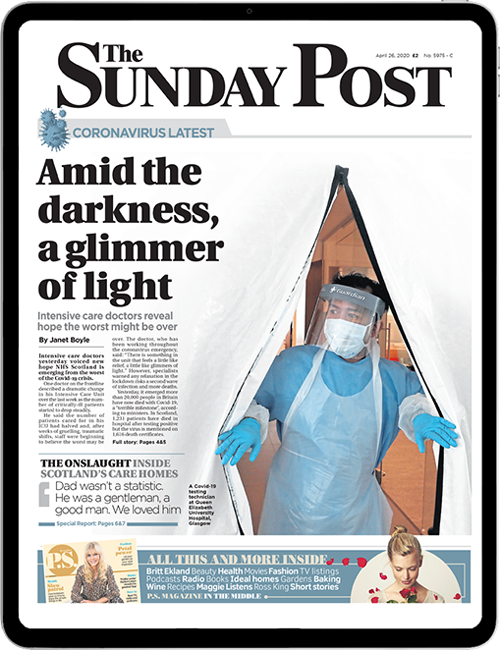 Enjoy the convenience of having The Sunday Post delivered as a digital ePaper straight to your smartphone, tablet or computer.
Subscribe for only £5.49 a month and enjoy all the benefits of the printed paper as a digital replica.
Subscribe