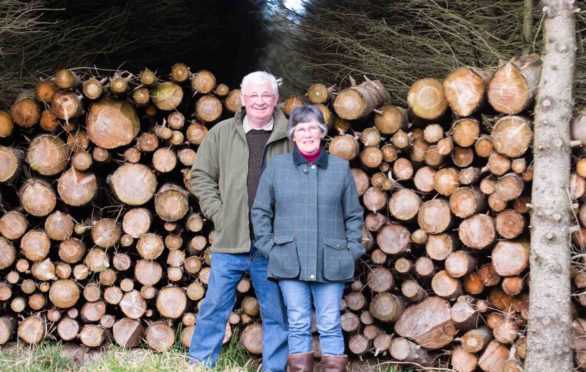 From the road, no one would know it is there. But, at the end of the tunnel of trees, hidden deep within a fir forest, is an off-grid dream home built by a 60-something couple determined to do their bit to save the planet.
Roger Shipley, 66, and Jane Obank, 64, have just completed a spacious, stone-built house set amid 15 acres of Aberdeenshire woodland.
Pure water is pumped from an underground lake 200ft down to a 30ft tower where it is gravity-fed on demand to taps in the comfortable stone house they built themselves.
Wood from the surrounding trees fuels a Rayburn range for cooking, central heating and hot water. A single solar panel charges batteries for lighting, and a wind turbine has just been constructed to supplement their electricity needs.
The retired farmers and restaurateurs, who this year will be growing their own food, also invested in two, two-seater, climate-friendly electric cars that travel up to 80 miles on one 12-volt battery charge with no running costs.
Their retreat, not far from the Buchan coast, seems a haven away from the rest of the world and its many turmoils. So, what does it cost to live in this eco-friendly oasis of calm? The answer may surprise you: less than £5 per week.
Looking around the homestead, built with what she and partner Roger described as "simple, old-fashioned technology", Jane said: "The world seems to be in turmoil at the moment, from the coronavirus and international politics to the uncertainty of Brexit and climate change."
"Roger and I can't control any of that and we're not the kind to worry about what we can't change. But there was one thing we could do", added Jane, with a sweep of her arm: "We could create this. If the worst were to happen, we would shut the gates and just survive. It would make little difference to our day-to-day lives. We don't need anything other than what is here.
"We don't jet off on long-haul holidays, our lives and interests are here – working on this place. And our carbon footprint is practically zero. It's just as we want it."
The couple hail from Yorkshire, but have lived in Scotland for more than 15 years. "We bought this land 10 years ago when we lived on the farm next door," said Roger. "We also owned The Harbour Restaurant in Gardenstown, which had a log burner. Back then we saw the potential to use the wood for the log fires on the farm and at the restaurant – it wasn't good for anything else. There were also stone bothies on the site and the remains of a house. So we thought we might also develop those and sell them.
"We asked to buy the site. The price was £80,000. But we were also going to be charged £80,000 to get electricity on the land. So we decided to sell the farm, give up the restaurant, retire here and go green.
"We wanted to be self-sufficient, but we wanted to keep everything simple and use good, old-fashioned technology that wouldn't cost a fortune to install and that we could fix ourselves should it ever go wrong.
"It had to be made by hand so we called on our friend Jim Ewen, a 77-year-old engineer who had helped build the Forth Road Bridge. There is nothing he can't make or invent, we are his hobby and we repay his kindness with bacon sandwiches.
"We called a water expert suggested to us by an agricultural firm who is based in Scotland and Sweden.
"He looked at the land and said, 'we'll sink a borehole here'. He got to 36ft and found water but decided to keep going, eventually hitting an underground lake 200ft down. It cost £4,000 to drill.
"The council said we could take 10,000 litres out a day. It will never run dry. We had the water tested and it is so perfect we could bottle and sell it. But the transport costs are too high. Jim built the 30ft water tower with me and put in a pumping system currently powered by a diesel generator, but now he is developing a steam-powered alternative.
"We go to the water tower only once a week to switch the generator on. It pumps 2,500 litres to a holding tank, from where it free flows into the house and creates 30 bars of pressure.
"Jim has also built a windmill with lorry parts and an alternator which will power a small bank of leisure batteries. They, in turn, will run the house lighting, the pump for the central heating and the TV. When there is no wind, the solar panel will take over."
Roger designed the home, which is fully-doubled glazed and is on one level, himself. Jane said: "It has a 19ft by 19ft kitchen with an amazing picture window from where we can watch the wildlife. There is a lounge of the same size and a similar-sized bedroom plus a spacious bathroom. It is comfortable and cosy.
"We did the majority of the work ourselves, from digging out the cesspit, to putting on the composite roof tiles. We had some help with the block work and later with the electrics, but Roger did the natural stonework, using the remains of the buildings that were on site and I did the pointing.
"Cooking and heating for hot water is done by the log-burning Rayburn. We cut the wood ourselves and it is stored in sheds on the land for two years before burning. It's an ongoing cycle.
"We have built a pond, which takes rainwater from the house and will be used for irrigating our produce and to fight fire if needed.
"Our next stage is to plant the area of ground with a sea of wild flowers to attract bees and other wildlife."
Roger said: "We will be able to see them from the picture window. We already have several deer visiting. In the mating season, the stags see their reflection in the window and try to butt it. And we have a baby hare who comes regularly to eat our produce. He fell asleep in the vegetable patch one time. I touched him, he woke and just sauntered off.
"Sometimes we stand outside at night and drink it all in. There is no sound and no light – apart from a blanket of bright stars. It is easy to feel like you are the only people on earth."
---
Professor: It's Scotland. It's long winters. It's not easy
Living off grid in complete self-sufficiency can be easier in theory than practice, according to experts.
Dave Reay, executive director for the Edinburgh Centre for Carbon Innovation and professor of carbon management at the University of Edinburgh, speaks from experience as he is trying to build his own off-grid home in Kintyre, where, because it is in an area of natural beauty, he cannot erect a wind turbine.
Professor Reay, 47, told The Sunday Post: "There is a lot of interest in off-grid living, especially through programmes like Grand Designs. And renewable technologies like solar power are cheaper and more accessible.
"People have really identified that, with the climate emergency, this is a way they can play their part; in terms of having zero emissions. There is a groundswell of people wanting those experiences. But to go the whole hog is a brave thing to do.
"In Scotland our winters are pretty long and unless you have a reliable source of energy – like a small hydroelectric system fed by a river or burn – how do you get the energy to sustain you if there is no sun and no wind?"
He said being entirely off grid could mean weeks without power in winter. In summer, any excess zero energy created by renewables cannot go back into the grid for others to use without a grid connection – a waste, given Scotland's target of zero emissions by 2045.
But there has been an explosion in the number of people living the off-grid dream part-time. The professor said: "Where there is an increase in this type of lifestyle is in the hutting movement; people being off grid for part of the year.
"A change in legislation has allowed people to build and occupy huts more easily across Scotland as long as they are not year round homes. It fulfils not only an environmental need, but also a personal one, in terms of well-being and connecting with our amazing environment."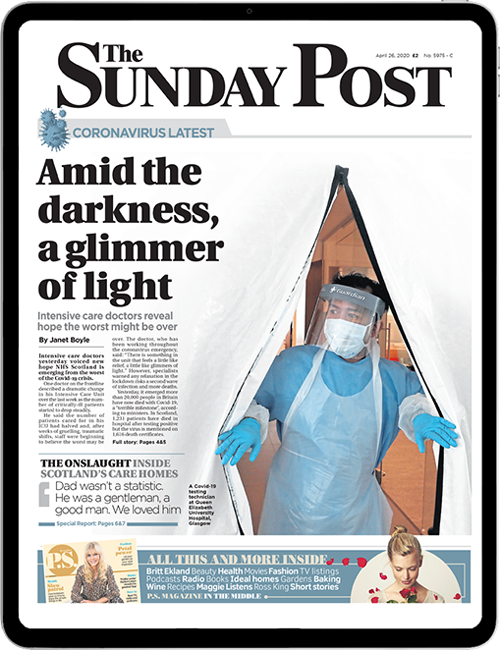 Enjoy the convenience of having The Sunday Post delivered as a digital ePaper straight to your smartphone, tablet or computer.
Subscribe for only £5.49 a month and enjoy all the benefits of the printed paper as a digital replica.
Subscribe