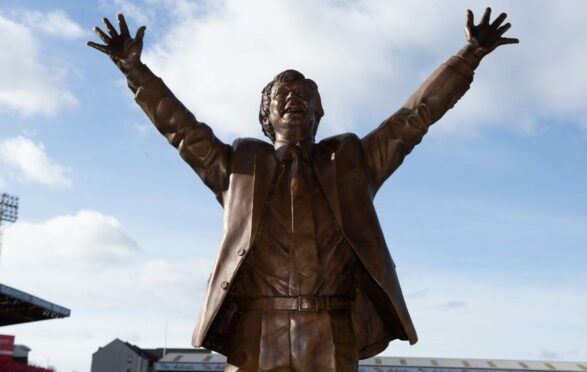 Is football standing still by erecting statues to stars of the past?
There's long been a strong argument in favour of consigning former glories to history, and keeping your eyes firmly fixed on the future.
Nostalgia, they say, can leave people harking back to the good old days that weren't really as good as we like to remember.
But we gain nothing by refusing to learn from the past and, especially in sport, be inspired by it.
Let's face it, modern life isn't short of negativity and the odd trip down Memory Lane does no harm.
Most psychologists agree that reliving days gone by can be a bittersweet experience – but more sweet than bitter.
That's why events like Aberdeen having a statue of Sir Alex Ferguson produced to mark his remarkable success at Pittodrie can't be a bad thing.
After the former manager had completed the official unveiling on Friday, all the talk from former players and supporters was about the excitement, glory and trophies he brought to the club during a remarkable eight-year spell in The Granite City.
If the current crop of men wearing the red strip aren't motivated by tales of what the Dons achieved during the proactively 80s, there's no hope for them.
English clubs have been reasonably active in acclaiming those who played a big part in their successes.
There are statues honouring greats such as Bobby Moore, Bill Shankly, Stanley Matthews, Jackie Milburn, Brian Clough, Billy Bremner, Dixie Dean, Bob Stokoe and many more.
Not all of them have been a rip-roaring success.
There have been a few shockers – the first appalling attempt at a likeness of former Southampton boss Ted Bates springs to mind. It was quickly replaced.
Teams in Scotland are starting to catch up, and we have statues of Jock Stein, Jimmy Johnstone, Billy McNeil, John Greig and Jim McLean.
Of course, it's a costly and time-consuming business to create a sculpture in bronze.
There's also the problem of deciding who might, or might not, be worth of being given a permanent and public place in history.
Not everyone will agree, but there would seem to be a few obvious candidates.
It seems inevitable that Walter Smith will be honoured by Rangers before long.
There surely wouldn't be too many objections to statues being commissioned of Hibs' Famous Five, or Hearts' Terrible Trio.
How about Alan Gilzean of Dundee? An Ally MacLeod likeness outside Ayr United's Somerset Park? The Kilmarnock team that won the league in 1965? There are plenty of possibilities.
We can remind younger fans there was an abundance of skill in the days before brightly-coloured boots and plastic grass.
It's far too easy to dwell on the supposed demise of Scottish football. Instead, why not encourage the present generation with symbols of former heroes?
It might also help remind people that our game's greatest successes were achieved by players who mostly made a modest living.
That's a point we shouldn't overlook.
While creating excitement with statues of stars is surely a good thing, we shouldn't forget the many others who made a big contribution to football without getting lasting acclaim.
Over the years, I've met a number of players who have found life a struggle after their boots are hung up.
Some, it has to be said, would probably have managed to squander the millions that now come the way of those plying their trade with England's top-flight teams.
Others, however, find it a challenge to deal with the after-effects of a time when treatment for injury was extremely basic.
Players were often implored to play through the pain barrier, with or without the help of a pain-killing injection.
Others are now having to cope with dementia and Alzheimer's disease.
The debate surrounding the impact that heading the ball has on those conditions is ongoing, but I'm convinced it plays a factor in a significant number of cases.
It is particularly difficult for the families of those who suffer.
They often feel forgotten by the people who employed and idolised their loved one.
Money is always an issue, whether for statues or to provide practical help for former players.
But let's not pretend there aren't areas where cash can't be managed more efficiently by clubs and ruling bodies.
We can't properly move forward without recognising there's an obligation to do the right thing by those who made our clubs what they are today.
Football should honour the greats of the game and, at the same time, increase the commitment to looking after men who contributed so much – but now need a little back.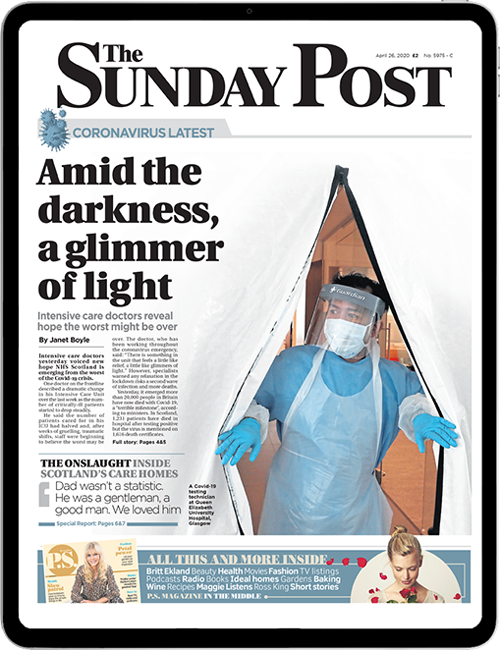 Enjoy the convenience of having The Sunday Post delivered as a digital ePaper straight to your smartphone, tablet or computer.
Subscribe for only £5.49 a month and enjoy all the benefits of the printed paper as a digital replica.
Subscribe