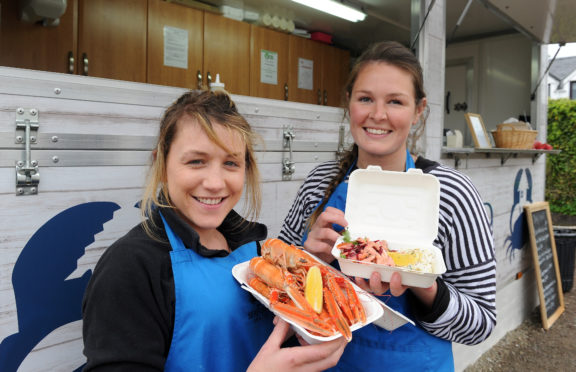 It was while out on a boat with their fishermen partners that Kirsty Scobie and Fenella Renwick had the idea to set up a seafood shack in their Highlands home town.
As they helped unload the catch of prawns, lobsters and crabs, the two women realised there could be local demand for the seafood, which ends up on diners' plates all over the world – but not in Ullapool.
"We were frustrated at the lack of fresh seafood despite the town being packed with fishermen and fishing boats," said Fenella, 31, who has two children with husband Mark, an off-shore diver who fishes for prawns and hand-dived scallops from his boat when he's home.
"I used to work in my mum's seafood restaurant and Kirsty cooked venison and game in lodges around Scotland – so we thought, why not start a seafood shack right here in Ullapool, on the shores of Loch Broom?"
Ullapool, on the north-west coast, has five prawn trawlers and seven inshore creel boats, with a further two crabbing boats coming in each week and around 10 white fish boats landing regularly.
"That's a huge variety of seafood," said Kirsty, 29, whose fiancé Josh Talbot, 32, catches prawns, lobsters and crabs on the boat he skippers, Mon Ami.
"Our seafood is the best in Scotland, but it was it all going to restaurants in London, Spain and France. Why couldn't we eat this incredible produce locally, fresh from the clear waters of The Minch?
"Ullapool is really busy during the summer and when visitors used to ask where they could eat fresh seafood we could only suggest the two fish and chip shops."
The idea of a street-food shack went down well with their fishermen partners, Mark and Josh, who also wanted to see more of their catch stay in Ullapool – Josh brings in 1,000 creels a day when he's out on The Minch seven days a week.
"Both said: 'We have the produce, so you can do it,'" said Fenella. "Their ethos is sustainable fishing and Kirsty and I said we would love to play a part in keeping shellfish and the fish landed in Ullapool local so people can taste the wonderful produce we have on our doorstep."
Kirsty and Fenella launched a crowdfunding campaign and used the proceeds and their savings to open a trailer, The Seafood Shack, serving monkfish, langoustines, crab, haddock, prawns, mussels and crabs – whatever comes in fresh that day off the boats.
"It wasn't until we had the trailer fitted out that we turned to each other and said: 'Are you a good cook?' 'I don't know, are you?' We'd been so carried away with our idea that we hadn't checked out each other's culinary skills," said Kirsty.
They needn't have worried, as the shack was a hit from day one when there were 30 customers, and four years later, they serve 300 people on a busy day.
The Seafood Shack remains open for takeaways only on Thursdays, Fridays and Saturdays, 5pm-7.30pm, during lockdown. Before social distancing and travel restrictions were put in place, it had become one of the foodie highlights of the North Coast 500.
The two may be cooking in a trailer, but it's high end stuff: lobster mac 'n' cheese, Thai mussels, and langoustines in garlic butter, with healthy potato or couscous salads, and sides of rice, pitta bread, tortilla wraps and freshly-baked bread.
"We're proud to have created The Seafood Shack – it has a lovely atmosphere and we have set out tables and chairs made from old cable spools," said Fenella.
"We've had incredible support from locals and we've had other people wanting to start up similar enterprises asking for help. We're happy to do so as the more good food places opening in the Highlands, the better."
From these humble beginnings, word spread and the street-food style cuisine has proved so popular that the pair have written a recipe book, which has just won the prestigious Jane Grigson Trust Award 2020 for food writing.
The book, The Seafood Shack, mixes Kirsty and Fenella's most popular recipes with their story of creating a new food business, a look at the Scottish seafood and fishing industry, and a reflection on the lives of the fishermen at its heart.
"I really enjoyed interviewing the fishermen," said Kirsty.
"Half of them rambled on for hours as they are so passionate about fishing, but their tales from the sea were fascinating. One told me: 'The two things you need to have as a fisherman is a good engine and a good wife.'"
"We were blown away to win this award," said Fenella. "It's made all our hard work worthwhile."
Kirsty added: "I'm delighted we won. We have great fun working at The Seafood Shack from April to October but it can get cold and we're all wrapped up. When the horizontal rain comes in through the hatches it can be pretty grim. But we have beautiful views over Loch Broom and we see the boats come in and get to meet the customers. We wouldn't have that if we were hidden away in a kitchen in a formal restaurant."
The Seafood Shack also won a BBC Radio 4 Food & Farming Award, and featured on BBC Scotland's The Great Food Guys.
Former Bake Off judge Mary Berry visited to sample their dishes for her Everyday BBC2 show.
"I loved Mary," said Kirsty. "She's in her eighties but so hardy. At one point it was raining and another she was completely covered in midges but she didn't complain once."
The awards have given the two women a huge boost, but Kirsty and Fenella's greatest accolade is seeing local people tuck into their affordable seafood meals.
"Mark and Josh and their fishermen friends come here for dinner after being out at sea all day," said Fenella. "And we were surprised when the workmen building a housing development all turned up in their hard hats and boots. They loved our tempura haddock and pesto wraps – we thought they'd want bacon rolls."
---
Recipe: Haddock Fishcakes
"A favourite in the shack, these are always really popular with kids," said Fenella. "We use haddock, but you can use any flaky white fish."
Serves 4
Ingredients
400g white potatoes, peeled
500g fresh haddock, or you can include some smoked haddock
500ml full fat milk
3 bay leaves
1 fish stock cube
3 spring onions, sliced
2 garlic cloves, crushed and thinly sliced
½ red chilli, deseeded and thinly sliced
½ tbsp chopped flat leaf parsley
½ tbsp chopped chives
juice and zest of ½ lemon
3 slices white bread, torn into pieces
1 tbsp chopped herbs (we use parsley and dill)
250g plain flour
2 eggs, beaten
salt and pepper
vegetable oil for frying
Method
Chop your potatoes into large chunks and put into a pan with enough cold water to cover them. Add two pinches of salt, bring to the boil and then simmer until soft.
While your potatoes are cooking, place your fish into a large pan or frying pan, cover with milk and add your bay leaves and some black pepper. Simmer your fish very gently until it flakes apart; make sure it doesn't boil as the milk can separate very easily. Drain your fish into a colander over the sink, making sure you push the fish down to squeeze out as much liquid as possible. Remove and bin the bay leaves. Flake fish into a bowl (removing bones).
Put your stock cube in a mug, add two tablespoons of boiling water and mix until you have a runny paste. Scrape this paste into the flaked fish and add the spring onions, garlic, chilli, flat-leaf parsley, chives and the lemon juice and zest. Mix well.
Once the potatoes are cooked, drain and let them steam dry. When they are, mash and then add to the fish mix. Taste and season well.
Put the bread and herbs and a little salt and black pepper into a food processor and whizz until you have fine breadcrumbs.
Place your flour in one bowl, beaten eggs in another and breadcrumbs in another and season each bowl. Roll the fishcakes into eight balls, then dip each one into the flour, then the egg and then the breadcrumbs, making sure they are fully coated. Place them on a plate or baking tray.
To deep fry, put about 7cm vegetable oil into a large pan or deep fryer: don't over fill the pan as the oil will bubble up when the fish cakes are added. Heat slowly to 180°C then add two or three fishcakes.
Fry until golden brown and start to float in the oil – about five minutes. Remove and keep warm while you cook the rest of the fishcakes.
To pan fry, heat a small amount of vegetable oil in a large frying pan and fry your fishcakes for around five minutes on each side, until crispy and golden brown.
---
The Seafood Shack recipe book is out later this year but is available for pre-order at seafoodshack.co.uk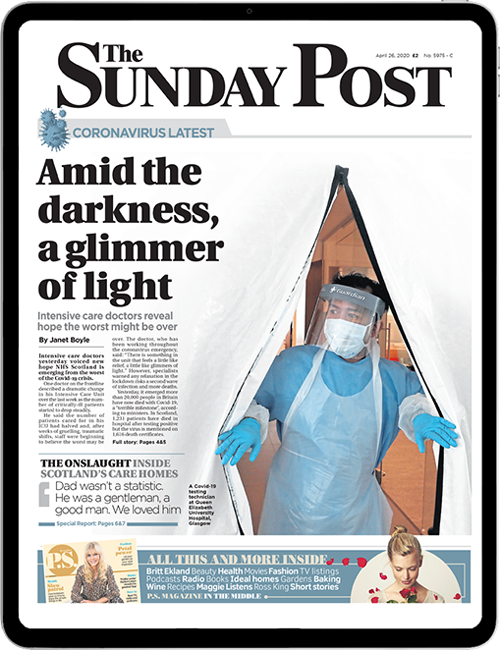 Enjoy the convenience of having The Sunday Post delivered as a digital ePaper straight to your smartphone, tablet or computer.
Subscribe for only £5.49 a month and enjoy all the benefits of the printed paper as a digital replica.
Subscribe