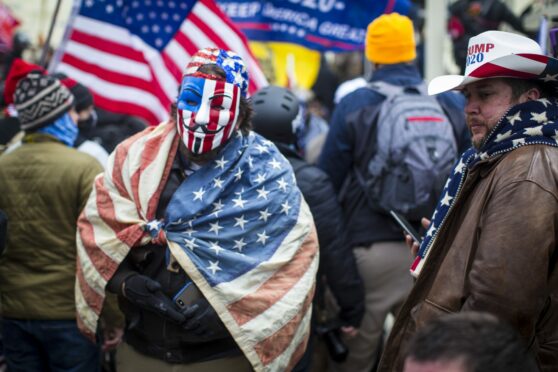 Former foreign correspondent on countries in peril, seeing Scotland from the States and his debut thriller.
He covered his first war at 26 and for the next 16 years dodged bullets, rockets and mortars to bring the news from frontlines around the globe.
His time as a BBC foreign correspondent led Martin Patience across the world with postings from Gaza and Kabul to Beijing and Beirut.
Now based in the US, a senior producer of NPR Weekend in Washington DC, he believes his career has offered insight into how any country, anywhere can be at risk of sudden, unimaginable and often cataclysmic change.
And, after his job sent him around the world, his debut novel looks homeward to Scotland with The Darker The Night backdropped by the debate about the country's constitutional future.
It opens just before an independence referendum when a senior civil servant is shot dead in an alley. With an incriminating phone number and video in his possession, the incident triggers a chain of catastrophic events. Unlikely? Patience argued the plot, partly inspired by a true-life case in South America, was not so far-fetched.
"We are all far more fragile than we realise," he told The Sunday Post. "I lived in Syria and saw that collapse. I have seen Afghanistan collapse. I'm not saying Scotland is going to collapse. What I am saying is things can change and there are moments in history when passions, narratives and politics can be manipulated. That happens in an atmosphere where there is polarisation and a lack of trust in the institutions and the politics.
"Nothing stays the same forever. Dramatic things can sometimes happen and history can take a turn in way that you were never expecting."
Speaking from the home in the US capital he shares with his American wife, Arpan, and their eight-year-old son Ayan, he cited the January 6, 2021 riots when a mob incited by an inflammatory speech by then president Donald Trump stormed the US Capitol Building in Patience's adopted city.
He said: "The republic could have ended with the riots. If you had said 40 years before that was likely to happen, people would have thought you were mad. If we have polarisation and a lack of trust in the institutions and the media, then we are heading into dangerous territory.
"During the first independence referendum in Scotland, the only violence was when someone threw an egg at one of the politicians. That is extraordinary. Today, I think there would be more eggs."
The US-based journalist – who stayed tight-lipped on his own views of independence – was working in China at the time of the September 2014 poll that saw the "No" side win with 2,001,926 voting against and 1,617,989 voting in favour.
Patience, who returns to Glasgow annually, noticed a change in the atmosphere on hi most recent visit in November. "What I see coming home is a greater polarisation," he revealed.
"In 2014, there was a debate. Now you can't have a debate. It is a bit like Brexit. There is a nastiness. Scotland feels more divided than I have ever seen it. It used to be Rangers, Celtic and religion in Glasgow, now it's independence."
While the independence issue is met with everything from indifference to incredulity and even glee overseas, Scotland, in general, is seen as "progressive". Patience said: "There is certainly this sense that Scotland is one of the most progressive countries in the world and people in Washington DC have mentioned that to me. In America, people also view Scotland as romantic, all tartan and whisky and glens. The TV show Outlander (set in 18th Century Highlands) is very popular.
"In terms of the referendum, Scotland isn't a huge country so we are never going to be front and centre for America. Scotland doesn't have the same resonance here as Ireland does for the US."
But he believed that could change should a second referendum go ahead and result in the break-up of the union. "They (the US) would be concerned about it," said Patience. "The nuclear bases, rightly or wrongly, in Scotland are a key part of the defence architecture for the western world, so that's a big issue. The Russians would love Scotland to become independent – anything that weakens Nato would be welcomed by Europe and America's adversaries.
"I was in Beijing when the first referendum happened. The Chinese people thought it was bonkers that London would let Scotland potentially break away. In the Middle East people know Mel Gibson and the movie Braveheart. That's interesting. People like to see Scotland as the underdog taking on the big guys."
Of his adopted homeland, the 42-year-old journalist said current focus was on Ukraine, China, and Northern Ireland "given the Brexit situation".
He added: "Britain is playing a leading role in Ukraine. But if it was consumed by another referendum, it would be hard for the UK Government to focus on that."
That, said Patience, would be a bitter pill to swallow internationally after the "damage" inflicted on the UK's reputation by Liz Truss's short spell as prime minister last year. He explained: "Britain has always been seen as one of these rock-steady countries but in the past few months a lot of people think it has lost its way. If you lose credibility, people lose their trust in you and it is incredibly difficult to regain that."
Ultimately, he said, the war in Ukraine "may be the thing that sinks the nationalists". He said: "They need stability. If you are going to create a lot of disruption, you can't have disruption on top of disruption. The Russian invasion of Ukraine will have a big impact on the nationalists and has made Scottish independence less possible, because people realise there is a more dangerous world out there.
"That's not to say Scottish people shouldn't have their independence but I look at Scotland and Britain and think I was lucky to be born there because it is relatively stable, there is security and we do have opportunities. A lot of countries don't have that."
The Darker The Night by Martin Patience is published by Polygon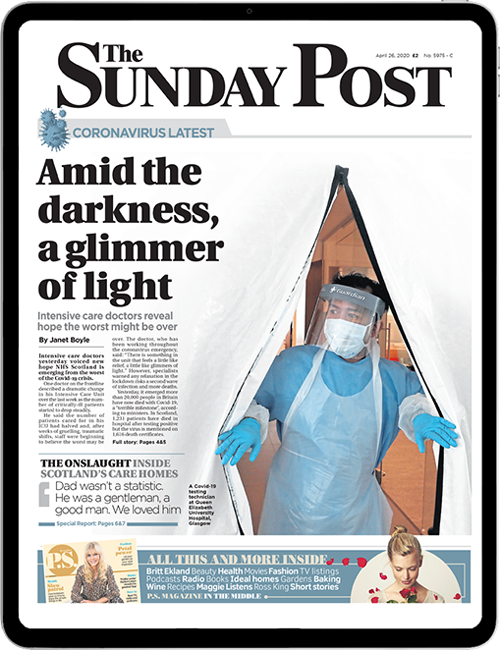 Enjoy the convenience of having The Sunday Post delivered as a digital ePaper straight to your smartphone, tablet or computer.
Subscribe for only £5.49 a month and enjoy all the benefits of the printed paper as a digital replica.
Subscribe