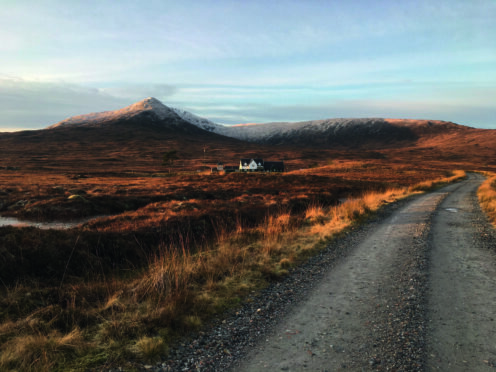 The day dawned promisingly as my friend Vicky and I travelled by train through Central Scotland to the Highlands.
Eating a picnic breakfast on the first – and very early – train of the day from Glasgow, we watched as urban environs turned to fabulous rural landscapes.
A slowly rising sun spread a rosy glow on the frosty scenery. As if by appointment, a herd of red deer ran into our window-shaped view. Simultaneously, we stretched our necks to look back at the unexpected wildlife as the West Highland Line service sped northwards.
Today's adventure was a spontaneous decision made only 48 hours before – and clearly we had the blessing of the weather gods. As most people would be arriving at their place of work, Vicky and I alighted the train at the request stop station of Corrour.
More than 15 miles by rough track from the nearest road, Corrour is a remote estate on the edge of Rannoch Moor. The easiest way to reach the area is via the Glasgow to Fort William railway line, although there are only four daily trains heading north and three or four, depending on the season, heading south.
For some people, an exciting challenge is to arrive and depart on the same day and, in between, complete a wilderness adventure.
Walkers might, for example, bag one or two of Scotland's tallest mountains, a Munro of more than 3,000ft height, or a Corbett, at more than 2,500ft.
I had heard about a running feat to complete a circuit of Loch Ossian, at the heart of the estate, in between trains. Arriving at 8.58am, Vicky and I hoped to make the next train heading south at 12.30pm.
In the intervening hours, we aimed to reach the western shore of the loch, about 1.5 miles east of the station, then run a nine-mile loch loop on tracks and trails, before heading back to the station.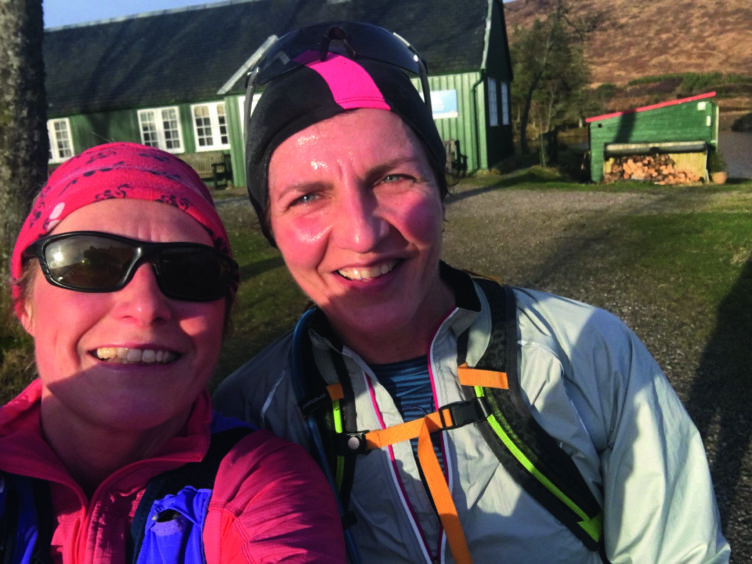 On paper, the idea seemed easily possible, but as we set off through a rugged moorland we discussed some worries. What if we got lost? What if our rucksacks of warm kit, snacks and water slowed us down? What if the train home was cancelled? But this was all part of the challenge of taking a train from the city into the wilderness for a day of adventuring.
As we ran on and over the brow of a small hill, we saw the pool of water shining brightly amid a picture-postcard vista of brown, yellow and green moors. The backdrop was of mountains still capped with snow.
On the shore of the loch, a small, green building – Hostelling Scotland's Loch Ossian Youth Hostel – offered a focus to run towards. Outside the hostel, which was closed on an off-season weekday, we found a place to stash a few items that we wouldn't need for the circuit.
We stopped for a pre-run snack and enjoyed a full-length view of the loch. So still was the air and water and so vibrant the clarity of colours, it appeared we were looking into a photograph. With lighter running packs, we set off at a faster pace to run an anti-clockwise circuit of Loch Ossian. Our legs felt fresh and we jumped icy puddles and dodged sections of mud on a track that hugged the water's edge. We were soon running through woodland, with flashes of light from the glassy loch surface blinking through narrow gaps in the tall, straight trunks of birch and we exclaimed at the surprisingly rich array of colours.
Towards the eastern end of Loch Ossian, overgrown rhododendrons narrowed the track before we came across a collection of older and more modern buildings.
The history of the Corrour Estate is fascinating and dates to an original lodge built in the early 19th Century. Sir John Stirling Maxwell, who was instrumental in establishing the Forestry Commission, bought Corrour in 1891 after the arrival of the railway. He was also honorary president of the Scottish Youth Hostels Association and a founder member of the National Trust for Scotland.
The old lodge burned down in 1942, after which a new owner, Lisbet Rausing, the heiress of Swedish packaging firm Tetra Pak, had a granite, steel and glass lodge built. Sounding incongruous in such a setting, Vicky and I were keen to take a look, but it was mostly hidden. In contrast, we were treated to a wide-open panorama of the mountains of Sgòr Choinnich, Sgòr Gaibhre and Càrn Dearg.
At a junction, we kept left, running south and into denser patches of mostly evergreen forestry. Our new perspective revealed a dramatic reflection of darkened hues of land and trees in the loch's mirror.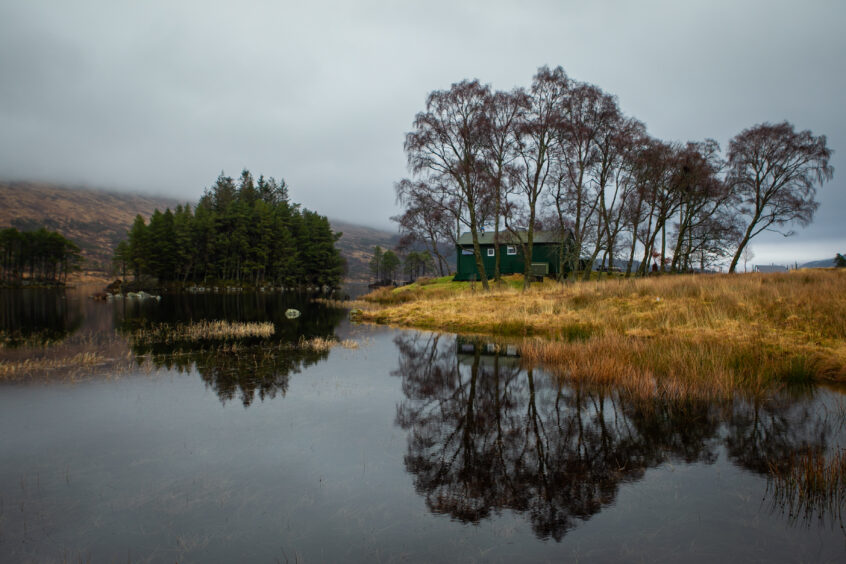 The northern shore of Loch Ossian was hillier and it felt suddenly tougher, especially as we faced a chill headwind coming through the glen.
Finally returning to the hostel, we were grateful for a bench located in lukewarm, early-spring sunshine. However, just as we congratulated ourselves on having plenty time for the train, hostel manager Jan told us the next train had been cancelled. "It happens fairly often at this time of year," she added breezily, as an explanation.
The next train wasn't until 6.25pm. There was nothing we could do, except hope this one wasn't cancelled, too!
We were warm and dry at least – Jan kindly lit the stove in the hostel – and we had a flask of coffee and lunch leftovers. We spent a pleasant afternoon chatting, laughing, getting to know Jan and playing board games.
The extra hours also provided the opportunity for more spectacular views of the loch in a setting sun.
As the train time approached, we set off in the deep dark to walk back to the station, lighting our way with head torches. I guess we can still say we completed the Loch Ossian run challenge between trains, and had enjoyed so much more than expected.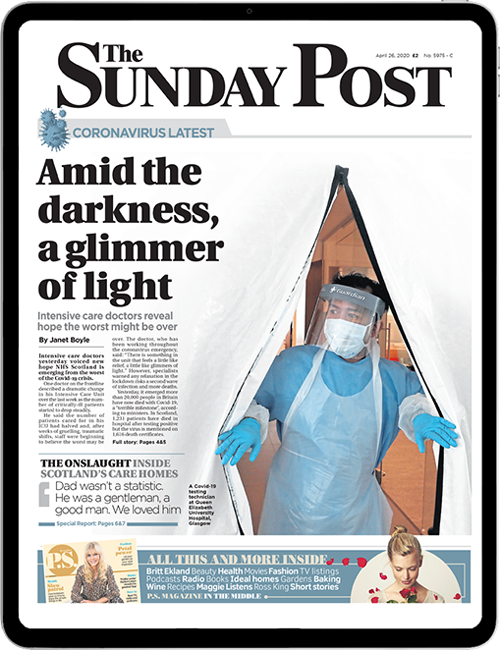 Enjoy the convenience of having The Sunday Post delivered as a digital ePaper straight to your smartphone, tablet or computer.
Subscribe for only £5.49 a month and enjoy all the benefits of the printed paper as a digital replica.
Subscribe