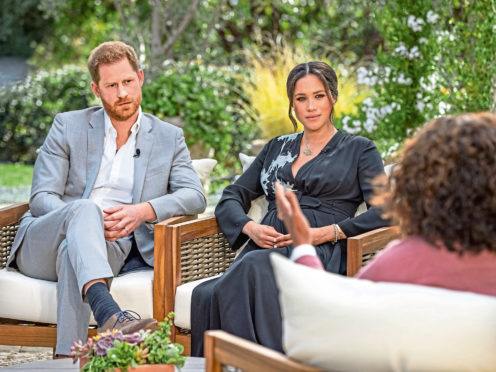 Oprah Winfrey has described her much-hyped interview with The Duke and Duchess of Sussex as the best she has ever done.
The TV host told friends the couple answered almost every question asked of them and, for every one they didn't answer, they explained why.
Her comments emerged as the couple's interview sparks global speculation about a widening rift between them and the rest of the royal family as Meghan accuses Buckingham Palace of trying to smear her by revealing bullying allegations. Reports in the US have ­suggested broadcaster CBS paid Harpo Productions, Winfrey's company, up to £6.5 million for the interview.
It was revealed yesterday that the Duchess claims during the interview, to be screened in the US tonight and in Britain tomorrow, that royal aides ­listened to a telephone conversation she had with Winfrey months before her wedding to Prince Harry.
In a newly-released ­preview clip, she told Winfrey it was "liberating" to make her own choices without involving Buckingham Palace.
Winfrey disclosed she asked Meghan for an interview a few months before her wedding to Prince Harry in 2019 but was told it would not be possible.
Meghan, 39, said staff had to be present during a conversation with Winfrey at that time.
Meghan said: "I remember that conversation very well. I wasn't even allowed to have that conversation with you personally, right. There had to be people… sitting there."
Explaining why she chose now to do the interview, Meghan said: "We're on the other side of a lot of life experience that's happened. And also that we have the ability to make our own choices in a way that I couldn't have said 'yes' to you then. That wasn't my choice to make.
"I'm ready to talk. To say it for yourself, to be able to just make a choice on your own. And to be able to speak for yourself."
The interview, which took place during a conversation with Winfrey where "nothing is off-limits", will also cover "wide-ranging" topics, such as motherhood, the couple's philanthropic work and the Duke and Duchess's move to California.
CBS has shared multiple trailers for the two-hour special, which have seen Prince Harry reveal his worst fear was ­"history repeating itself".
Meghan has also ­spoken of what she claims are "falsehoods" perpetuated by the royal Family.
The interview also ­follows reports last week that the Duchess left aides shaken and crying after alleged bullying. A spokeswoman for the Sussexes called it a "calculated smear campaign".
The special will also be aired as Prince Harry's grandfather, Prince Philip, remains in hospital after a heart procedure.
Winfrey's friend, US presenter Gayle King, said: "I heard Oprah say it's the best interview she's ever done." She said Winfrey told her that they answered every question and any questions they didn't answer "they explained why".
In the run-up to the interview airing, friends of the Duchess have been going public on social media with messages of support for her.
Silver Tree, an executive ­producer on TV series Suits, in which Meghan starred, posted: "She is one of my very nearest and dearest. Like all her friends I love her madly. She is the friend who insists on always hearing the details of your life, your day, your kids life, your kids day, before hers. Always before hers."
Suits co-star Patrick Adams posted a Twitter thread in which he wrote: "It's obscene that the royal family, who's [sic] newest member is currently growing inside of her is promoting and amplifying accusations of 'bullying' against a woman who herself was basically forced to flea [sic] the UK in order protect her family and her own mental health."
Actor Janina Gavankar posted: "Here's what she is: kind, strong, open. Here's what she's not: a bully."
Meanwhile ITV could earn £200,000 per minute from advertising during the two-hour interview with the Duke and Duchess of Sussex, industry sources have suggested.
The commercial broadcaster is hoping to earn a huge profit on its reported £1m investment in the programme, which is expected to be a ratings smash hit.
Analysts said the show, to be broadcast tomorrow at 9pm in Britain, could easily attract more than 10 million viewers.
Insiders said advertising was being offered at £70,000 per 30-second slot but this could double if certain ratings targets are hit.
---
ITV, 9pm, Monday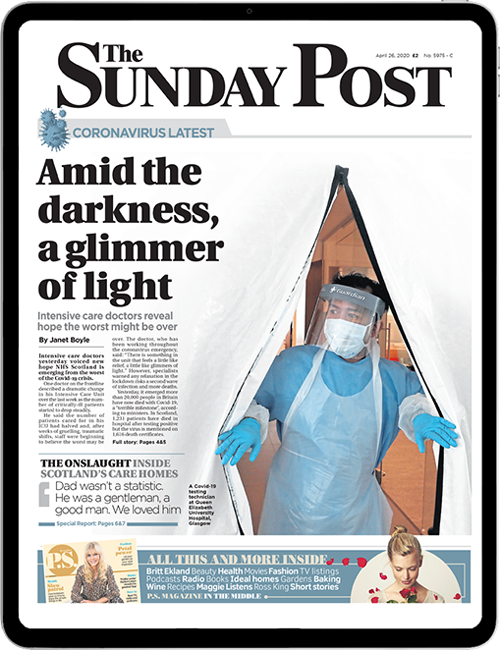 Enjoy the convenience of having The Sunday Post delivered as a digital ePaper straight to your smartphone, tablet or computer.
Subscribe for only £5.49 a month and enjoy all the benefits of the printed paper as a digital replica.
Subscribe