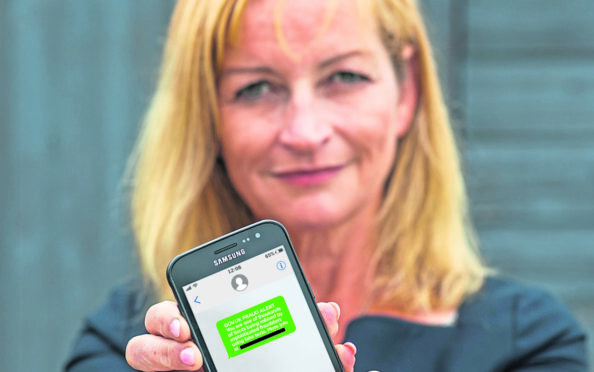 The scale of Scotland's great text robbery can be revealed today as experts detail how fraud gangs behind a flood of fake messages have stolen £64 million during the pandemic.
It is believed that more than half of people in the country have been targeted by text scams since lockdowns began in March 2020. People now receive up to four scam messages or more every week.
The messages are ­commonly used to steal a victim's personal and bank details by getting them to follow a link to a fake version of a trusted website.
Police Scotland figures show that reports of fraud have risen dramatically in the past 16 months, as crooks targeted people working from home, on furlough, or shopping online.
Consumer advice groups and government agencies say they are increasingly alarmed by record numbers of victims contacting them about being scammed by text and phone.
"We believe more than £86m has been lost to fraudsters in Scotland during the pandemic," said Katherine Hart, lead officer at the Chartered Trading Standards Institute.
"About 75% of these scams have originated from mobile phones. That is about £64m.
"The scammers are ­becoming ever more sophisticated and ruthless. The recent surge in these scams is like an epidemic in itself."
The criminals behind the texts and calls pretend to be from government agencies, such as HMRC, the DVLA and the NHS. They can impersonate major banks and also pretend to be from delivery companies such as Amazon and DPD or Royal Mail.
Hart, who sits on a national scams taskforce, said she almost fell for the latest Royal Mail text fraud herself because she was expecting a delivery.
"I received a message saying there was a parcel waiting for me at a local Post Office and I was asked for some details of my address," she said.
"I had started to use their convincing looking postcode finder when I realised what I was doing and I stopped. If someone like me can almost be taken in, what chance have most other people got?
"What is so clever about this new scam is it doesn't ask for money, so people think it must be genuine.
"However, once these crooks have basic information about someone, they will sell this on to other criminals and a few weeks later they will use this information to try to defraud you.
"I know of a woman in her 60s from Angus who was recently conned out of £60,000 after she simply answered a text and then followed a link to a cloned bank website.
"These scammers are also without a doubt operating in Scotland.
"We have heard they could be sending out thousands of texts a day from equipment set up in places like Airbnbs, rental properties and industrial units.
"It is suspected they often employ students or low-paid workers to do it for them."
Consumer agencies say it is not just older generations who are falling for these types of phone scams – younger Scots are now being duped.
"There used to be a ­stereotype of a vulnerable person in their 80s, who lives alone, and who would be regarded as being a typical victim," said Colin Mathieson, spokesman for Advice Direct Scotland.
Locked down and cleaned out: Fraud surges in pandemic as crooks steal £86m from Scots
"But we are now seeing more and more younger people and professionals contacting us for help and advice.
"They are often working from home and taking up to 20 calls a day, so it is easy to get distracted and download an app from a text.
"A lot of the younger people are too embarrassed to report they have been scammed but the distress and financial loss this can cause to people of any age is significant."
According to Jemiel Benison, who leads on scams for Citizens Advice Scotland, there is still a perception that fake texts and calls are more of a nuisance than a crime – but the reality for victims is very different.
"Some people think scams are harmless, even funny," he said. "I have been asked things like, 'Don't you ever admire them?'.
"Well, no I don't. I've sat across the table from too many scam victims, crying, or bursting with anger and frustration.
"The thing is, the ­financial loss is just one effect of a scam. It knocks your self-confidence. And there's a sense of shock, that someone has deliberately set out to defraud you."
During the pandemic, Neighbourhood Watch Scotland has been focused on alerting people about phone and texts scams.
National co-ordinator William Clark said: "They are sophisticated and changing almost daily. It is hard to keep up with them. The amount of information people can hand over in a click is frightening."
E-commerce has boomed during lockdowns, making fake deliveries rich pickings for scammers. The texts usually claim a package has missed its delivery slot or requires a fee to be paid.
In May, eight men were arrested in Birmingham, Coventry, London and Colchester during dawn raids. The suspects were allegedly involved in sending fake messages, primarily posing as Royal Mail, and asking people to pay a fee to retrieve a parcel.
Security experts believe this is just the tip of the iceberg.
The UK Government's National Cyber Security Centre (NCSC) provides advice and support for the public and private sector on how to defend against security threats online.
The organisation has already taken down hundreds of thousands of online scam campaigns that people are directed to from email and text scams and is working around the clock to stay ahead of the crooks.
The NCSC is also working with businesses such as mobile phone providers and delivery companies to share information to combat the scourge and has launched a number of initiatives to support and educate the public.
Kate Sinnott, the NCSC's head of public engagement, said: "It is important that people report these scams so we can take action to remove them as quickly as possible and stop people from falling victim.
"We need to fight back together to protect others. We will not let these criminals win."
The scams are so ­widespread even entirely new mobile numbers are receiving bogus texts within days of new accounts being opened, research from consumer watchdog Which? has revealed.
Police Scotland said: "We are working closely with partners to deter this kind of scam and make Scotland a hostile environment for scammers.
"We would urge anyone who is worried they may have provided personal or financial information via a link in a message of this sort to contact their bank or financial provider. If you are concerned a crime has taken place, please contact us."
Politicians across the ­country are demanding action. Shetland MSP Beatrice Wishart has been contacted by constituents concerned about the number of fake texts and calls they are receiving, and she said: "I have been targeted myself."
Dean Lockhart, MSP for Mid-Scotland and Fife, said: "It is imperative the strongest possible message is sent out against these scammers and people are fully aware to not click on these sorts of links.
"There must also be the toughest punishments handed down against those who believe it is appropriate to carry out these scams."
---
They called from my bank's number and I gave them
all my information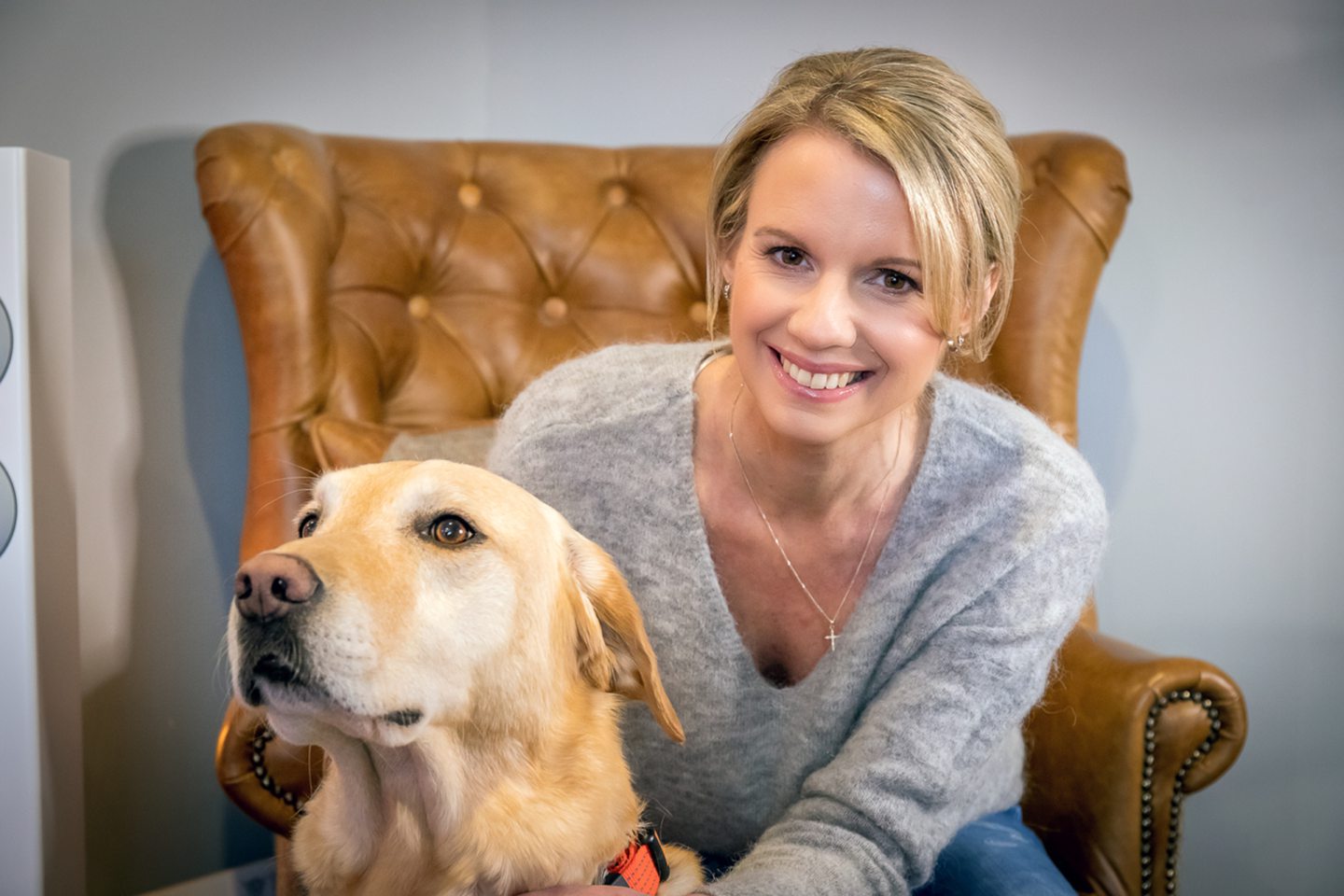 Angela Roy believes she had a lucky escape when she was targeted by a convincing-sounding phone scammer.
In May last year, two months after Covid lockdowns were introduced, the 42-year-old businesswoman noticed a message on her mobile saying that she had missed a call from the Clydesdale Bank.
"I am a Clydesdale customer and had recently lost my bank card, so I thought they would be calling with some news about that," said Angela, a mother of two from Inverness. "When they later called back the phone display said the call was from the Clydesdale so I didn't think that it might not be genuine."
Angela said the caller was male and had a foreign accent.
He said he was from the bank and told her that her card had been used in a suspicious transaction in Liverpool.
During the course of the conversation Angela handed over personal details including her full name, date of birth, address and her mother's maiden name.
"At first I had no idea I was talking to a fraudster as he sounded very genuine," she said.
"He said he was working from home in London but as I was asked for more and more information I began to get suspicious.
"I handed the phone to my husband to speak to the man and he soon hung up."
Angela said that the weeks that followed left her fraught with worry that her accounts would be raided. The couple had to change their bank accounts and they signed up and paid for an online financial screening service from Equifax to stay safe. She also reported the incident to the police, who investigated it and offered her counselling.
"It was a nightmare," Angela said. "It was all I could think about day and night and it was very stressful. Every hour of every day I wondered when I was going to get a call to say I had been defrauded.
"I also felt foolish that someone like myself could be taken in but the guy was very convincing. I felt violated and it really rattled me."
She added: "I really feel like one of the lucky ones. I would urge anyone to be very careful about who they are dealing with when they receive a call or a text from anyone that they don't know."
---
It costs peanuts to send millions of texts
by Basil Manoussos, an expert in cybercrime
The text fraud pandemic is a shift of medium, from emails and social media.
Effective mainstream marketing campaigns use different media, as using a single one will desensitise their audiences. The same goes for criminals. Some of these campaigns are poor in design and delivery but some are really evolving.
Some people will become more tech-savvy but I know some have reduced their use of computers and mobiles for internet activities because of the current levels of fraud.
SIM farms are a new technological solution for fraudsters.
The sending of multiple texts involves devices that are basically boxes with slots for mobile SIM cards, that act like a multiple mobile phone centre. They are used to send texts with fraudulent links.
Most people believe they are individually targeted but these devices send serial messages.
They start with a mobile number and then they send to the next one, just adding one digit.
Scammers can send out millions of texts a month for about £100 then steal thousands from victims.
A large SIM farm operation, which used the likes of a real farm, could be based in the countryside, making use of an empty barn rather in a city, with people and police all around.
Delivery scams are among the most common now and my advice is that unless you are expecting a delivery and the courier's message quotes your reference number, everything else must be treated as fraudulent.
---
Banks close and push people online

by Dr Robert Smith, an author specialising in criminal entrepreneurship
To criminals who operate frauds such as text and phone scams, it is simply a numbers game.
The tactics they employ are not that dissimilar to historic scams such as the Nigerian 419 letters that emerged years ago.
In those, someone from overseas would share a hard luck story and offer people a share in a large sum of money or a payment on the condition they help them to transfer money out of their country. The letters would be sent to thousands of potential victims and the fraudsters only need to get lucky once.
The same techniques are used by cold-callers. The more people they contact, the more chance there is of someone falling for the scam.
Most people can often spot a fake text coming from overseas by the poor grammar but the criminals are now closer to home and getting better at it. Nowadays, some of the organised criminal gangs often employ students or low-paid workers in the UK to send messages out in their thousands.
This helps keep the people behind these enterprises one step ahead and police and businesses have so far been playing catch-up. The police are now taking a more entrepreneurial approach to the crime.
Our agencies turn slowly while the criminals can change direction swiftly. A problem has also arisen as banks continue to close more branches around the country.
This is pushing more people online to manage their money and pay bills themselves, which makes them more vulnerable to being defrauded.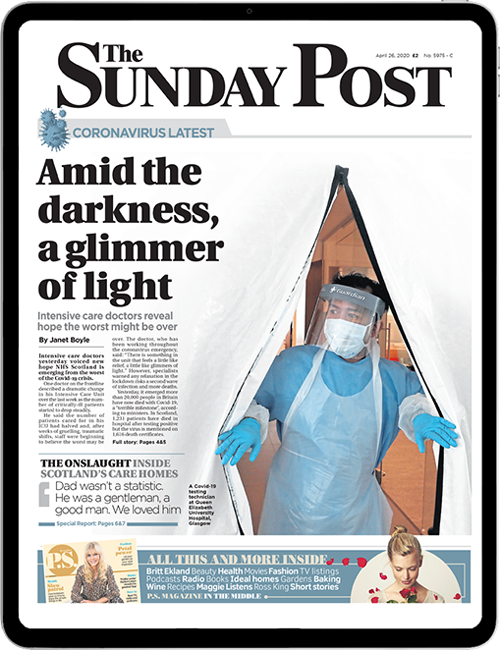 Enjoy the convenience of having The Sunday Post delivered as a digital ePaper straight to your smartphone, tablet or computer.
Subscribe for only £5.49 a month and enjoy all the benefits of the printed paper as a digital replica.
Subscribe