Enjoying a home-cooked meal is always bittersweet.
The sweet is dining on a plate made by your own fair hands, the flavours and textures enhanced by an hour's hard work in the kitchen. The bitter is the inevitable post-dinner clean-up.
Somehow, no matter the simplicity of a recipe, cooking often means setting off a culinary bomb, a debris of dirty pots and pans littering a sticky wasteland of countertops that takes longer to clean than the end result takes to eat.
Having worked as a food stylist and cookery writer, it's a scene Rukmini Iyer knows well – and one that she has aimed to remove from the cooking process with her best-selling Roasting Tin cookbook series, which was initially inspired by her desire to relax after a long day.
"Honestly, my feet hurt, and I wanted to make something really quick that would give me a great dinner so I could sit down," laughed the 36-year-old.
"I was working as a food stylist, standing on my feet and cooking all day in studio kitchens. At home, I found that I started adapting recipes, like fajitas or curries, so I could just chop up all the ingredients in five minutes, put them in one tin, and then stick it in the oven. That was just so nice after the 'hardcore' cooking I'd been doing all day.
"And, of course, when you're working in the food industry, you do think about writing your own cookbook one day, so I thought maybe there was an idea in my quick recipes because they are so easy and there's so little washing up. That's really how it all started."
Iyer's "maximum flavour, minimum fuss" recipes focus on just a few simple ingredients, all thrown together in one tin, tray or dish, ready for the oven to do all the hard work.
Four years and four cookbooks later, and the collection – which includes The Green Roasting Tin: Vegan And Vegetarian One Dish Dinners, and The Roasting Tin Around The World: Global One Dish Dinners – has now sold more than one million copies.
Iyer continued: "One of the nicest things about having a published cookbook is when people send you pictures of the recipes they've made.
"I've had people send some quite moving stories, too. One person told me their mum had passed away and their dad, who had never cooked before, was able to make dishes from the book. It's nice when you get an insight into families and how food helps them – I just can't believe it's my recipes that are doing it."
Now, sweet dishes are taking centre stage with Iyer's fifth book in the series, The Sweet Roasting Tin, published last week. Featuring 75 easy and delicious one-tin bakes, Iyer admits it was a joy to create pared-back versions of everything from Black Forest cupcakes to triple ginger biscuits, especially as she grew up learning to bake alongside her mum.
"I used to bake a lot with my mum as a kid, and that's how I learned to cook," explained Iyer, who later trained as a pastry chef at Tom Kitchin's The Kitchin in Leith, Edinburgh. "I always knew if I wanted to make a cake it was eight, eight, eight – eight ounces of everything plus four eggs.
"It's always nice to take a cake with you if you're visiting someone, and if you can make a really easy one-tin bake that means it's not too difficult!"
As well as cakes, pastries and traybakes for even the most discerning sweet tooth, Iyer has been careful to make sure each of her recipes is accessible for different dietary requirements, adding notes to explain how each can be adapted for coeliacs, diabetics and vegans.
And one of the easiest to adapt also happens to be one of her favourites.
She explained: "The cherry and almond cake is one of the simplest. If I pass a bakery and they have a cherry and almond slice or a cherry bakewell, I just have to have it.
"It's really easy to make it gluten-free as it's almost entirely ground almonds. It's a really lovely damp cake, which you top with flaked almonds and glace cherries. It's a total '80s throwback cake and whenever I make it, it just disappears in seconds."
---
The Sweet Roasting Tin: One Tin Cakes, Cookies & Bakes by Rukmini Iyer, £18.99, is out now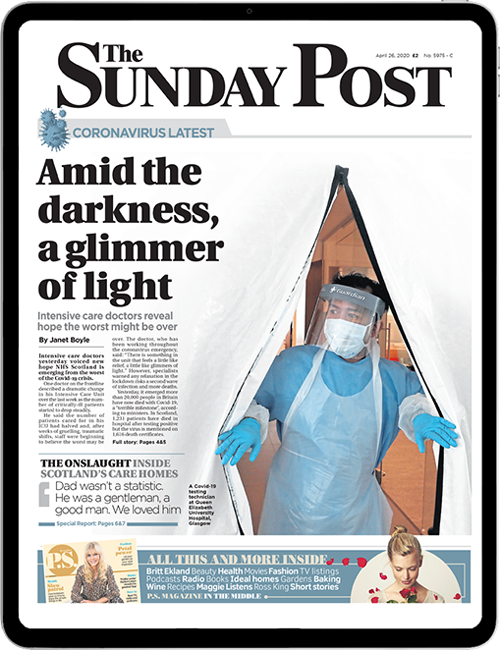 Enjoy the convenience of having The Sunday Post delivered as a digital ePaper straight to your smartphone, tablet or computer.
Subscribe for only £5.49 a month and enjoy all the benefits of the printed paper as a digital replica.
Subscribe