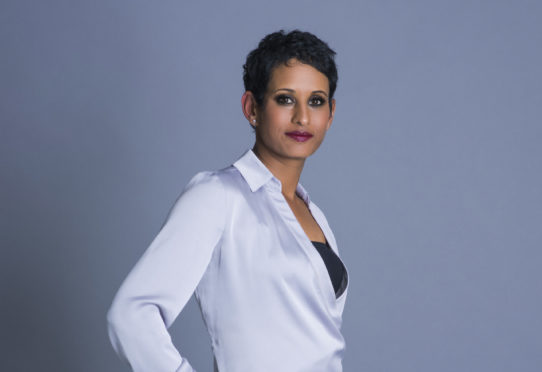 Naga Munchetty is one of the prime faces of the BBC at a time when its news coverage has rarely been so scrutinised and, indeed, criticised.
But the Breakfast star says she has learned a harsh lesson from the vitriol she was subjected to a decade ago on business programme Working Lunch.
The abuse was so upsetting she now deliberately avoids reading viewers' comments.
"I take constructive criticism. I've no issue with that," says Naga, 43, as she comes straight from the famous Salford studios sofa to speak to P.S.
"You learn from it and it makes you realise how people are interpreting what you're saying.
"But at BBC Breakfast I have no access to the public email inbox. I made a decision on Working Lunch not to have access.
"I found it negative and unhelpful. I used to find it so hurtful and I've never gone back to it.
"If it's about how fat, ugly, whatever I am, then I just don't need to see it."
It's not as though Naga is blasé or disinterested, saying she's always keen to progress and get better.
But there's another lesson she has picked up from her lengthy time on screen.
"I think it's quite unhealthy to be a bit harsh on yourself all the time," she confides.
"I think there's a reason we have an editor and bigger bosses at the BBC – they can judge. I must have passed muster. You'd hope they wouldn't put anyone they didn't think was good enough on screen.
"One thing I've learned is that you've got to be kinder to yourself."
Naga joined the Beeb back in 2008 and it's 10 years now since she made her Breakfast debut.
She was initially a weekend stand-in, but in recent years has become one of the main presenters.
Spend some time in her company and her sheer enthusiasm for the programme that kicks off the day for millions is infectious.
"It's a privilege to be given this responsibility to be in people's homes at that time in the morning.
"They are getting ready for work, getting the kids off to school and are often at their most vulnerable.
"We are part of setting the tone for their day. That's important, and I take it really seriously.
"I can't ever imagine losing the enthusiasm."
Refreshingly, though, she isn't someone irritatingly bright-eyed and bursting with vigour at an unearthly hour of the morning.
"When my alarm goes off at 3.45am I do not spring out of bed – I have about five snoozes," she laughs.
"I may think, 'Oh, I've got to drag my butt out of bed.' But I don't ever think I don't want to go to work, because I love it. There's no way I could see myself saying, 'I don't want to be a part of this'."
Dan Walker, Louise Minchin, Charlie Stayt and Ben Thompson are some of the other presenters with whom Naga shares the early morning sofa.
On-screen chemistry is always said to be critical and viewers' perceptions of how the Breakfast team get on is something she's bemused by.
"The amount of times I've heard people say, 'Oh, you don't like him or her, do you?'" says Naga, who lives in London with husband, James, and their three cats.
"I do not know what they're seeing. We all get on – you can't not get on at five in the morning.
"You can't sit next to someone and not have an affinity when you're doing sensitive interviews. Of course, we all want to do the big political interviews, but if it's not yours that day, you still bounce ideas off them.
"And we're all grown-ups. No one wants to come to work and be miserable."
Despite Good Morning Britain achieving its best-ever ratings, BBC Breakfast is still well ahead when it comes to the all-important viewing figures. But Naga is neither complacent nor dismissive of the ITV rival fronted by Susanna Reid and Piers Morgan.
"I don't think you should underestimate the value of competition and it's a good thing that ITV does something different. Variety is what people want. We are swamped with viewing options and people can be fickle.
"I have a great respect for Susanna and Piers and what they do is fabulous. I love the fact they're doing well – of course, we're doing better, but so what?
"We have an established audience and the brand of the BBC."
Much has been made of the prominent roles taken up recently by Fiona Bruce on Question Time, Emily Maitlis on Newsnight and Zoe Ball on Radio 2's Breakfast Show.
So, a good time to be a woman in broadcasting?
"It's a better time," says Naga. "We've got a long way to go. I want to be at the point where it's not 'a woman's doing this, a woman's doing that'. I just want us to know genuinely the right people are being put in the jobs."
What all news programmes have been covering – either ad nauseam or in splendid depth, according to your standpoint – is Brexit.
It's no surprise to discover which camp Naga is in.
"I am not ashamed to say that I am almost like a pig in poop when I'm in the thick of it," she says. "These are extraordinary times. To be part of it as a journalist is brilliant.
"It's so exciting, so frustrating, so challenging. You're not going to be able to avoid Brexit for probably God knows the next however many years."
Broadcasting from the BBC's Salford base regularly takes Naga away from home with frequent gym visits and sessions with a personal trainer keeping her in shape.
So, too, does regular rounds of golf, a longtime passion.
She laments the current state of her game – "It's got worse. I had a terrible year. I'm properly furious!" – and even more so that James now has a better handicap.
But love her job though she does, getting out on the course helps take her away from the pressures of live TV.
"Fresh air and forgetting about work is important," she insists.
"I'll do all my research and keep up to date politically but I'm also a great believer in leaving work behind.
"If I'm playing golf or if I'm with my family or out for dinner, I don't think about work. You have to separate that.
"That's healthy because you can just be submerged in everything.
"You have to step away and have a break."
While brickbats from viewers aren't on Naga's must-see list, she's more than happy to get feedback from her mum.
"She watches every day and will tell me about interviews and guests," she adds.
"My relationship with my mother has just gone from strength to strength.
"She's learned to say things more constructively which makes it more of a conversation – because I'm not defensive!"
---
Breakfast, BBC1, daily, from 6am