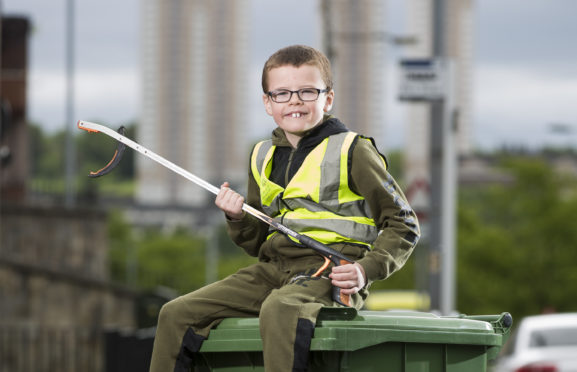 A tireless schoolboy has been hailed a hero for helping Keep Scotland Beautiful one piece of litter at a time.
Marc O'Neill, eight, is a pint-sized celebrity in his neighbourhood where he is a familiar sight picking up tossed away wrappers and cans.
With his mum Margaret, 44, by his side, the little litter 'picker-upper' has even been given a bin by litter chiefs to help him in his cleaning crusade in Glasgow's Milton.
Now an environmental charity has announced the schoolboy has been nominated for a prestigious award in recognition of his efforts.
Margaret, who is also mum to Michael, 13, said: "I am very proud of him. It is not me that is making him do it, he wants to do it.
"He is a normal wee boy, he has his trampoline out the back and he plays on his iPad. But if he is doing all those things and you asked him if he wanted to go litter picking he would drop them in a minute to go."
Marc started his cleaning campaign two years ago when his dad Michael, 47, a binman for more than a decade, gave him a litter picker.
Since then, his ambitions have grown. He wants to become a litter-picker full-time when he is older. For now, when the weather permits, Marc can be seen combing the streets around his home, collecting rubbish.
The Chirnsyde Primary four pupil, who picked up four industrial size bin bags in just three days and also helps his grandfather Norman Daniel who runs a private bin business, said: "I wish when people threw litter away, it would just come back to their hand.
"I always pick up lots of cans because I don't want animals to get cut."
Community campaigner Alex O'Kane, of No1seems2care, mentioned Marc's work to Glasgow MSP Bob Doris, who went on to lodge a motion in the Scottish Parliament hailing the youngster's achievements.
Mr Doris said: "Marc is a shining example of the positive contribution that young people can make to their local community that often goes unnoticed. To volunteer to ensure the streets in his area are well kept and litter free is an admirable and selfless act.
"Often people are too quick to criticise young people and focus on negative headlines. While I would also want to ensure the council's cleaning rotas are adequate, I would hope Marc's actions may make others think twice before littering."
With the summer months drawing in, Margaret and Marc hope to continue their good work and are thankful to everyone in the community.
Margaret said: "We got it up to a good standard last year, but when the bad weather comes in there isn't much you can do.
"Some people are stopping and saying well done. Some are giving him money but it is isn't about that. Even if people just pump the horn, give him a wee wave or stop the car to say well done, that's enough."
She added: "I would ask people to pick litter up. There is no need for it."
Heather McLaughlin, Keep Scotland Beautiful community project officer, said: "With litter levels all across Scotland at their worst in a decade, it is disappointing when we see litter spoiling the areas that we love. It is fantastic to hear about Marc's efforts, and I hope that many more people across the country follow his lead.
"Since January 2013, Keep Scotland Beautiful has presented a Clean Up Scotland Hero award every month, recognising the outstanding contribution of an individual, or group, to cleaning up Scotland.
"In June, to celebrate our recent Spring Clean campaign, we will be announcing four special heroes. We are delighted that Marc has been nominated for his efforts."
Glasgow City Council added: "Marc deserves tremendous credit for his efforts to keep the streets around his home free from litter.
"It is remarkable how much time and energy he has dedicated to improving the environment."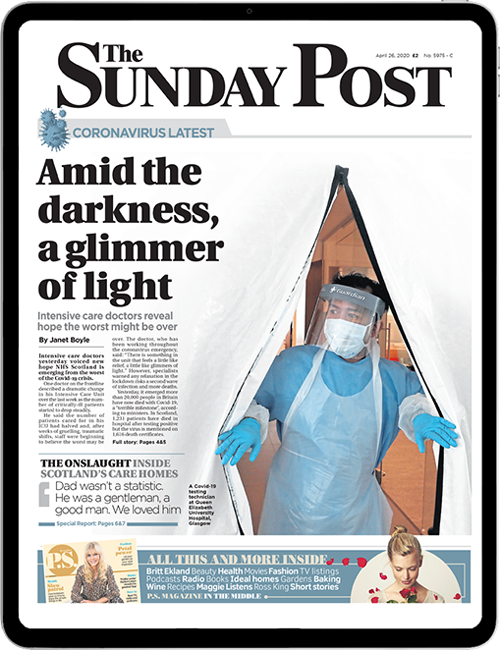 Enjoy the convenience of having The Sunday Post delivered as a digital ePaper straight to your smartphone, tablet or computer.
Subscribe for only £5.49 a month and enjoy all the benefits of the printed paper as a digital replica.
Subscribe