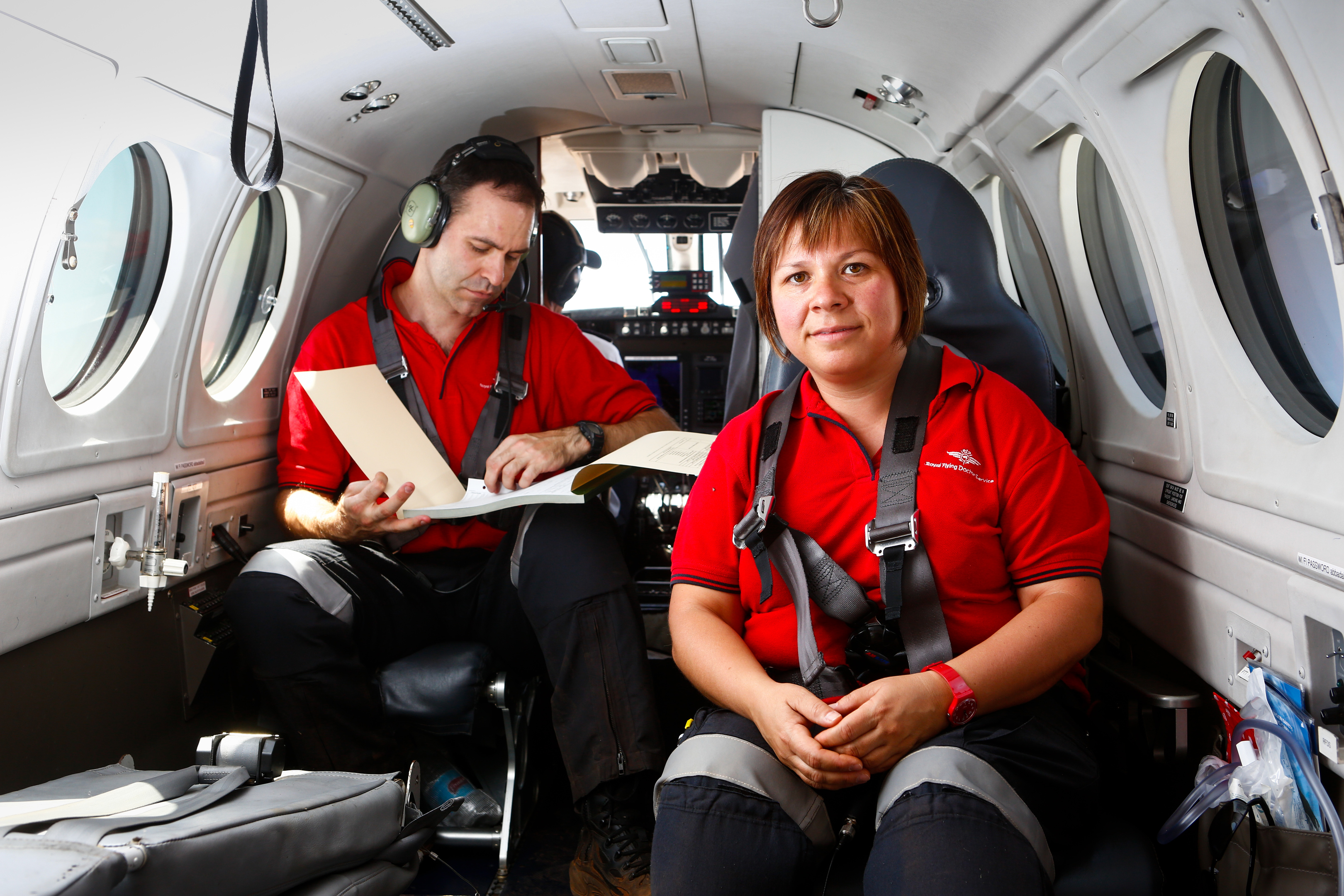 IT was a strange emergency call-out even by the standards of the Flying Doctor.
A Scottish man had fallen victim to hypothermia in the Australian outback.
He had fallen asleep drunk by the roadside after a birthday booze-up and his body was cooling dangerously.
No one had told him temperatures inland in Australia can drop to below zero at night.
Royal Flying Doctor Service nurse Kerrie Walker was being flown hundreds of miles from her base to save him.
Kerrie, 44, from Denny, Falkirk, knew she had to reach him as his heartbeat was slowing down.
She is part of the rural emergency service and covers the north east territory of Queensland.
Kerrie said: "He had been out the night before celebrating his birthday and got pretty merry.
"He struggled to make it home and fell asleep outside.
"By the time he was found his temperature had plummeted to just 33 degrees Celsius.
"It is four degrees below normal body temperature.
"He was pretty sick and his pulse was weakening.
"I had to treat him and get him flown back to hospital if he was going to survive.
"Luckily for him, he had been found in time and he survived."
Since leaving her job as an intensive care nurse at Stirling Royal Infirmary, Kerrie has spent 10 years saving people in the Australian wilderness.
She first nursed in a remote Aboriginal community in Arnhem Land, at the very tip of Australia's Northern Territory.
The next stop across the sea lie the jungles of Papua New Guinea.
Now, as a vital member of the Royal Flying Doctor Service, her call-outs cover a range of 1,156 miles out to emergencies in the bush.
She flies out of its Brisbane base.
Like all its nurses, Kerrie is both a nurse and midwife.
She is flown out in Beechcraft King Air 200 and Beechcraft King Air 350 planes.
"We sometimes land on red dirt strips with the runway lit with makeshift flares made from tin cans with toilet rolls and diesel in them," she said.
In her six years as a flying nurse she has saved countless lives.
Her scariest moment was crawling into a car wreck to administer a lifesaving drip to a dying motorist.
"I flew out with a firefighter who was there to make sure the car was safe for me to crawl into," she said.
"The local pub was the dispensary and only stocked Aspirin and paracetamol.
"We were fully equipped, though.
"I inserted an intravenous canula and started fluids and gave pain relief to stabilise him whilst we were waiting for a back-up fireman before trying to cut him out of the car.
"The driver, a man in his 40s, survived and woke up the next day in hospital."
Another emergency trip to a remote community involved a stabbing victim. "A man got stabbed and had to transfer him and we had to transfer him from Mount Isa, an inland city, to the nearest hospital in coastal Townsville," she said.
"He was flown with the knife in his chest back to a heart/lung surgeon 560 miles away.
"If I had taken the knife out I could have done more damage."
Another patient had to be given lifesaving treatment after being bitten on the nose by a snake.
"He had fallen asleep in his car, parked under a tree," she said.
"A snake fell out the tree and landed in top of him.
"We managed to give him antidote and her survived."
Working with the weather can be difficult.
"We had to take a specialised paediatric team to a newborn baby who needed to be intubated," she said.
"There was a bad storm coming and we only had a limited time on the ground if we were to leave and avoid the storm."
Kerrie is married to Australian flying doctor pilot, Gordon Edwards, 44, and they have a dog called Polly.
A total of 336,358 people used the Royal Flying Doctor Service last year.
Its 69 aircraft criss-cross the Australian continent clocking up more than 16 million miles annually. The service is 90 years old next month.