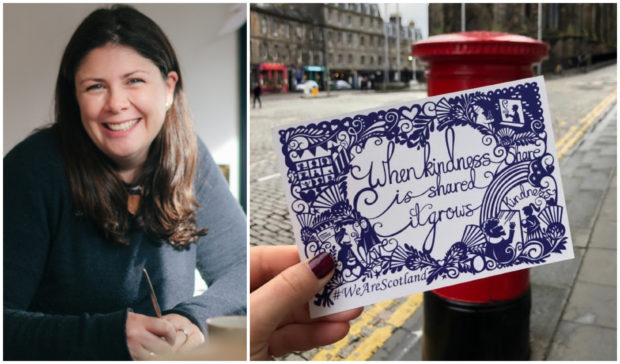 Edinburgh-based illustrator Emily Hogarth hopes her artwork celebrating the value of connection and communication will inspire small acts of kindness this St Andrew's Day.
The artist has created a bespoke postcard for the Scottish Government's One Million Words of Kindness campaign, which encourages people to send messages to their loved ones amid difficult times.
Created using Emily's paper cutting technique, the postcard intertwines elements of 2020's new normal into an intricate celebration of the ways we've kept in touch this year.
It features Zoom calls, neighbours and friends sharing socially-distant cups of tea, and a grandparent meeting their grandchild for the first time through a glass window.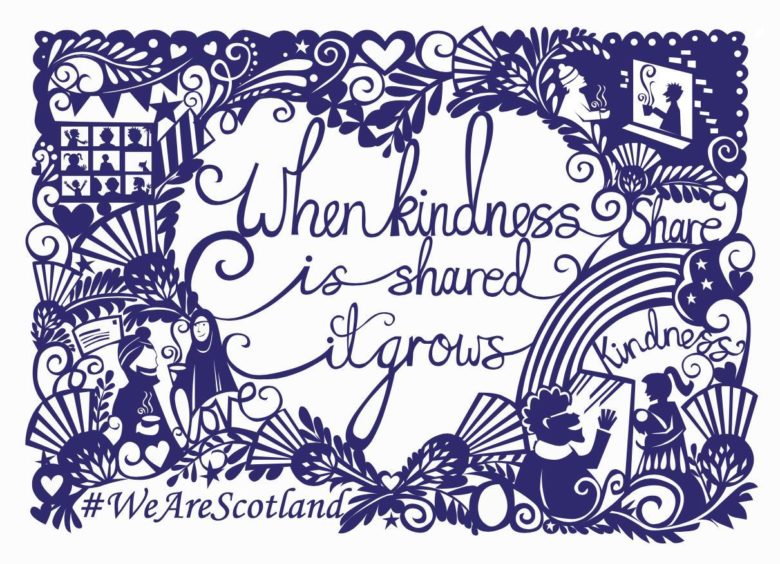 Emily said: "This year, little acts of kindness have been a bit of a lifeline for a lot of people. It's about the small gestures, and this is the perfect example of that – sending a little note of love from Scotland to someone, especially if you haven't seen them recently.
"I think we all need just to be reminded to send a bit of love to someone or say hello. It's very easy to get caught up in our own world sometimes, we just need to reach out and see that everyone else is ok as well."
More than 100,000 free postcards, which feature a matt laminate finish for Covid safety, are available in Lidl stores across Scotland for shoppers to pick up and send messages of thanks, hope or a simple hello to mark Scotland's national day.
The card is also available to download and share online.
Emily said: "I'll be sending mine to my grandma, she's not that far from us but we haven't seen her as much as we normally would. It'll definitely cheer her up seeing a postcard from her granddaughter and great-grandchildren popping through the letterbox.
"She's at home on her own a lot and, while she's not lonely she could be, and it's little gestures that will bring a smile to her face.
"I'm hoping the campaign will give a little extra lift, give us an extra push to keep going when it can feel a bit bleak, especially in the winter months. We're not in it alone, we're in it together as a country."
Emily, who has been working at home with her husband and young children Maggie and Finn, has been delighted with the response to the design so far.
She said: "It's been so lovely, often I work on jobs and it takes a long time for them to actually get into production. This was quite instantly seen by the country, and I've had lots of nice feedback.
"My children's school is all sending postcards and they've made it part of their school celebrations for St Andrew's Day which is lovely."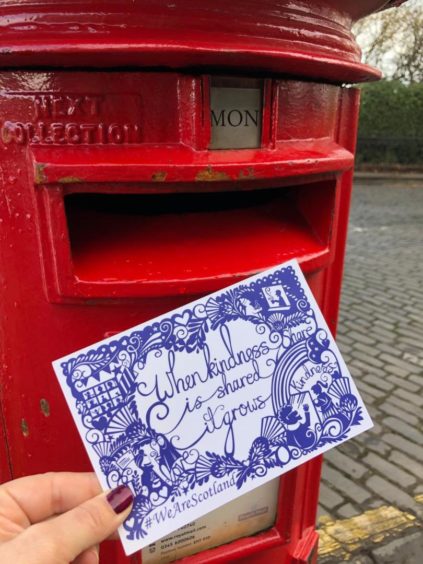 The design was created using paper cutting, a style which has become Emily's craft over the years.
She came across it by chance at art college, where she studied textile design, while printing stencils onto fabric.
She found that the illustrations were attracting as much attention as the finished garments.
She said: "I fell into illustration and now, fifteen years later, I'm still doing it! I've developed my style over the years, and I feel more comfortable with a scalpel than a pencil.
"It's a natural way for me to draw sharp, bold, graphic shapes quickly. I like being able to transform a piece of paper, an ordinary thing, into something treasured, magical and really special."
The St Andrew's Day postcard was created by hand, with the design then scanned into a computer to make final alterations.
"It's like a very lacy, beautiful stencil, and then I can scan it and tweak it, but it's still got that handcrafted, hand-cut element," Emily explained.
"It's me sitting in my studio cutting away at paper, it's not a perfect computer-generated drawing, it's still cut by hand with that handcrafted quality."
The postcard campaign is one of several initiatives to mark Scotland's national day on November 30, including 50 online events such as concerts, exhibitions, dance and community celebrations at the St Andrew's Fair Saturday Festival.
Culture Secretary Fiona Hyslop said: "Our national day is an opportunity to recognise the resilience and shared kindness we have experienced this year and which has helped us get through these difficult times.
"We may not be able to get together physically to celebrate St Andrew's Day but that doesn't mean we can't continue to look out for each other and lift spirits by sharing words of kindness.
"We hope that by November 30 one million kind messages will have been passed around our country and beyond, bringing us together and making people smile."
She added: "This year's celebrations also include virtual concerts, exhibitions, dance and community celebrations, which are available for free online, and I encourage everyone to get involved and enjoy the events on offer."
Age Scotland has also pushed for messages to be sent to older people who may be struggling with loneliness during the pandemic.
The charity's chief executive Brian Sloan said: "This St Andrew's Day, we're asking everyone to contribute to the Scottish Government's aim of sharing One Million Words of Kindness and share a kind word with an older person.
"As the days grow shorter and the weather gets worse, the difference a small gesture can make to an older person who might be feeling lonely is incredible and we all have a part to play in ensuring no one feels they are going through this difficult time alone."
---
Download the postcard at www.onescotland.org/st-andrews-day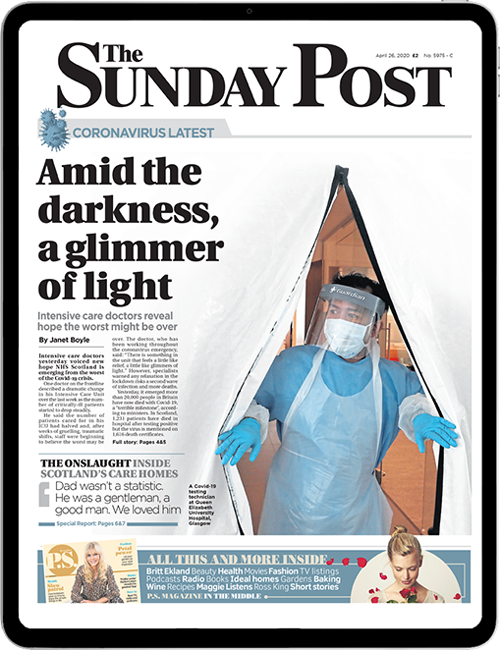 Enjoy the convenience of having The Sunday Post delivered as a digital ePaper straight to your smartphone, tablet or computer.
Subscribe for only £5.49 a month and enjoy all the benefits of the printed paper as a digital replica.
Subscribe