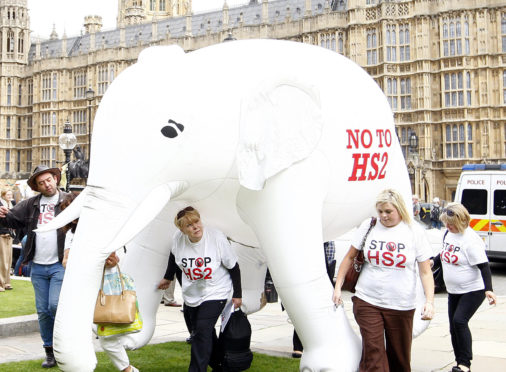 Is that highly controversial and hugely expensive Westminster vanity project, the HS2 high-speed rail link, finally about to hit the buffers?
Well, it certainly looks that way if the nation's Fat Controller, Boris Johnson, and his sycophantic signalman, Transport Secretary Grant Shapps, don't get side-tracked by the threat of a no-deal Brexit, and are railroaded out of power by Halloween.
Shapps announcement on Wednesday that the Government needed the facts and clear evidence before deciding whether the project should be given a green light, and had launched a "go or no go" independent review into this preposterous proposal. Just the ticket, as far as I was concerned, and long overdue.
HS2 should have been stopped in its tracks years ago, certainly before any homes in the way were levelled and especially when the budget of £55.7 billion started spiralling out of control.
With no proper governance or accountability of the project seemingly in place, this whole sorry escapade has been a runaway train crash with the nation's cash.
Our blustering and embarrassing PM, BoJo himself, recently admitted that he was none the wiser what the completion costs would eventually be, expecting it come in at "somewhere north of £100bn".
Well I think he is being slightly economical with the truth (again!).
How about north of £200bn?
Or even £300bn?
Any further north and you might as well try to out-Trump Donald and buy Greenland. At least then we would know what we were getting for this humungous waste of money and maybe even make a small return by tapping into the abundant supply of gas and oil that lie under this inhospitable continent of ice.
The fact is that no one really knows what HS2 will eventually cost, certainly not BoJo, or his (what might turn out to be) interim government.
What we do know is that the timetable to complete the project is also way off track.
Remember, it started 10 years ago and phase one, London to Birmingham, is not scheduled for completion until 2026 and work hasn't even started on phase two, Leeds to Manchester.
And as for links further north to Scotland, well that simply isn't going to happen, whatever they decide about HS2
Finished by 2033? More like 3033.
The billions being squandered could have been put to far better use – funding new hospitals, schools, social housing and, in the north of England or in Scotland, an overhaul of the existing rail network.
So I welcome the brakes being put on HS2, and I hope the review's findings have shunted it into the sidings for good, especially when you realise it's reckoned that their "high-speed" trains will only ever run at the same speed as current carriages.
It's nothing more than an expensive, destructive vanity project for its backers and high-profile supporters who wanted something other than their failings to be remembered by. I mean Labour's Lord Adonis, ex-Tory PM David Cameron and his Chancellor, George Osborne, for starters.
HS2 has run out of track.
At a time of great uncertainty and austerity it is not the way forward and HS2 should be derailed immediately and, more importantly, all those guilty of being grossly negligent in costing the project and lavishly rewarded for being wasteful with our cash, should have the book thrown at them and be fast-tracked through the courts.
It's high time they were made accountable for their incompetence and their frivolous spending of our hard-earned money that isn't really theirs to waste.