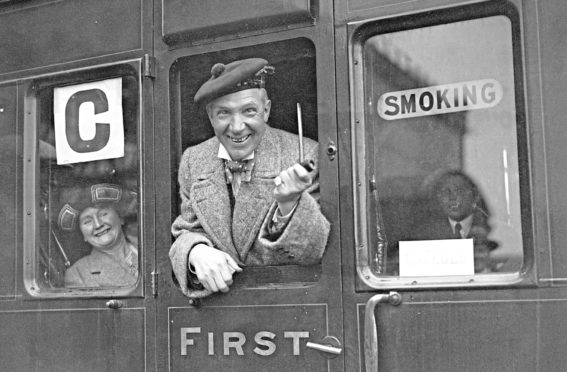 He was the Scottish superstar who left our world almost 70 years ago but still casts a giant shadow.
Sir Harry Lauder, in fact, was such a celebrity that you could argue that even other prominent Scots like Sir Sean Connery and Sir Billy Connolly have never quite topped his popularity.
This was, after all, a man so famous that a shrub was named after his walking stick, and Winston Churchill called him "Scotland's greatest-ever ambassador".
It was on August 4, 1870 that he came into the world, born in his grandparents' house in Portobello, Edinburgh, the eldest of seven kids.
His father, John, would move to Derbyshire in 1882 to design porcelain, but died shortly after.
This left mother Isabella with £15 in life insurance, and she took the children to her family's home in Arbroath.
The young Harry worked at a flax mill to pay for his schooling and was just 13 when he made his first appearance in public, singing at a variety night at Arbroath's Oddfellows' Hall.
He won a watch as the star of the event.
Aged about 14, he got a job at a colliery, and he'd work there for 10 years, often recalling horrific tragedies, seeing colleagues crushed by boulders collapsing, being trapped for six hours before being dug out. If a man could make a safer living on the stage, he would be crazy to keep mining.
It would be the miners, in fact, that he regularly entertained, earning five shillings for singing at Larkhall, the first time he was handed some hard cash for his entertainment efforts.
When it was suggested he try touring, and it worked, he was finally able to leave the coal mines behind.
Harry travelled far and wide, in Scotland and across the water, the Irish loving his comedy and songs just as much as his own folk back home.
When he toned down his accent so those folks down in England could understand him, he'd do great business there, too.
One of his strengths was that he could write his own material, jokes and songs, but even the confident Harry Lauder – doing one British tour after another – couldn't have dreamed how far his fame would spread.
By 1907 he was so big that he did a tour of America, even did a private show for Edward VII at Sandringham, and upon his return to the United States was raking in $1,000 each night.
Sir Harry would become the highest-paid entertainer on Earth, and was adored and mobbed by huge crowds from South Africa to Australia.
With his kilt, cromach walking stick and jaunty, inspiring songs – from Roamin' In The Gloamin' to I Love A Lassie – he really was the Connery and Connolly of his day.