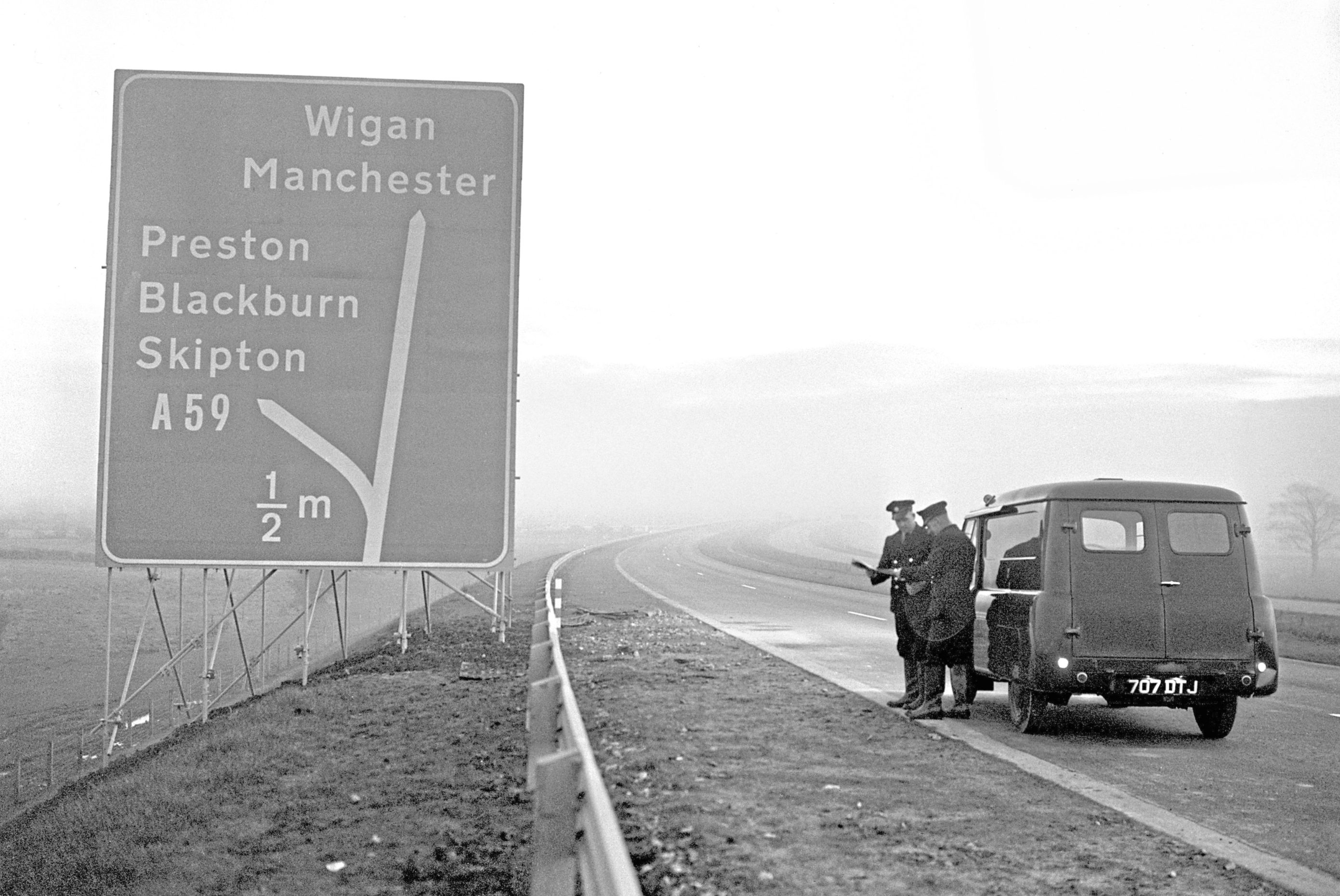 IT was the small stretch of road that made big news – and it changed the way we live, travel and work in Britain.
December 5 1958 was the day they opened the Preston by-pass, a historic event that would soon lead to the M1 motorway and a complete road revolution in our country.
The day itself drew lots of attention, and the media were soon describing the new roads in glowing terms, with drivers finding out the hard way that when you drove at 70mph or more, your petrol ran out much faster.
Prime Minister Harold Macmillan opened the road, which had cost almost three million quid – about £63 million in today's money.
Previously, the old A6 had often been clogged-up with huge tailbacks, especially during big events such as the Blackpool Illuminations.
Macmillan became the first man in Britain, therefore, to travel on a motorway, taking the passenger seat in an Austin Sheerline limo and setting off from what is now junction 31 of the M6.
Among the hundreds of onlookers at the Samlesbury interchange were many of the workers who had built the thing and were feeling very proud indeed.
In 1950 there had only been about four million vehicles in Britain but the number was rising fast – almost every year since, the number has risen, and in recent years has been heading towards 40 million.
Clearly, as the Sixties approached, the old roads just wouldn't do. Newspapers had constantly put politicians under pressure to build more roads, ones capable of carrying ever-increasing numbers further and faster.
Macmillan had read from Robert Burns' Epigram To Rough Roads, in which Scotland's Bard had groaned over "Pathways rough and muddy" and it took all kinds of technology to get the new motorways up and running.
Sherman tanks from the Second World War were used for some of the work, and concrete spreaders, used to build airstrips for the war, were also put back to work.
The hard-working people who helped build all this were, for a while, the national heroes.
Many of them had come over from Ireland. In later years a certain Bob Geldof would help build parts of the new M25, long before he became a rock star and honorary knight.
He later joked that he had built the bit where it joins the M23, claiming it is known as Geldof Corner: "The bit where all the accidents happen."
Built to cope with speeds of 70mph, that is still the limit today – but the first ordinary drivers to get their cars on to it were in for some surprises. It seems many cars had queued up to get on to the new M1, and as the authorities tried to herd them away, some people in power probably got an inkling of the problems that lay ahead.
These roads may link the whole United Kingdom, but if they became crowded with drivers all trying to be first to get from A to B, there may be trouble ahead.
Early problems, with a bridge collapsing under the weight of a lorry and road cracking in bad weather, also seemed ominous.
To drivers, though, it was all terribly exciting and everyone with a car wanted to be among the first to try the new-fangled motorways.
Ready by 1959, the M1 lacked a few things back then that it thankfully has now – such as a speed limit, lights, crash barriers and a central reservation.
Yes, it definitely, absolutely required those, once they had thought it through.
They had been thinking about a motorway since the end of the war, but it took a long time for changes to the law to make it all possible.
That same year, there was quite a clamour when US actress Jayne Mansfield arrived to open the new Chiswick Flyover. The blonde bombshell also appeared at a Spurs match.
In the decades since Britain's motorways began sprouting up, they have made so much possible that was just unthinkable back then.
Sadly, much of it is to do with the ease with which we can move large items around the country – great in itself, but the sight of endless huge lorries full of food, TV sets and everything else means there is no longer such a thing as just going out for a nice drive to enjoy the view.
For that, you usually need to get back on the out-of-the-way remote country roads – all you'll see on the motorways is the back of a lorry.
The M1 itself has seen some bad news events as well as good, like the day in March 1972 when 200 vehicles were involved in a mass crash in thick fog, with nine people dying.
Or January 8 1989, when a Boeing 737 crashed on to the embankment while trying to do an emergency landing at East Midlands Airport. That day, 47 died.
It also saw one of the nation's saddest days, when the 1997 funeral procession for Diana, Princess of Wales, meant it was largely closed.
The crowds of pedestrians, for the one and only time allowed to congregate on the northbound carriageway, was a sight we'll likely never see again.
Even the materials used on our major roads can come as a surprise.
For instance, it's reckoned that more than half a million Mills & Boon romance novels were pulped and used to make an M6 toll road.
You are literally driving over love affairs and broken hearts – an unusual process saw the unsold books turned into a paste that could then be used to make the road.
There's a bit of romance, too, in the history of motorways, especially the ones that have since disappeared or the ones that never managed to get built in the first place.
There was, for example, supposed to be an M16 once upon a time, but this short piece of road connected to the M25 never happened.
Parts of it did open, but then came the M26, and somehow ended up with a part-roundabout and a different route and… you get the picture. Just keep your eyes peeled if you are driving around that part of the world; it gets confusing.
Then there's the very interesting (for some) A8 (M).
When it opened half a century ago, it was the first section of motorway to the west of Glasgow, and by-passed the often-congested A8 through Renfrew.
It was separate from Scotland's motorway system for a decade, until M8 extensions draw it in.
Two years back, the A8 (M) returned when a roundabout was raised to motorway standard – becoming the shortest motorway in the UK.
And, after 60 years of our motorways getting bigger and bigger and busier and busier, that's quite a nice little claim to fame.