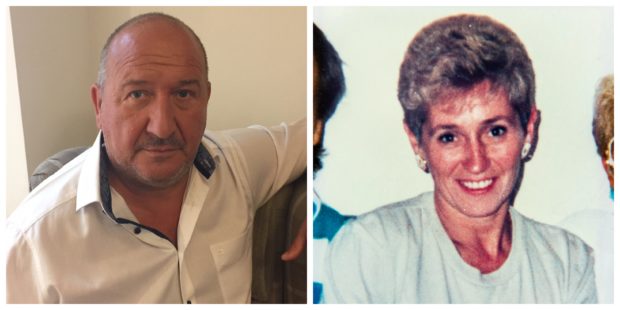 A former police officer whose mother was murdered 30 years ago fears that time is running out to bring her killer to justice.
Scot Ann Heron, then 44, was attacked and her throat slashed in the lounge of her luxury home, Aeolian House, outside Darlington in the north-east of England on August 3, 1990.
On the anniversary of her death, her eldest son, Ralph Cockburn, 56, is hoping someone will finally come forward with the information needed to solve the case.
His mother's bloodstained body was discovered by her second ­husband, businessman Peter Heron, 55, when he returned home from work about 6pm.
Ann, who was from Glasgow, had spent the afternoon sunbathing and her bikini bottoms were ­missing. However, nothing had been stolen from the house and a sexual motive was ruled out.
At the time, Ralph was a young 26-year-old detective with Strathclyde Police in Glasgow and had already worked on six murders. He gave up a promising career eight years later on the grounds of ill health as he struggled to come to terms with his mother's death. Ralph added:"Enough was enough. I was locking up criminals for violent crimes and still having to deal with the fact the murder of my own mother was unsolved.
"I feel this year is the last chance we have of solving this murder because of the time that has elapsed. My mother was one of the kindest most caring people you could ever meet. I believe there is someone out there who knows who did this and is withholding vital information. I would urge them to come forward, help us catch this monster and finally get justice for my mum."
Ralph is now a successful claims investigator for a large insurance company in Leicestershire.
He also has concerns about the original murder investigation by Durham Constabulary and fears they may have overlooked vital evidence. Ralph said: "In all my time in the police I never worked on an unsolved murder.
"That's why I find it ­frustrating that, after 30 years, Durham are still trying to find out who did this to my mother. It also means a cold-blooded killer has been on the loose all this time."
At the time of his mother's killing, Ralph was given three months' compassionate leave. On his return he was involved in the arrest of a man for the murder of a woman outside a pub in the centre of Glasgow.
Ralph added: "It made me ­question why Durham Constabulary were not making any progress with my mother's investigation when I was able to make an arrest on my first day back."
A suntanned man in his 30s was seen driving a blue car from Aoelian at high speed shortly before 5pm, around the time of Ann's murder.
Criminologist Jen Jarvie believes he may be former Army chef Michael Benson, who had a his- tory of firearms offences, burglary and robbery with a carving knife.
At the time, Benson was on the run from prison, matched the driver's description and drove a blue Ford Orion car similar to the one seen speeding away.
Ms Jarvie, a former head of ­undergraduate policing at Sunderland College, who has been working with the families of Ann and Peter Heron, passed her evidence on to Durham in 2018.
Benson died in 2011. However, ­detectives obtained DNA samples from family members in Leeds. These are still being examined.
In 2005, Peter Heron, who ran a large local haulage firm, was arrested for Ann's murder after a cold-case review, but the charges were dropped three months later. He had provided an alibi showing he was at work when Ann was killed.
Ralph added: "I've an open mind as to who may have murdered my mother. Michael Benson needs to be considered seriously as a suspect or at least eliminated from the inquiry.
"After all this time my sister and I simply want to find out who killed our wonderful mother and why."
Durham Constabulary said: "The case will never be closed. Any credible information will be fully considered and the necessary action taken."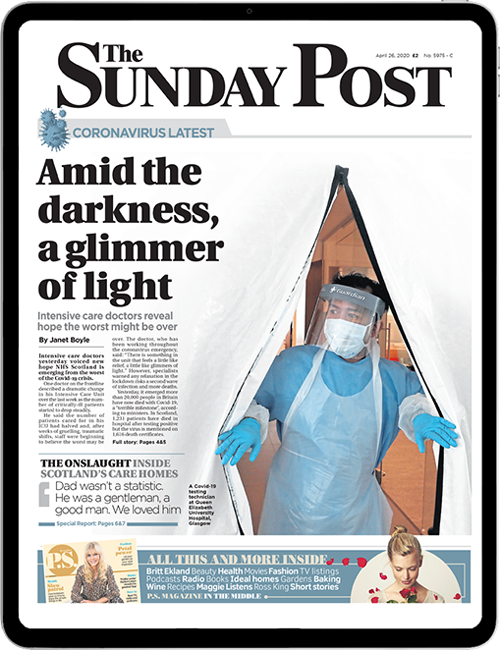 Enjoy the convenience of having The Sunday Post delivered as a digital ePaper straight to your smartphone, tablet or computer.
Subscribe for only £5.49 a month and enjoy all the benefits of the printed paper as a digital replica.
Subscribe