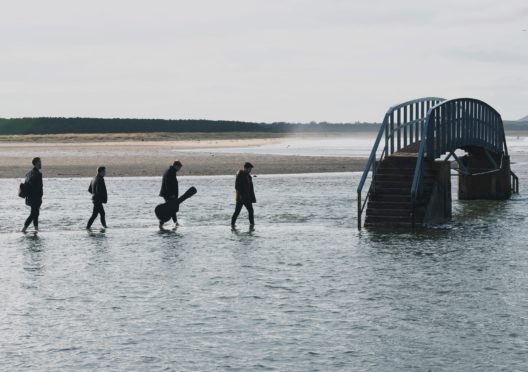 They're the next big Scottish thing you may not yet have heard of.
Tide Lines, a Scots four-piece pop/rock band are on a trajectory to success, their debut single charting above Coldplay, Adele and Beyonce and selling out their upcoming gig at the Barrowlands in just six minutes.
Their growing following has seen them headline popular Lewis festival Heb Celt this year, as well as sell-out shows and performing at a number of Highland festivals.
But the band, made up of vocalist Robert Robertson, 25, from Lochaber, Ross Wilson, 29 from the Isle of Mull, Alasdair Turner, 27 from Alness and Gus Munro, 34 from Glasgow are not just Scottish lads simply singing about the glens.
Their folksy-pop music illustrates their complex relationship between the rural and the urban, and, each originally hailing from differing Scottish locales, mirrors the themes within their songs: the city may be where many of us end up, but the wild Scottish landscapes are where many of our hearts belong.
With a new album planned for release in Spring 2020, and their upcoming tour hitting Scotland in November, we catch up with lead singer Robert Robertson on the band's growing successes and keeping Scottish heritage in the limelight.
---
How did you form Tide Lines?
In 2016, myself and Ross were keen to put together a new musical project. We were aware of Gus and Ali through the Glasgow music scene although we didn't know them personally.
We had a couple of meetings with them, followed by a rehearsal of a couple of songs I'd written, and it all grew from there.
---
Can you tell us about the relationship that features in your music between the cities of Scotland and the Highlands and islands?
When I moved down to Glasgow for university, it was the first time I'd ever lived in such an urban environment.
I wasn't used to it and found it a bit of a culture shock.
I was missing home; but at the same time loving the excitement of being in the big city.
So I began to write quite nostalgically about back home and equate that in my lyrics to a kind of youth and innocence. It wasn't really a deliberate thing. I was just writing about my experience at the time.
---
You all live in Glasgow now, but where's your favourite pub in the city and why?
The Park Bar is my favourite pub in Glasgow. It's a pub filled with authentic Highland live music.
Tide Lines has become more pop/rock based now; but the Park was a God send to me if I was missing home when I first moved to the big city.
I still enjoy a pint in there on a night off!
---
Do you think the Gaelic language is an important part of Scottish culture that needs to be kept alive? If so, why is it especially important to you?
It's easy to say a language is just a means of communication but language is always connected to people, culture, and music so, to lose it, would have a deep effect on all three of these things.
Gaelic is especially important to me because I was brought up in an area where it is still widely acknowledged as part of our heritage but I genuinely think that Scotland as a whole would be a far poorer place without it.
---
There has been a bit of a movement recently to incorporate more traditional Scottish music into more modern forms. For example Niteworks fusing the Gaelic language with electronica. Do you think this is an important way of keeping such an integral part of Scottish culture relevant and alive? 
Of course. Gaelic is a living language and culture just like any other; so there is no reason for it only to be presented in one way.
Diversity in Gaelic music is positive and a lot of the music being produced by various artists at the moment is forward thinking and exciting.
---
To many younger generations, folk music and the Gaelic language resonates with older roots. So do you think it's important that through your music you make folk and Highland and island themes more accessible to younger people and keep them proud of their heritage?
Most of our songs are in English but they definitely explore Highland themes.
I'm only writing about what I know, the people and landscape I was brought up amongst, because I don't think I'd be very good at writing about things out with my own sphere of reference!
So it's great if youngsters being brought up in a similar area to me can recognise things in the songs that they find familiar and relatable.
The other amazing thing I find is that, when we go abroad, there are themes in the songs that seem to be relatable internationally for anyone who has experienced living between rural and urban communities.
---
What's next for Tide Lines?
Our next Scottish dates through the Autumn are Fat Sam's in Dundee, the Barrowlands in Glasgow, the Corran Halls in Oban, and the Ironworks in Inverness.
Once these are over, we'll very much be concentrating on the promotion of our second album which we plan on releasing in Spring 2020.
---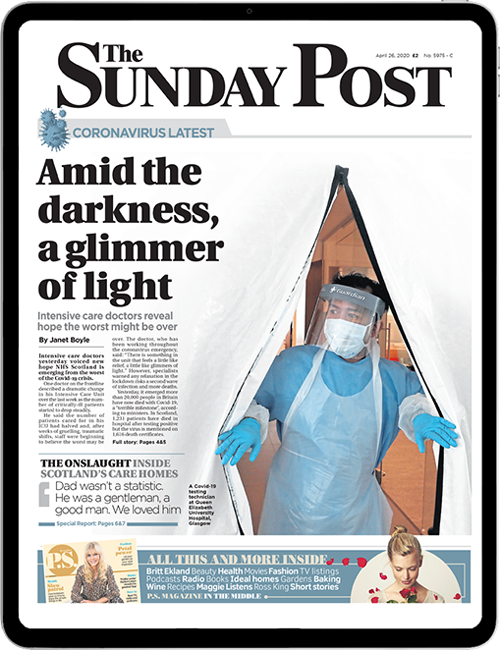 Enjoy the convenience of having The Sunday Post delivered as a digital ePaper straight to your smartphone, tablet or computer.
Subscribe for only £5.49 a month and enjoy all the benefits of the printed paper as a digital replica.
Subscribe