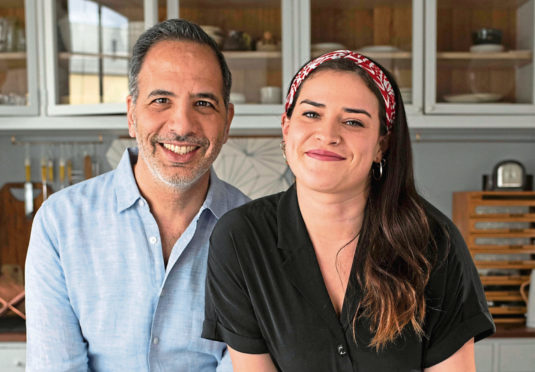 When talking about food, the word "fusion" can strike fear into a diner's heart. More often than not, it suggests mismatched dishes chucked together with relatively little thought or consideration.
However, Yotam Ottolenghi and Ixta Belfrage are here to change your mind. Yotam is a giant in the food world, known for his cumin-heavy cookbooks, colourful London delis and restaurants, and his love of pomegranate seeds. And, for his latest book, he's collaborated with Ixta, who worked in his test kitchen for four years.
The result is Flavour, a collection of exciting new dishes paying tribute to a range of cultures – and incidentally, it's all vegetarian. Like Yotam's previous veggie cookbooks, including Plenty and Plenty More, this is a real celebration of vegetables, not sad beans on a plate.
Yotam says the pair's approach to writing the book was "pretty similar", but they brought "very different backgrounds" to the table.
"My background is deeply rooted in the Middle East," explains Yotam, who was born in Jerusalem.
"I've lived in England for more than 20 years and gone through my own trajectory. Ixta has less experience of writing books, but tonnes of experiences from being all over the world, and a really interesting background that includes Mexico, Brazil, Italy and France. So all these stories came together."
Ixta explains: "My mother is Brazilian and grew up in Cuba via Mexico, so there's south and Latin American in my heritage; in my upbringing; the kind of food I ate, and where I travelled when I was growing up."
She moved to Italy aged two-and-a-half and says "that's really what feels like home to me, and the food feels like home to me".
With varied backgrounds capitalising on different ingredients and flavours, you might wonder how the book could come together so seamlessly. However, a similar approach to food ties the duo together, with Yotam explaining: "We both love big flavours and big gestures. Intensity is definitely something we have in common, but the details are quite different" – and the recipes reflect this.
Whether it's swede gnocchi with miso butter, za'atar cacio e pepe or caponata with silken tofu, the recipes marry together global flavours. For Ottolenghi, "all these cultures" are united by one thing: "The human palate. We're attracted to certain flavours, so if you substitute anchovies with miso – these two things are from quite different cultures, but they both involve the same level of saltiness, umami, fermentation – things that are really cross-cultural.
"So it doesn't take a huge leap of faith to substitute one thing that may have been in a dish from one culture, with another from a different culture."
The main issue is "being sensitive when you do that," he explains."You don't mix things just for the sake of it, but you mix it up when it makes sense and is delicious."
Something else uniting Ixta and Yotam is their roundabout way of getting into the food industry. The latter completed a master's degree in comparative literature and was considering pursuing a doctorate before changing direction to study at the Cordon Bleu. Ixta never formally trained as a chef and says she did "lots of random things" before setting up her own catering company and market stall selling tacos.
Both chefs now see this as an asset. As she didn't have professional training, Ixta says: "I definitely don't go about cooking thinking there is a certain set of rules that need to be followed. I don't think there are any rules when it comes to combinations about flavour."
"I also don't have very much experience in restaurants," she adds. "I just picked things up along the way, and that's informed the way I cook."
Anyone who's read an Ottolenghi cookbook, or has seen the chef speak, will know he has a beautiful grasp of words and way of talking about food – no mean feat.
"Food is never in isolation," he says. "It's about how you cook, how you present it, what you say to the world, what you say to yourself."
---
Berry platter with sheep's labneh and orange oil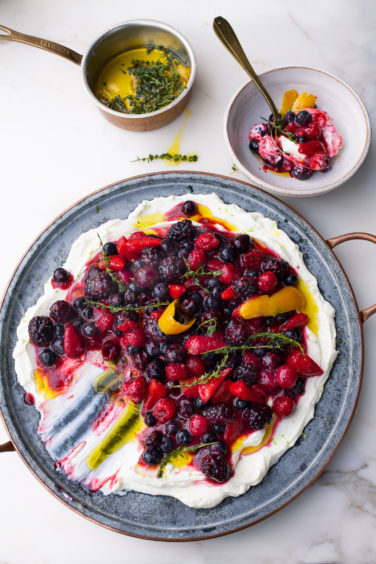 Serves six
You'll need
900g sheep's yoghurt, or cow's yoghurt as an alternative
½tsp salt
100ml good-quality olive oil
10g lemon thyme sprigs, plus a few extra picked thyme leaves to serve
1 orange: finely shave the skin to get 6 strips
200g blackberries
250g raspberries
300g strawberries, hulled and halved lengthways (or quartered if they're larger)
50g caster sugar
1 lime: finely grate the zest to get 1tsp, then juice to get 1tbsp
200g blueberries
150g cherries, pitted
Method
Put the yoghurt and salt into a medium bowl and mix well to combine.
Line a colander with a piece of muslin large enough to hang over the sides and place the colander over a bowl.
Transfer the yoghurt to the muslin and fold over the sides to completely encase the yoghurt.
Place a heavy weight over the muslin (a few tins or jars will do), and transfer to the fridge to drain for at least 24 hours (and up to 48).
Meanwhile, put the oil into a small saucepan, for which you have a lid, on a medium heat.
Heat gently for about seven minutes, or until tiny air bubbles form. Remove from the heat, add the thyme and orange strips, then cover with a lid and leave to infuse, ideally overnight, though half an hour will also do the job.
The next day, put 50g of blackberries, 100g of raspberries and 100g of strawberries into the small bowl of a food processor along with the sugar and lime juice and blitz until completely smooth.
Put all the remaining berries and the cherries into a large bowl along with the blitzed fruit and gently combine.
You can serve it straight away or leave it in the fridge for a few hours, bringing it back to room temperature before serving.
Spread the labneh out on a large platter. Spoon over the berries, then sprinkle with the lime zest.
Drizzle with two tablespoons of the infused oil, along with a couple of the orange strips and the extra picked thyme leaves.
---
Ottolenghi Flavour by Yotam Ottolenghi and Ixta Belfrage, Ebury Press, £27, is out now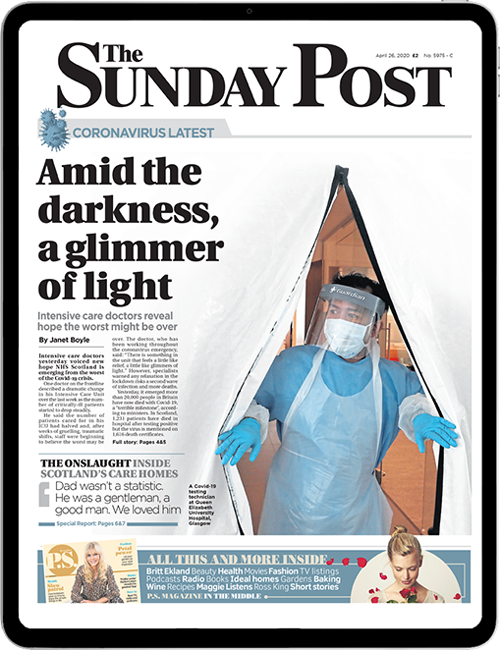 Enjoy the convenience of having The Sunday Post delivered as a digital ePaper straight to your smartphone, tablet or computer.
Subscribe for only £5.49 a month and enjoy all the benefits of the printed paper as a digital replica.
Subscribe