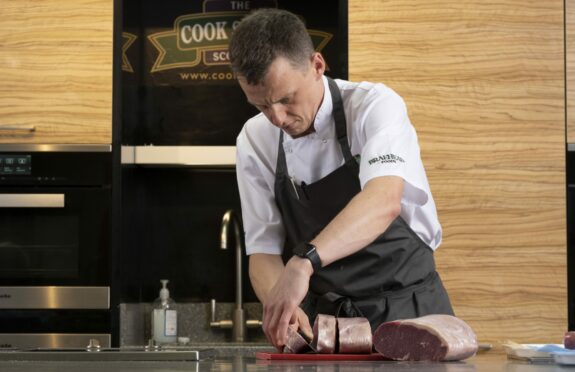 As the old saying goes, if you can't stand the heat, get out of the kitchen. But there's nowhere else chef Stuart Leslie would rather be.
After an 18-month hiatus, the 38-year-old is back at the helm of Cook School Scotland, performing cookery classes for the masses.
"It's exciting to be back," he said. "The Cook School was closed for 526 days, and it has felt like such a long time. When the pandemic first hit, I found it hard to switch off. It's difficult to go from six or seven days a week at work in a kitchen to nothing at all.
"My wife and kids were having a four-course dinner every night while I experimented with new dishes.
"Then I progressed on to Cook School@Home, taking classes online.
"But there's no better feeling for me than being with people and educating them about food. I have such a passion for food and helping people learn how to cook."
Kilmarnock's Cook School Scotland hosts classes in 25 different cuisines, from Indian, Italian and French to bread baking and chocolate work.
Participants come from all walks of life, and range in age from kids to pensioners, but they all have one thing in common – a love and excitement about food.
A hot favourite since the return is the Back To The Future class, creating classic retro dishes, such as chicken Kiev, duck a l'orange and Black Forest gateaux. "We take on things from the 'olden days', but the reality is I am 38 and of that generation," Stuart laughed.
"My mum and gran were very good cooks. I had things like prawns and scallops while other kids my age got chicken nuggets."
Stuart joined Cook School Scotland in 2017, having previously spent eight years working within the Costley & Costley hotel group.
Simply joyful: Michelin-star chef Raymond Blanc makes it a pleasure to cook at home
He started his career at a hotel in Ayr before moving to London where he worked under Wayne Turner, learning the intricacies of baking, turning his hand from croissants and Danish pastries to bread and pasta.
His love of these techniques is reflected in The Cook School Scotland's portfolio of sessions with bread and home baking being some of Stuart's favourite classes to teach. "I like to study and educate myself as much as to educate the people who want to learn how to cook," he added. "I am two decades in this career and I'm still learning. You learn something new every day.
"If we're working with a certain flour, I will research everything about it, from where it was milled to the generations of people who worked in that mill. It's not just about knowing how to cook, you need to know your ingredients too.
"People don't just want to learn how to make bread, but artisan sourdough. People want more complex foods and the stories that go with them.
"The best bit of the job is seeing someone come to class with no knowledge and leaving able to make something spectacular. We have people who have never made a scone before create patisseries. I feel a great sense of achievement when people come, mistakenly thinking they can't cook anything but leave armed with impressive dishes that they now have the confidence to make at home."
Away from work, Stuart loves nothing more than spending time in the kitchen, catering for wife Emma and sons Alexander, 7, and Archie, 3.
On my plate: Great British Bake Off winner Peter Hawkins' biggest fear? Cheesecakes
"I do all the cooking at home," he confessed. "I just love being in the kitchen – and I'm good at cleaning up after myself as well!
"I make anything from a roast to a lasagne, but I love to make every component. A roast isn't complete without proper stuffing and Yorkshire puddings with lots of gravy!
"But I love making a tuna sandwich for my sons' packed lunches as much as I love crafting a fancy meal – it can be as much of a challenge at 7am when I'm trying to get them to school as it is in a professional kitchen!
"My kids eat what my wife and I eat – and that's a good basis of learning different foods and textures. It's all about training your palette.
"I love nothing more than a day in the kitchen with them learning about food – and they love it too."
Stuart says he hates waste and tries to use everything up.
"My fridge is full of containers with dates scribbled in felt pen and the freezer has bags of paste and mixes for sourdough," he laughed.
"I take as much care with my leftovers as I do with creating the dishes!"
Cook School Scotland runs half day, full day and evening classes.
For more, visit cookschool.org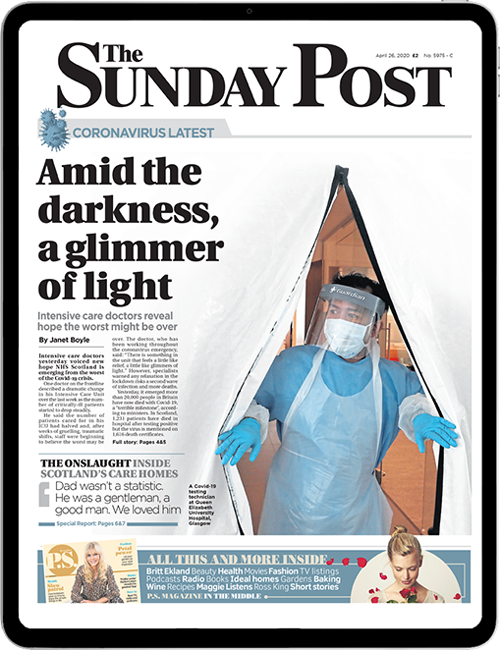 Enjoy the convenience of having The Sunday Post delivered as a digital ePaper straight to your smartphone, tablet or computer.
Subscribe for only £5.49 a month and enjoy all the benefits of the printed paper as a digital replica.
Subscribe