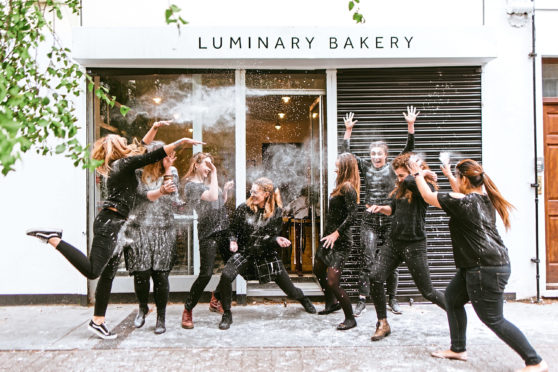 Starting out with just a few like-minded volunteers, limited resources and a borrowed kitchen space, when Alice Williams founded Luminary Bakery she had a simple goal in mind – to help disadvantaged women from all walks of life, bringing them together to learn, heal and grow through baking.
In this safe space, the women – many of whom have experienced homelessness, prison sentences or violence at home – were able to find support and guidance, as well as the necessary experience to forge a new career.
With each loaf of bread, slice of cake and sticky bun, the innovative social enterprise grew alongside the women's skills, and soon the bakery found its own permanent home in north-east London, before a second shopfront followed a few years later.
Today, the project has aided nearly 100 women, built a loyal customer base, and even baked treats for the Duchess of Sussex, who included the Luminary team in her guest-edited September issue of Vogue.
But, no matter how much the project grows, the power of baking remains at its heart – something which is evident in the pages of Luminary's first cookbook, Rising Hope, which was published this month.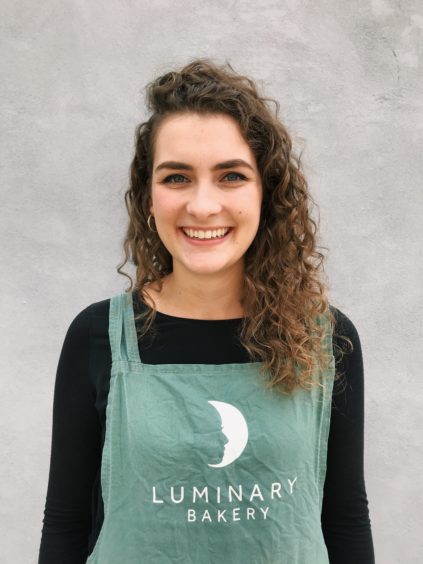 "Sharing food has a beautiful way of creating community – it forms bonds between strangers, generates shared memories and demonstrates care to those we love," explained Rachel Stonehouse, Luminary's head bakery trainer, who works alongside the trainees as part of the enterprise's two-year programme.
"We see this taking place on our baking training programmes. Women meet each other and grow together as they learn baking and life skills. They then proudly share the bakes they produce on the programme with their friends and family." Alongside each recipe, the cookbook, co-written by Rachel and her colleague, Kaila H Johnson, details the experiences of the women, who have sought refuge in Luminary's sweet-smelling kitchen, showing readers how the simple act of baking can change lives.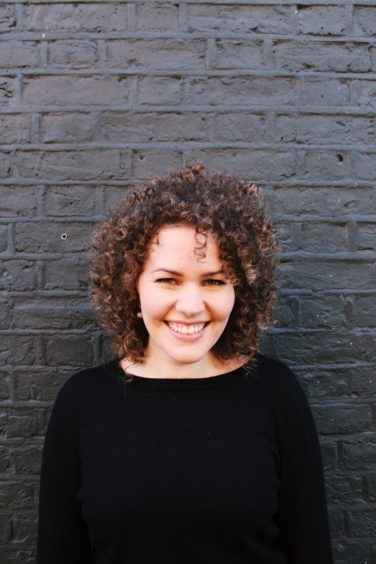 Rachel continued: "Trainees eat lunch together on these programmes, too, and we have witnessed friendships forming in this time eating together and sharing life experiences – the meal table is a great leveller and unifier. This is what inspired the cookbook and why we included stories throughout – to bring people into the community and family of Luminary Bakery."
From cinnamon buns to soda bread, the lovingly chosen recipes have been tried, tested and developed as Luminary Bakery moved from a tiny church kitchen to its current modern home.
And whether the reader is a cake aficionado or just starting out, Rachel admits each beautiful bake needs only two ingredients – being bold and brave.
She explained: "To someone who is new to the kitchen, and perhaps lacking confidence, I would say, 'be bold and never give up'. Dive in and give a recipe a go, making sure to follow the instructions and measurements as accurately as you can – if you make a mistake, try again and keep trying until you're happy with the result. Practice – and perseverance – really does make perfect!"
---
Roasted garlic Irish soda bread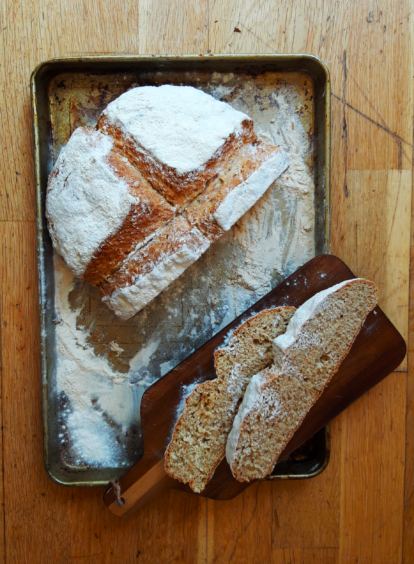 We have to thank our former head baker, Aine, with her resourcefulness and Irish roots, for introducing us to the wonders of Irish soda bread.
It is one of the most versatile breads – you can add almost any ingredients you like. It is best eaten on the day it's made, but makes great toast for days afterwards, especially when slathered in salted butter.
You'll need
1 bulb garlic
1 tbsp olive oil
420ml buttermilk (or 300g natural yoghurt and 120ml whole milk mixed together)
250g wholemeal plain flour
250g plain flour, plus extra for dusting
1 tsp bicarbonate of soda
1 tsp fine salt
1 tsp cracked black pepper
Method
Preheat the oven to 200C/180C fan/Gas Mark 6. Line baking tray with baking paper.
Cut the top off the garlic bulb to just about reveal the cloves inside, leaving the papery skin on. Place the bulb in a small baking tin, drizzle with the olive oil and bake in the oven for 20–30 minutes until the cloves are soft to the touch. Set aside to cool.
When cool, squeeze the roasted garlic out of each papery casing and into a separate bowl. Mash it up into a paste with a fork or press it through a garlic press, then mix in the buttermilk and whisk together.
In a large bowl, mix together the flours, bicarbonate of soda, salt and pepper, making sure the salt and bicarbonate of soda are well distributed throughout the flour.
Make a well in the middle of the flour mixture and pour in the buttermilk mixture. Use your hands, a spatula or bench scraper to mix the wet ingredients into the dry until a sticky dough forms.
Lightly flour a work surface and tip the dough on to it. Gently roll and fold the dough a couple of times to bring the mixture together. Do not knead – you just want to bring it together.
Shape the dough into a ball and transfer to the baking tray. Gently press down with your hands to flatten the ball into a disc, about 5cm thick. Liberally dust the top with flour and use a large sharp knife to score the dough with a deep cross dividing it into quarters, about 2cm deep. A "sawing" action can help get a sharp cut.
Bake for 35–40 minutes until golden brown and hollow-sounding when turned upside-down and knocked on the bottom. Once baked, leave to cool on a wire rack.
TOP TIP
This roasted garlic version is a favourite of ours, but if garlic isn't your thing, try adding 200g of crumbled Stilton and 100g of roasted walnuts instead – it's just as delicious and the oozy cheese is such a treat!
---
Rising Hope by Luminary Bakery, available now (£20, HQ)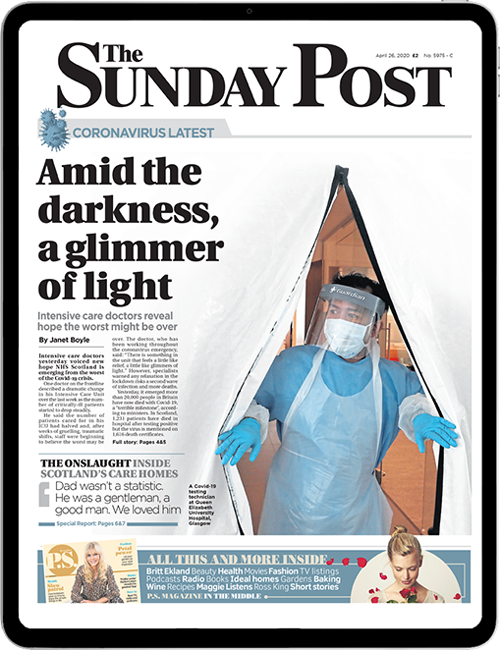 Enjoy the convenience of having The Sunday Post delivered as a digital ePaper straight to your smartphone, tablet or computer.
Subscribe for only £5.49 a month and enjoy all the benefits of the printed paper as a digital replica.
Subscribe