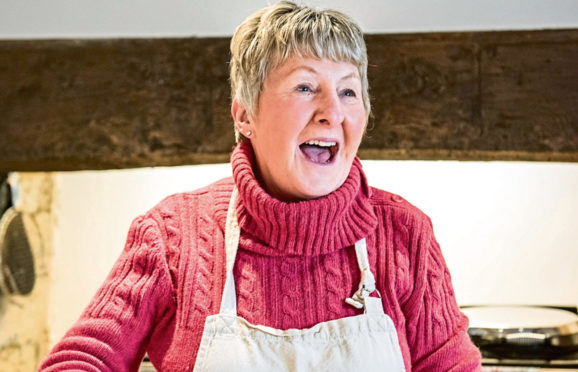 In the autumn of 2016, talented yet unassuming home baker, Val Stones, baked and danced her way into the nation's hearts on the Great British Bake Off.
Her unwavering warmth, sunny optimism and love of baking, even in the face of Paul Hollywood's criticism of a dreaded "soggy bottom", may not have won her the competition – that accolade went to Candice Brown – but it did make Val an instant fan favourite.
Happily, four years on, the gran-of-three is still baking to lift both her own and other people's spirits during the coronavirus pandemic.
"I baked every single day during lockdown," said Val, 70. "I baked for all our local key workers. I went round the fire station, GP surgery, dentists, post office and local shop to drop off baking and jams made with fruit from the garden. It was a real pleasure."
Outside the kitchen, Val has also found solace in nurturing the small garden at her home in Somerton, Somerset, which she shares with her husband Ian. Since March, she has been planting produce wherever she finds space. Val has also shared her baking and gardening tips and recipes online and with her followers on Instagram.
"I have a small garden so I've just planted among the flowers. Strawberries, runner beans, tomatoes, courgettes, blackberries and herbs.
"My garden really kept me going through lockdown. I'll pop out there a few times a day just to see how things are growing.
"Having a garden is a wonderful distraction. Eating something you have grown and nurtured yourself is quite comforting and full of nutrients. The freshest produce you can cook or bake with is what you've grown yourself."
She also combined her two passions by devising and sharing bakes containing her homegrown fruit and veg online as a baking expert for Stannah. "There's an abundance of courgettes in my garden so I make a very nice courgette and lime cake. It's so easy," added Val.
"I've been trying to encourage people to bake and grow produce, in their gardens, patios or balconies. I think I cheered myself up by trying to cheer everybody else up."
Val has been thrilled to see many people take up baking in recent months. She said, "Baking is a great way to relax. It's been very cathartic, especially during the pandemic, as you can give it away and watch people enjoy it. When I was a teacher, the only time I would truly relax was when I was baking or gardening."
Following Bake Off, Val became a prolific food writer and released her own cookbook, The Cake Whisperer, in 2018. Before lockdown, she was a regular guest at food festivals and held baking masterclasses across the country with her Bake Off friend, Louise Williams.
"I've gone from being a retired lady to doing Comic Relief with comedian Joe Lycett. I stood in line with Sir Lenny Henry at the BBC, waiting for my dinner. It was quite surreal. I never ever imagined that I would do things like that," laughed Val.
Like many of us, Val has been tuning into the Great British Bake Off after it returned to Channel 4 in September. "This year it's a historical Bake Off. These bakers are unique and have sacrificed a lot to be on the show. It is such a pleasure to watch and, going into another lockdown, I think it will really help people."
Val remains in regular contact with her fellow Bake Off 2016 contestants. "We chat most days and support each other when we have our ups and our downs. We're still all the best of friends and a unique family. I count Prue Leith as a good friend, too."
With lockdown tightening across the UK, Val encourages everyone to give gardening and baking a try, and not to shy away from combining the two. "Gardening is a wonderful thing for your mind, as is baking. Baking for others is very special. Both have kept me busy and sane during all this. My goal is to encourage others to do the same."
---
Spelt ginger biscuits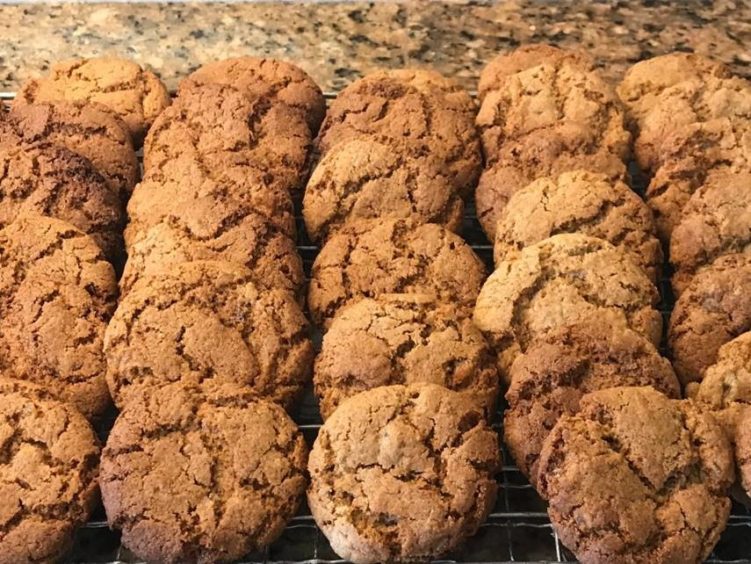 Makes approximately 50 biscuits
Preparation time: 15 minutes
Cooking time: 7-9 minutes
You'll need
125g unsalted butter
125g golden syrup
125g finely chopped stem ginger (can be bought ready chopped)
125g soft light brown sugar
2 egg yolks
500g spelt white flour
1 tspn vanilla extract
4 tspn powdered ginger
¼ tspn bicarbonate of soda
Method
Set the oven to 200C fan, 250C, 475F.
Place the butter, golden syrup and stem ginger into a microwaveable bowl and put on a medium heat until melted together. About two bursts of heat for one minute should do the trick.
Beat in the sugar, then the egg yolks, flour, ground ginger, bicarbonate soda and the vanilla extract.
Stir well until all are combined and you have a soft dough.
Place the dough balls about 6cm apart on the baking try so they don't stick as they spread out when baking.
Bake in the oven for 7-9 minutes until golden around the edges, but not too dark around the edges as they can taste burnt.
Remove from the oven and you will see that they sink down a little and have a crinkly look about them. Let them cool for a moment and lift off with a spatula onto a cooling rack.
Once cool they can be stored in an airtight tin and will keep for up to a month (but you will have eaten them before then!)
Val's Top Tips
Use your scales to make sure that the biscuits turn out the same size, by taking a teaspoon-sized ball of dough (20g) and placing it on the scales. Keep a small piece of silicon on the scales to stop the dough from sticking.
Pre-heat your baking sheets in the oven and slide the silicon liners on to the heated trays so that the biscuits begin baking straight away.
Visit Val's blog, here.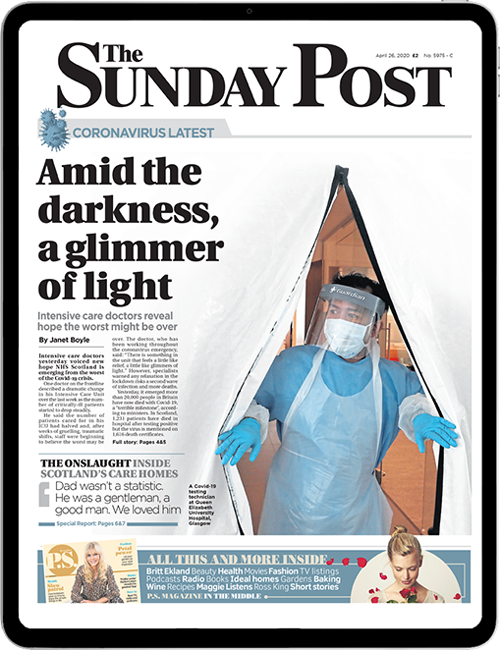 Enjoy the convenience of having The Sunday Post delivered as a digital ePaper straight to your smartphone, tablet or computer.
Subscribe for only £5.49 a month and enjoy all the benefits of the printed paper as a digital replica.
Subscribe