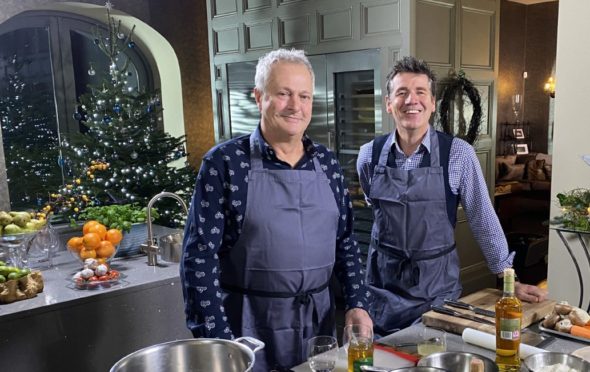 After a year like no other, Nick Nairn is celebrating Christmas by spending it in a place he's not been nearly often enough in 2020 – his restaurant's kitchen.
The chef has been one of the most outspoken critics of the Scottish Government's sanctions on the hospitality industry during the pandemic, with his businesses – like so many others in the industry – closed for long periods.
Nick's restaurant in Bridge of Allan recently reopened and he and wife Julia will have the doors open on Christmas Day for the first time. But for those who are planning on having Christmas dinner at home, Nick has a recipe and a few tips to share on a special festive episode of The Great Food Guys, the popular culinary show he co-hosts with Dougie Vipond.
"Who would have ever thought we'd be in this position?" said Nick, who opened his first restaurant in 1986 and was awarded a Michelin star five years later. "We'll be working on Christmas Day, so lunch for us will be a turkey sandwich, but on December 27 we'll sit down for roast beef with all the trimmings.
"We like to mix it up in our house. We alternate between turkey, goose, pork, roast beef and slow roasted lamb, which is a family favourite that works really well and is easy to do. If you're looking for a foolproof recipe, that's a winner."
The slow roasted lamb features in the Christmas episode of The Great Food Guys, filmed by Nick and Dougie at Fasque Estate in Aberdeenshire, where the first two series were also made. The pair formed a bubble in order to be able to film at close quarters.
"We were tested 72 hours before, then we isolated, and when we got there we had to stay put," Nick explained. "It was quite nice to be able to stand shoulder to shoulder. All The Great Food Guys material we did during lockdown had to be recorded socially distant.
"Dougie's my mate, so it was good to catch up with him. He lives three doors down from me but I've not been in his house since March. We've caught up in our gardens a few times but it's a bit chilly to be doing that now. It was fantastic to catch up, but bizarre that it was in Aberdeenshire when we live so close."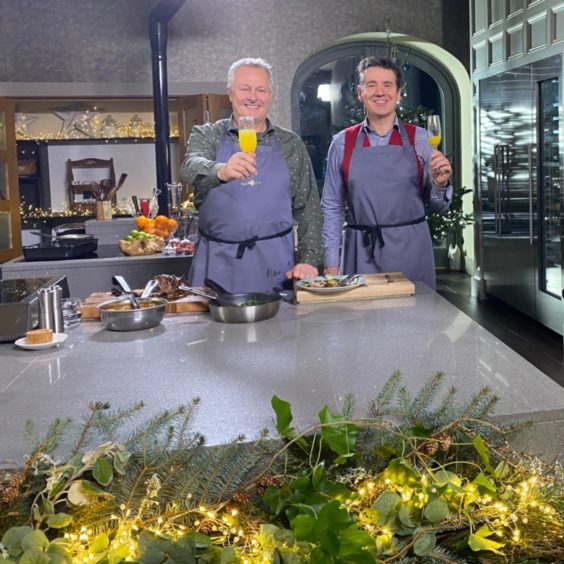 Special guest on the Christmas episode is Elaine C Smith, while wrestler and actor Grado features on the Hogmanay special. Both were socially distant from Nick and Dougie during filming. A third series will begin filming in February.
"We are getting some seriously good guests, A-listers, so we're quite excited," Nick continued. "The second series went out on the network after Saturday Kitchen, and we got more than a million viewers, pretty fantastic for a provincial Scottish programme with two old boys – there's life in us yet!"
Nick says the secret to a stress-free Christmas dinner is planning.
"Do your preparation ahead of time. Peel the tatties and put them in water, chop up the veg and refrigerate them, get the turkey – if that's what you're having – ready to go, and start in a tidy kitchen."
For those who stick with the traditional turkey but are never overjoyed at the results, Nick has a few pointers.
"Getting a good turkey is the starting point and there are some fabulous free range ones available, but if you haven't ordered one by now you might struggle.
"The most important thing is to cook it properly, as there will be thousands of undercooked and overcooked, sorry-looking turkeys on tables across the land.
"The first thing to do is ensure the oven is big enough for the turkey and tray. It should also rest for nearly as long as it cooks, so if you have an average-sized turkey cooking for around 105 minutes, it should sit uncovered for 60-90 minutes. People say it'll be cold but it won't, it'll still be piping hot in the middle and you can pop it back in for five minutes to give it surface heat."
Until Christmas, and however long it takes afterwards, Nick will continue to fight for the industry he loves in the hope that the New Year will breathe new life into the hospitality sector.
"It's dangerous to blame hospitality," he insisted. We're part of the solution – we are well regulated, we have track and trace and all the proper things that don't happen in supermarkets, transport, banks, and so many arenas that are unregulated and people can do what they want.
"Show me the science that shows hospitality is playing such a big part in transmission. We've been shut six months and the infection rate was going up. Hospitality is an easy target."
The Great Food Guys Christmas Special is on BBC iPlayer
---
Slow roasted lamb with potato gratin Dauphinoise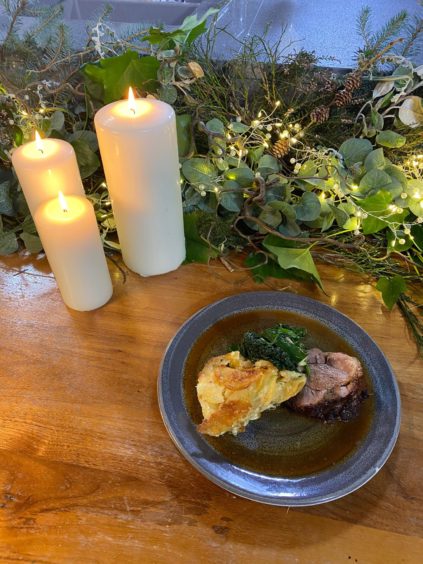 For the lamb
Leg of lamb (deboned)
Rosemary
Anchovies
Rioja (red)
Salt
Pepper
Method
Preheat oven to 180C
Cut slits in the lamb with a sharp knife
Push the rosemary sprigs and anchovies into the slits
Put lamb into roasting tin
Add a largeish glass of Rioja – pouring over lamb
Add salt & pepper
Cover in foil
Cook for 2 ½ hours – checking during cooking.
For the potatoes
3 large potatoes – Red Rooster or Maris Piper
300ml double cream
4 cloves garlic
Salt
Method
Crush garlic down with sea salt
Slice potatoes on mandolin or hand cut (thickness of a beer mat)
Put cream into pan on a gentle heat and add garlic
Place in potato slices, not letting them stick together
Heat through cream until it starts to thicken
Place pan into oven at 130C for an hour until top is crusted golden brown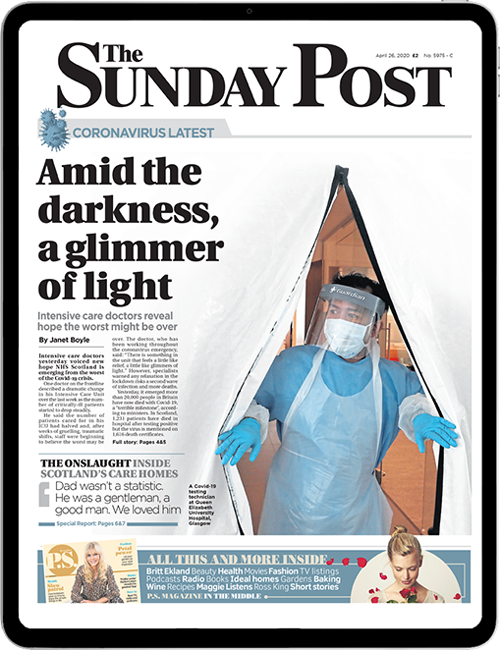 Enjoy the convenience of having The Sunday Post delivered as a digital ePaper straight to your smartphone, tablet or computer.
Subscribe for only £5.49 a month and enjoy all the benefits of the printed paper as a digital replica.
Subscribe