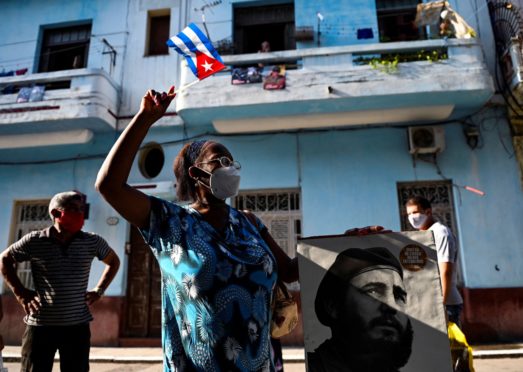 Carlos is standing on a dusty street eyeing a hodden sky.
Fearsome forces seem at play in an advancing wall of cloud and in the distance lightning strikes.
"It's July 26," says Carlos, looking back at the state bakery. "We might get bread."
It's Monday, the 68th ­anniversary of Fidel Castro leading 135 guerrillas in an attack on the Moncada military barracks in Cuba's second city of Santiago, the first major act of revolution.
Sixty-one rebels died, mostly by execution, and so July 26 has become communist Cuba's Christmas (or perhaps Easter, given the dead).
There's not much of a queue at the bakery, which is surprising. Normally lines for food in Havana are hours-long which, in part, led to protests that swept and shocked the Caribbean nation three weeks ago.
Instead Carlos has a ticket – number 13 – which he picked up earlier. "If there is bread I'll try to get you some," he says. Like many Cubans he leavens terrible need with heartbreaking generosity.
Cuba lies just south of Florida, an island nearly as long as Britain but home to just 11 million people. It is in trouble.
Sixty-two years of communist rule, accompanied by constant antipathy and embargo from the neighbouring United States, has left it exhausted and broke.
Debates rage over which of those two factors is the cause. "A communist regime that has failed to provide for its people, and failed for six decades," said Miami mayor Francis Suarez.
"The United States has forced pain and suffering on the people of Cuba by cutting off food, medicine and supplies," tweeted Black Lives Matter.
What is certain is that, three weeks ago, shortages of food, electricity and medicine forced people on to Cuba's streets in numbers like none seen before.
The government responded by sending out police and loyalists to break the marches. Independent media say 700 people were arrested, cars were overturned and at least one protester died.
For Cubans, used to ­security and peace, such scenes were shocking and since then both the government and the public have been trying to work out what it means.
It all seems a long way from 2016, when life here was looking up. Barack Obama arrived in Havana to "bury the last remnant of the Cold War".
Across the Florida Straits – that vast stream that passes Havana to eventually warm Scotland's shores – came a flood of American tourists.
Obama's detente ended shortly afterwards with the arrival of Donald Trump, who ramped up sanctions once again.
He closed down US tourism and made it hard for the 2.7 million-strong Cuban diaspora in the US to send money "home", a crucial income for people here.
Then came the pandemic, which closed down tourism from the rest of the world. Only 88,000 visitors arrived between January and May this year, a 10th of the same period last year (which was already suffering the ravages of Covid-19).
The effect has been a ­contraction of the economy by at least 11%. Meanwhile, Cuba's leaders remain wedded to Marxist central planning. Raúl Castro stepped down as first secretary of the Communist Party in April, bringing an end to six decades of Castro rule (his brother Fidel died in 2016).
In his last speech, he said the country should maintain its "socialist principal of the state's monopoly over foreign trade".
With only the government authorised to buy goods from abroad, and no money to pay for them, the inevitable happened.
Queues for staples such as chicken lengthened under the harsh Caribbean sun. A desperate trade in medicines began online.
People were spending all night without electricity, in temperatures well into the 30s. And the coronavirus, effectively kept beyond Cuban shores for much of 2020, was spreading.
The first town to explode was San Antonio de los Baños, on the outskirts of Havana. Images of people shouting "Freedom" and "We are not afraid" spread on a mobile internet introduced just three years ago. Soon people were on the streets the length and breadth of the island.
"We saw the videos of San Antonio," said Claudia, a 27-year-old from Havana who didn't want to give her full name. "No one said 'you have to go out'. It was spontaneous. It came from working-class people."
The crowds converged and walked towards Havana's old town. A clearly shocked president, Miguel Díaz-Canel, broke on to every television channel to denounce the protesters.
He made the "call to combat" that required all good revolutionaries to turn out and face down the threat.
The marchers were met in the city's historic centre by not just the police but Avispas Negras, special anti-riot troops and rapid reaction brigades, who dress as civilians.
They "provoked us," said Claudia. Then they surged into the crowd to drag people away in scenes recorded and posted on social media.
On the other side of the Florida Straits, Cuba's exile community sensed a regime that has lasted far longer than any of them believed possible – through the 1961 Bay of Pigs invasion, through the 1989 fall of the Soviet Union – might be crumbling. Francis Suarez, the mayor of Miami, went on Fox News and said US military strikes should not be ruled out.
In Washington, US President Joe Biden, who has surprised many by continuing Trump's hard line, appeared at a press conference with Angela Merkel, the visiting German Chancellor, and called Cuba a "failed state". And then, last week in Paris, unknown figures in the night threw fire bombs at the Cuban embassy.
In Havana, the messages have been shifting and mixed. At a government rally on the Malecon, the city's famed corniche, Díaz-Canel said: "Hate robs us of the time to love." Kenneth Fowler, a chemistry professor who was watching, told me: "I'm here today to express my support for our socialist system, for social justice."
But the police have been picking up those seen at the protests on social media. The government refuse to say how many people have been picked up, but an outside group, Cubalex, has counted 700.
Many have now been released but others have been sentenced. A photographer, Anyelo Troya, received a year in jail.
His mother told reporters he had said to the court: "How is this just when I haven't even seen a lawyer?"
He is now at home, pending an appeal. As other trials proceed, many of Cuba's leading cultural figures have been asking for leniency.
In the wider society a debate has begun. Even traditional allies have begun to criticise the government.
A young communist, Luis Emilio Aybar, published an article saying: "A failure to pressure the government from the left means the right will take the initiative." An open debate took place within Alma Mater, a magazine for students at the University of Havana.
By contrast, in 1997 a group of economists published an essay suggesting reforms, and all ended up in prison.
It's hard to know what will happen next. The atmosphere remains deeply unsettled. Covid is now beyond control, with hospitals overwhelmed and the daily number of dead now hitting 75.
In the past two weeks, five generals have died which, given most of their advanced ages – the revolution is now 62 years old – shouldn't be a huge surprise, but it has been noted and reported on.
Countries like Mexico, Argentina, Russia and Nicaragua have joined international solidarity groups in sending aid to try to stem the shortages. And yet all the main causes of the protests remain.
There are still power cuts and a lack of medicine and food. Despite a promise to set up a commission to look at remittences – the money sent home by families – Joe Biden is maintaining the pressure.
Back in Havana, ­in the neighbourhood of Vedado the shutters rise at the state bakery and Carlos gets his – well, anything but daily – bread. For today, for July 26, he has something to celebrate. And for the moment the storm has held off.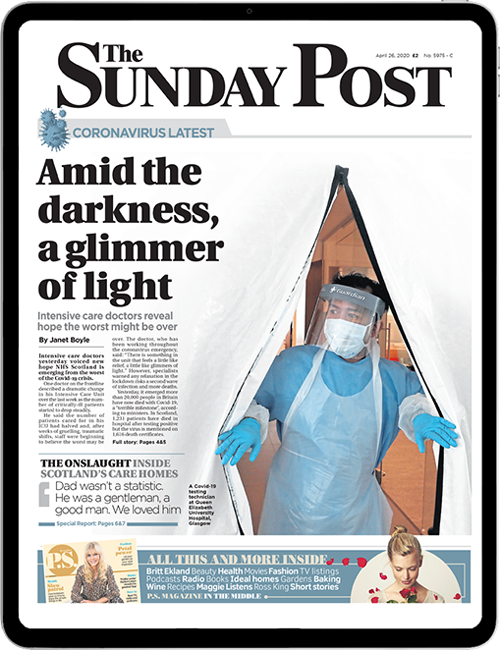 Enjoy the convenience of having The Sunday Post delivered as a digital ePaper straight to your smartphone, tablet or computer.
Subscribe for only £5.49 a month and enjoy all the benefits of the printed paper as a digital replica.
Subscribe