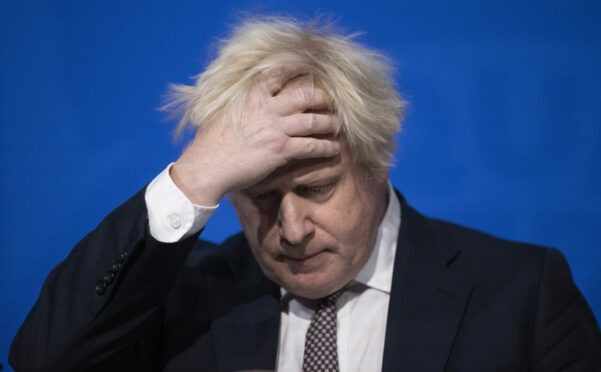 Boris Johnson last night tightened Covid restrictions hours after the first cases of a worrying new variant were confirmed in the UK.
The Prime Minister ordered testing for travellers arriving in Britain by air and reintroduced wider use of masks in England after two cases of the variant, named Omicron, were identified in Essex and Nottingham.
Both cases are linked to each other and to travel to southern Africa where the variant originated. It has caused concern among scientists and health officials worried it may be better protected against existing vaccines.
WATCH LIVE: COVID-19 press conference (27 November 2021)

Speakers:

🔵 Prime Minister @BorisJohnson

🔵 Sir Patrick Vallance, @UKScienceChief

🔵 Prof Chris Whitty, @CMO_England https://t.co/j29bqPuHPs

— UK Prime Minister (@10DowningStreet) November 27, 2021
Johnson had previously rejected calls to tighten restrictions, the so-called Plan B, in England but at a hastily-arranged Downing Street briefing, said the uncertainty around the impact of vaccines on the new strain meant more precautions were needed.
All travellers arriving to the UK will now be required to self-isolate until getting a negative PCR test, even if they are vaccinated.
Johnson also announced a return of compulsory face coverings in shops and on public transport in England, a measure that was never dropped in Scotland where Nicola Sturgeon said Scots should act as if the new variant is already here.
There are no confirmed cases of Omicron in 🏴󠁧󠁢󠁳󠁣󠁴󠁿 yet, but we MUST act as if it's already here. @scotgov is introducing new requirements for travellers, but we all have a part to play in beating this new threat. So 🙏
Wear 😷
Wash hands 🙌
Get vaccines 💉 &
Test before socialising https://t.co/6olQJZoDNq

— Nicola Sturgeon (@NicolaSturgeon) November 27, 2021
Omicron, named after a letter of the Greek alphabet to avoid stigmatising countries where variants are first found, has been classified as a highly transmittable virus of concern by the World Health Organisation.
It could be weeks before the variant is fully understood but it is feared Omicron may spread more rapidly than the predominant Delta variant and current vaccines may be less effective against it. Manufacturers say it could be 100 days before new vaccines are ready but remain confident Omicron can be effectively controlled.
Johnson said: "We don't yet exactly know how effective our vaccines will be against Omicron but we have good reasons for believing they will provide at least some measure of protection.
"If you're boosted, your response is likely to be stronger so it's more vital than ever that people get their jabs and we get those boosters into arms as fast as possible."
On the new travel restrictions, Johnson said: "We're not going to stop people travelling, I want to stress that, but we will require anyone who enters the UK to take a PCR test by the end of the second day after their arrival and to self-isolate until they have a negative result."
After his announcement, First Minister Nicola Sturgeon said everyone will have a part to play in curbing the spread of Omicron. She posted: "There are no confirmed cases of Omicron in Scotland yet, but we must act as if it's already here. The Scottish Government is introducing new requirements for travellers, but we all have a part to play in beating this new threat. So wear masks, wash hands, get vaccines and test before socialising."
Health Secretary Humza Yousaf said: "No cases have yet been detected in Scotland, but the fact this new variant is on our doorstep is clearly a worry and we should act as though it is already here.
"Following discussions today with Health Secretary Sajid Javid and the other devolved administrations – and in light of the well-known practical reasons for preferring a UK-wide approach to travel restrictions – we are aligning with the new border restrictions being introduced by the UK Government which will require fully vaccinated arrivals to take a PCR test within two days of arrival and to self-isolate until a negative result is received.
"These measures will be introduced as soon as possible and kept under constant review. However, we reserve the right to go further if necessary."
Have spoken to Health Ministers across the UK and have agreed to align to changes announced, however we will keep the situation under daily review and reserve the right to go further if required. https://t.co/as5AhJwlu3

— Humza Yousaf (@HumzaYousaf) November 27, 2021
Last night, Scottish Government advisor professor Devi Sridhar, of the University of Edinburgh, said it was right to be cautious but people should not be unduly alarmed: "Right now, there is a lot of uncertainty so they're trying to put in place steps in a precautionary way to make sure that, in case it does turn out to be more severe than we anticipate, we are in a better position.
"This is probably the first one since Delta that has attracted this kind of interest from the scientific community and this is why South African scientists flagged it and said 'have a look at this – there are 50 different mutations in Omicron and this could be a problem in terms of reinfections and making people more ill'.
"But it's early days and I think right now people shouldn't be anxious or stressed or worried because the government is basically saying we need to slow down the seeding throughout the country, try to slow down the spread and, anyway, the same things you'd be doing over the next few months to try to avoid getting Covid you'd be doing to avoid getting this new variant."
Scotland's contact tracing service has been put on high alert for the new variant.
One contact tracer said: "We've been told to batten down the hatches. We're preparing for the worst. My view is people should stay at home just now, as much as possible.
"We are looking out for people who are positive and who have come into the country through that southern African area. If we find someone who meets that criteria it's a red alert and they will have to isolate in managed quarantine for 14 days. But, as has happened before, the travel ban came in too late and it seems inevitable this new variant will reach Scotland."
All flights between the UK and six southern African countries were suspended on Friday afternoon and the EU and US quickly followed suit.
However, a total of 61 people who arrived in the Netherlands on two flights from South Africa on Friday have already tested positive for coronavirus and are in isolation. Further tests are under way to determine whether they have the Omicron variant.
Cases have already been reported in travellers in Belgium, Israel and Hong Kong. Germany also has a probable case.
Ten countries are now on the UK's travel red list – South Africa, Namibia, Zimbabwe, Botswana, Lesotho, Eswatini, Angola, Mozambique, Malawi and Zambia – meaning any arrivals will have to quarantine in a hotel for 10 days.
It could take weeks to know if current vaccines are less effective but manufacturers, including AstraZeneca, Moderna, Novavax and Pfizer, said they have plans in place to adapt their vaccines.
BioNTech, the company which developed a vaccine with Pfizer, says it will know in two weeks whether its current vaccine is likely to be sufficiently effective against Omicron, based on lab-based experiments.
A statement said: "Pfizer and BioNTech have taken actions months ago to be able to adapt the mRNA vaccine within six weeks and ship initial batches within 100 days in the event of an escape variant."
Moderna and Johnson & Johnson also confirmed they were testing the effectiveness of their vaccines against the new strain. AstraZeneca, Moderna, Novavax and Pfizer said they are already conducting research in Botswana and Eswatini, where Omicron has been identified, to collect data on how the vaccine performs against the new variant.
Professor Andrew Pollard, director of the Oxford Vaccine Group, which developed the AstraZeneca vaccine, said: "At least from a speculative point of view we have some optimism that the vaccine should still work against a new variant for serious disease but really we need to wait several weeks to have that confirmed."
He added it is "extremely unlikely that a reboot of a pandemic in a vaccinated population like we saw last year is going to happen".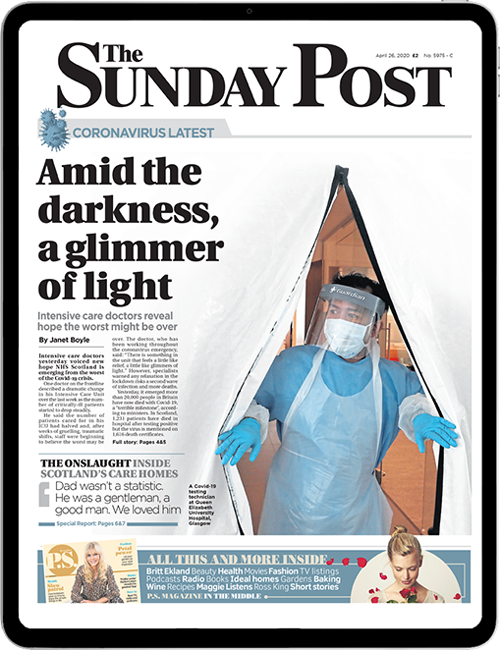 Enjoy the convenience of having The Sunday Post delivered as a digital ePaper straight to your smartphone, tablet or computer.
Subscribe for only £5.49 a month and enjoy all the benefits of the printed paper as a digital replica.
Subscribe