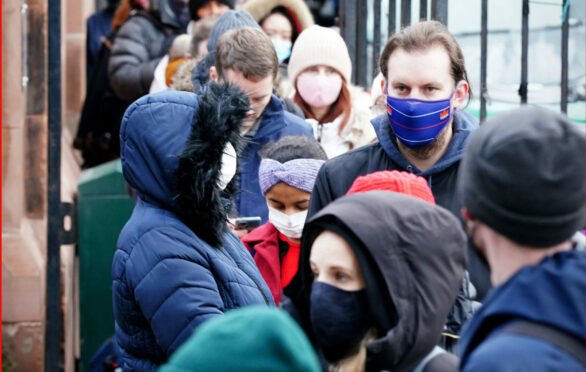 Public health officials have urged Scots to get boosted for the bells as Omicron continues to spread at speed across the country.
Warnings that young people, who are more likely to socialise at New Year and less likely to have had a third jag, could provoke a wave of infection prompted fresh calls for them to get boosted in the days ahead.
The message came as it was revealed nearly three quarters of all adults have now come forward to get their booster. More than 70,000 third doses were given each day on Wednesday and Thursday.
Figures released on Friday showed the number of Scots with the new variant is more than double previously thought after laboratories caught up with a backlog in genotyping testing.
The first research into the variant suggests it may be milder than Delta, the previous dominant strain but spreads quicker, driving up infections and threatening to overwhelm the NHS with emergency cases in January.
Boosters are seen as key but while vaccination centres will be closed today, they will reopen tomorrow. Test sites will operate for limited opening times today and New Year's Day but will be at full capacity on all other days. So-called "jingle jabs" were being given at some pharmacies in England yesterday.
Booster appointments must be booked at least 12 weeks after a second dose. Adults with a confirmed case of the virus since receiving a vaccine should wait four weeks from testing positive to receive their booster.
Health Secretary Humza Yousaf said the number of Scots already boosted reflected "the enormous national effort going on right around the country to accelerate our vaccination programme in response to the Omicron variant.
"Please book an appointment, or look out for drop-ins, so you can join the thousands of people who have been boosted by the bells. Getting vaccinated is your civic duty.
"You not only protect yourself, but your loved ones, those you interact with and the country as whole, so please get your booster as soon as you can."
First Minister @NicolaSturgeon has thanked all those in our vital public services who are working throughout the festive period and the thousands of people involved in the vaccination effort.

She also wished everyone in Scotland and further afield a safe and happy Christmas. pic.twitter.com/aAn8SAcfsZ

— Scottish Government (@scotgov) December 24, 2021
The Scottish Government said: "Opening hours will be reduced for a short period due to an expected drop in demand over the festive period and to allow hard-working staff to spend time with their family and friends. Our booster programme has picked up speed with record numbers of vaccinations given and 72.1% of those aged over 18 who are eligible by December 31 have now received their booster."
First Minister Nicola Sturgeon said in her Christmas message: "The vaccination programme has been a source of brightness during a really difficult month. Even three or four weeks ago, all of us were looking forward to a fairly normal Christmas and I am so sorry that this year's won't be quite like that but for many of us, because of vaccination, it will still be much more normal than last year.
"Getting vaccinated is the most important way, although certainly not the only way, in which we can all protect each other, as we get through this next phase of the pandemic."
Omicron appears milder than Delta according to preliminary studies published in the UK and South Africa.
Early evidence suggests fewer people are needing hospital treatment than with other variants – with estimates ranging from a 30% to 70% reduction. But a concern remains that even if Omicron is milder, the sheer number of cases could overwhelm the NHS.
The new variant has become the dominant strain of Covid-19 in Scotland, leading to a spike in case numbers in recent weeks.
Sturgeon announced last week that restrictions on hospitality and events would return after Christmas, with outdoor gatherings limited to 500 people, indoor seated events capped at 200, and standing at 100.
Nightclubs have also been ordered to close, while social distancing between groups and table service will be mandated for other hospitality premises.
Christmas gatherings were allowed to go ahead, although ministers and officials urged Scots to limit the numbers in attendance as much as possible.
National clinical director, Professor Jason Leitch, told BBC Radio Scotland: "You can celebrate Christmas – nobody can cancel Christmas, it's impossible to cancel Christmas.
"I hope that everybody listening has a fantastic family and loved one-centred Christmas. How you do that is up to you, but we're asking you to be as careful and as cautious as you can be. The virus is rising again because of the new variant."
"The Omicron variant is coming, but behaviour and vaccines are keeping it at bay a little."
Hospital cases climb as statistician warns of more big rises
The number of people in hospital with Omicron almost doubled in a day, from 24 on Thursday to 42 on Christmas Eve.
Meanwhile, cases in Scotland of the new Covid variant have more than doubled, Scottish Government figures show.
By Thursday night, 3,832 confirmed cases had been reported, taking the total number of cases of the new variant to 6,154.
However, the rise was partly due to a backlog of tests to identify the strain being received by Public Health Scotland. Meanwhile, the Office Of National Statistics has estimated that 1.7 million people in the UK had Covid in the week ending December 19, the highest number since comparable figures began in autumn 2020.
National statistician Sir Ian Diamond said there were some indications of people taking more care in response to the threat of Omicron, which spreads far faster than previous strains. However, he told BBC Radio 4: "At the moment I think it's far too early to suggest that we will see anything other than a continued rise."
He said the sobering figures showed "really big increases" in Covid-19 cases, with London "clearly the epicentre of the Omicron epidemic" with numbers going up "really steeply".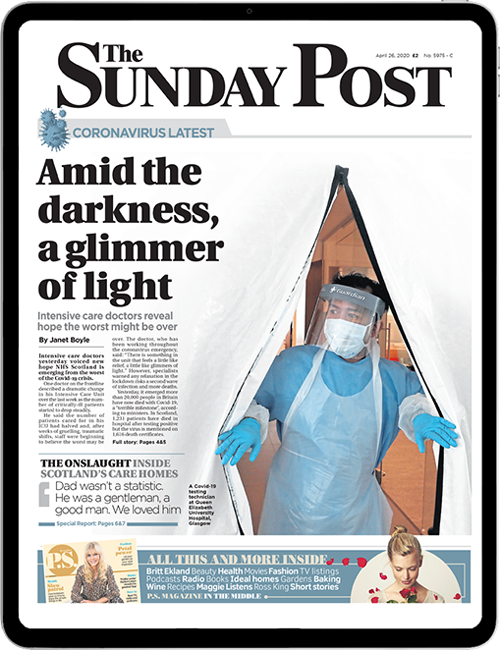 Enjoy the convenience of having The Sunday Post delivered as a digital ePaper straight to your smartphone, tablet or computer.
Subscribe for only £5.49 a month and enjoy all the benefits of the printed paper as a digital replica.
Subscribe