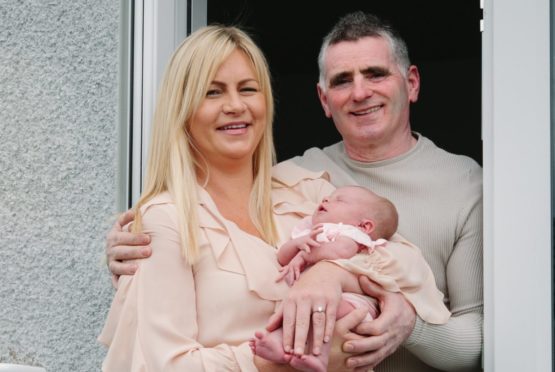 Newborn babies might be locked down with their ­parents due to the pandemic but experts believe the ­isolation may be helping, not ­harming, new families.
Cathy Finlay, an ­antenatal teacher with the National Childbirth Trust said: "Most new parents find the early days challenging, as well as exciting and life-affirming. It's the whole package.
"Grandparents tend to be an extra pair of hands, offering support in the early days and it can be an isolating time not having that social interaction.
"So being separated from their families is certainly making it harder – but there is a flipside.
"New mums and dads are looking for the positives in the current scenario and have been saying that, in some ways, having a new baby during lockdown is less stressful.
"They don't need to worry about getting ready and getting themselves out for a busy day or the stress of keeping the house clean and trying to work the baby's schedule around visitors.
"They can stay in their pyjamas at home and just enjoy the time with the baby with no interruptions."
Dr Mary Ross-Davie, Royal College of Midwives director for Scotland, said: "There's been a very mixed impact. People are having up days and down days throughout the pandemic, whether they are new parents or pregnant or just trying to get on with their lives.
"In terms of new mums, we have heard some different stories from different community midwives. And some of them have been surprisingly positive.
"New parents are enjoying the experience of being able to be at home together with their baby without needing to field visitors coming and going – and this is a good thing for them all.
"It is helping parents really get used to the baby, which is keeping the babies steady and calm and helping establish feeding, particularly breastfeeding. Sometimes visitors can break the rhythm of that.
"Midwives are saying babies are putting on weight well and feeding is going well."
She added: "There have also been reports from some areas of post­natal wards where partners have not been allowed in after the birth that women are drawing back the curtains and talking to each other more than they have in the past and they are giving each other support, which is nice to have.
"There are certainly silver linings, despite the difficulties of the current situation."
However, Dr Ross-Davie added that it was proving a particularly hard time for some women.
"Domestic violence often starts during pregnancy and we know there has been a real peak in this during lockdown," she said.
"There has been a lot of midwife contact about that from some wanting to get these women the help they need, and that's a real concern.
"As is mental health. Some women are feeling very lonely and isolated. It's really important for people to be getting out every day for mental wellbeing. And to maintain contact with other people. It is, of course, hard when they can't see friends and family face-to-face or have a hug or meet for a coffee.
"These are the things new mums really benefit from in terms of ­support and are just not possible just now."
Cathy said many mums were embracing technology as a means of keeping in touch with people.
"In the last few weeks, virtual support has really come into it's own. We have moved all of our antenatal classes online. New mums are still meeting their peers and practitioners on apps like Zoom.
"It's really business as usual, only everything has moved online."
Dr Ross-Davie added: "Midwives are still providing visits and support, either face-to-face or virtually, so if any pregnant women or new mums are feeling anxious and that they need more support, they should get in touch with their community midwife.
"It's important to remember that we are here to support you. Similarly, any pregnant or new mums with concerns about their baby's health or their own health should still get in touch.
"Just because we are dealing with the challenges of Covid-19 doesn't mean we aren't here for you."
---
'We're so lucky to be loving every minute of life in lockdown with our beautiful girl'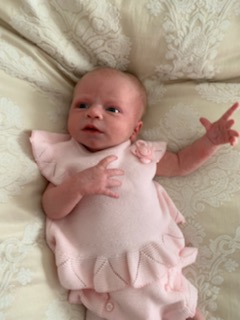 Most new mums are missing their own mums – but lucky Laura McCormack has hers by her side during lockdown.
The 36-year-old, from Bothwell, Lanarkshire, gave birth to baby Ella-Rose just two weeks ago.
And, as they were living together when social distancing measures were introduced, Laura's mum Mary and dad Brian have been able to help out with the new arrival.
"We were meant to move into our new-build house on March 27 – the week we went into lockdown," said Laura.
"We were staying with my parents while we waited for the keys when staying at home was announced, so were in isolation with them from the beginning.
"We decided to limit contact – get our food shop via click and collect and order anything else we needed online.
"So when we eventually got the keys for the house and were able to move in, we made a decision to carry on as we had been so they were able to come and visit us."
Project manager Laura says that, out of all the family, she and partner Robert Scott have probably run the biggest danger of contracting Covid-19 despite taking every precaution.
"We obviously had to go to hospital for the birth. But we have all been okay."
Laura had to give birth just as the coronavirus crisis was intensifying.
"It was a bit crazy," she said. "I have a history of pneumonia and it was thought the coronavirus peak would be just after my due date when it would be risky being in hospital, so I was induced to avoid that.
"My labour progressed really quickly to the point that Robert almost missed the baby being born. He arrived just 12 minutes before Ella-Rose was delivered.
"It was upsetting for me thinking he wasn't going to make it."
Leaving hospital to take Ella-Rose home for the first time also brought unexpected difficulties.
"Robert wasn't allowed to come in so the baby was wheeled out to the car park in a cot and transferred to her car seat there," said Laura. "I suppose I just waited so long for this baby to be born and it turned out not to be what I was expecting but I appreciate these things were done to keep us safe.
"I just need to remind myself that we're lucky it all went well – and there is much more happiness to come."
She added: "Since we got home it's been brilliant. We are on cloud nine, just loving every minute.
"Lockdown isn't ideal for having a new baby but we're making the most of it.
"And we'll get a chance to show Ella-Rose off to everyone we know and love eventually. It just might take time."
---
'It's just the three of us so plenty of time to bond'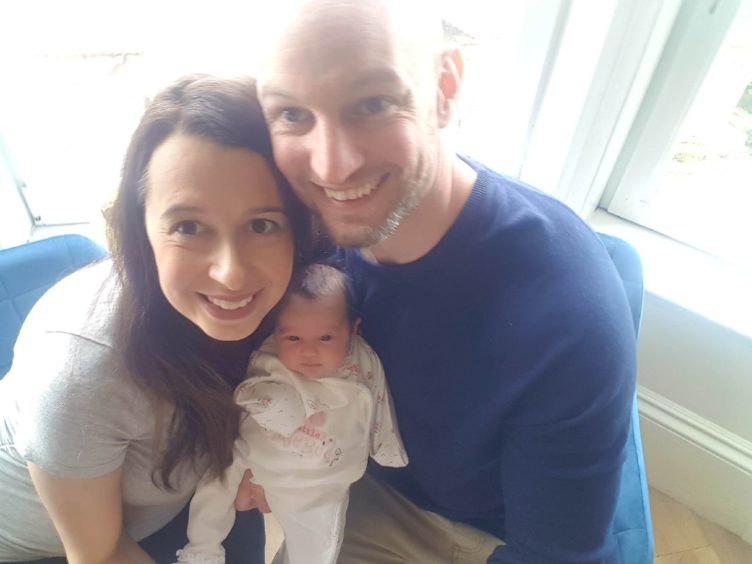 Claire Crombie welcomed baby Alice into the world just over a week ago and admits the lack of contact with friends and family has been hard.
"It is hard not seeing everybody," said Claire, 31, who is married to Neil. "We have had social distance visits from grandparents, and a few 'viewings' but people haven't been able to give her a cuddle. It's just not the same.
"People are only human and it's a big ask for everyone, especially people who are pregnant or new mums, but we are all sticking to it and hoping it will end soon.
"But, having said that, there are different positives. Alice is certainly a welcome distraction to coronavirus. Before she was born I was obsessed with watching the latest updates and had a lot of anxiety about her arrival, but I am too busy for all that now that she's here. And we have been able to have the chance to bond, just the three of us.
"To be honest, I don't know how I would have coped with lots of visitors. And Neil works in construction so he has been placed on furlough.
"At first we worried about the financial impact, but it has worked out in our favour as he has an extra two months of paternity leave to be at home and help which is great.
Claire, a primary school teacher from Glasgow, added: "For me the hardest bit was being dropped off at hospital in labour and having to navigate my way around empty corridors and find the maternity ward. That was just horrible, especially as a first-time mum.
"Thankfully, Neil was allowed to stay for three hours after the birth. I was in hospital for 24 hours but befriended a few other new mums and we're keeping in touch on WhatsApp.
"It has certainly been different from what I was expecting, but overall a positive experience."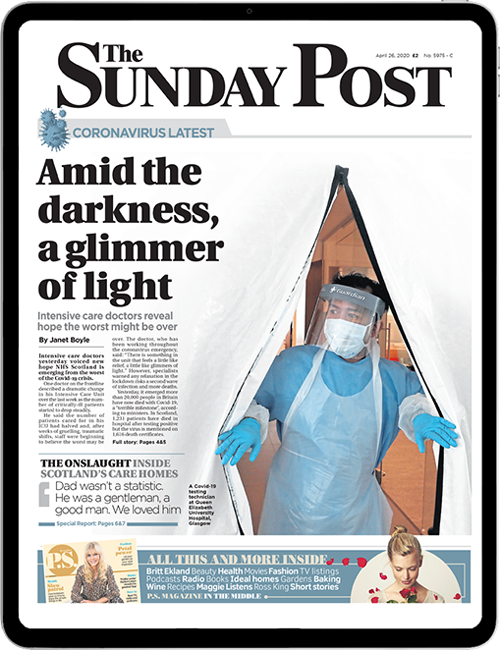 Enjoy the convenience of having The Sunday Post delivered as a digital ePaper straight to your smartphone, tablet or computer.
Subscribe for only £5.49 a month and enjoy all the benefits of the printed paper as a digital replica.
Subscribe