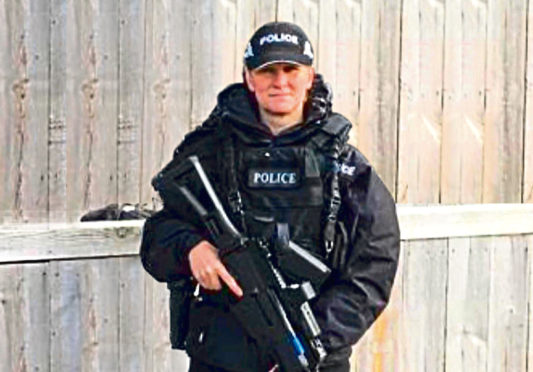 A senior police officer leading elite armed response units is under investigation after being accused of foul-mouthed and threatening confrontations with his team.
Inspector Jim Law, who is in charge of Scotland's elite firearms units in the east and west of Scotland, is the subject of a Professional Standards investigation following complaints over his behaviour.
The officer, who was named in a previous complaint involving a firearms officer accusing the force of sexism and bullying, has been removed from his leadership role while the investigation is underway.
The Police Federation, which represents rank and file officers, formally complained over Law's alleged behaviour towards other officers following two meetings last month.
The behaviour of another officer, a sergeant, in the leadership team is also the subject of complaint.
The meetings were called after officers had privately voiced concerns to the Federation about plans for a forced change in shifts, training and plans to expand the role of Police Scotland's specialist firearms unit.
Law ordered the firearms team covering the East of Scotland to Baird Street police station in Glasgow where he is accused of threatening to punch them, and swearing while demanding to know who had spoken to the Federation.
He is accused of not wearing a face mask during the meetings, allegedly telling officers, who had voiced concern at the lack of social distancing in the cramped room, "f*** Covid".
It is claimed the senior officer told the assembled officers that he had "already got permission to get rid of six" members of the elite squad before calling the officer who had spoken to the Federation a "coward". He also told officers to check each other's mobile phones to ensure he was not being recorded. He allegedly "threatened to punch whoever was responsible for reporting him, and told everyone that no matter what happened next, he would be able to retire and his pension would be unaffected".
Firearms officers in the east of Scotland section of the specialist squad have now been advised that another inspector will be their line manager while Professional Standards investigate Inspector Law's alleged behaviour.
One source said: "The situation and alleged behaviour would be concerning enough if it involved any officer, when it is an officer in charge of such sensitive units, when every single thing must be done absolutely by the book, it is frankly alarming."
When approached for comment on the allegations against him, Mr Law said he was "disappointed to be called while on holiday". The Scottish Police Federation declined to comment while Police Scotland said: "We can confirm that a complaint has been received in relation to an officer's conduct and this will be thoroughly investigated.
"As this matter is ongoing we are unable to comment further."
Whistleblower alleges toxic culture of bullying and sexism within force has left Scotland's armed police officers exhausted and demoralised
Law was previously named in industrial tribunal documents detailing alleged sexism and victimisation of firearms officer Rhona Malone, 44, who claims to have been forced out of the east of Scotland squad when she attempted to challenge what she describes as a bullying culture within the force. Another officer in the unit backed her claims in a lengthy report sent to the national force's most senior officers and revealed in The Sunday Post last year.
Malone said: "I named Law in my case after he wrongly accused me of throwing down my armoury belt. That would have been unprofessional and not a thing I would have done.
"His accusation was withdrawn and I was told by senior management that he had been spoken to. Police Scotland then attempted to gloss over what was a serious accusation, dismissing it as a miscommunication.
"I was unhappy at their explanation and felt the matter was not fully dealt with. I believed Inspector Law should have at least delivered a face-to-face apology to me over an accusation which could have ended my career."
The former officer, whose sexism and victimisation case will be heard later this year, alleges Police Scotland forced her out of the job she loved two years ago.
Ms Malone says emails sent by another inspector in the squad were "the final straw" for her. Inspector Keith Warhurst sent those emails, banning two females from working together when male officers were available for "obvious differences in physical capacity". His emails stated he was '"going to plunge in with both feet and open myself up to being accused of being sexist".
She said: "I naively thought by speaking up about those emails and the bullying culture, that Police Scotland would do something about it and make the changes it needed to make. Instead of sorting the problem, I was the one forced out.
"Police Scotland then asked me to accept a deal and sign a non-disclosure agreement which would have prevented me talking about what had gone on.
"I want to see things change for every other woman coming after me, so I refused to sign the agreement and I will be giving evidence on behalf of others officers at future industrial tribunals about the bullying culture Police Scotland clearly don't want being talked about."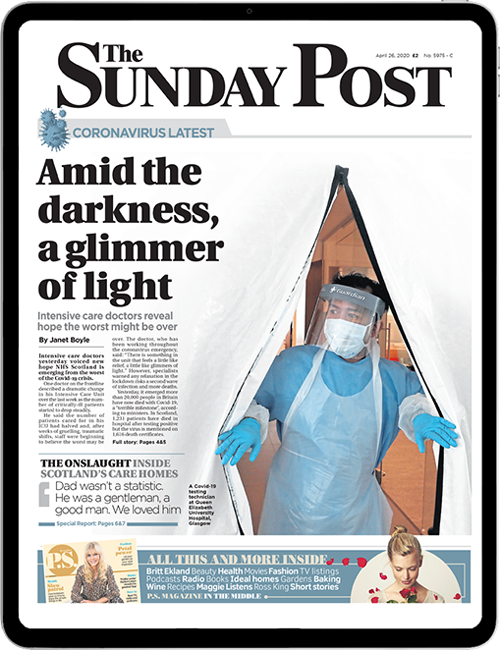 Enjoy the convenience of having The Sunday Post delivered as a digital ePaper straight to your smartphone, tablet or computer.
Subscribe for only £5.49 a month and enjoy all the benefits of the printed paper as a digital replica.
Subscribe