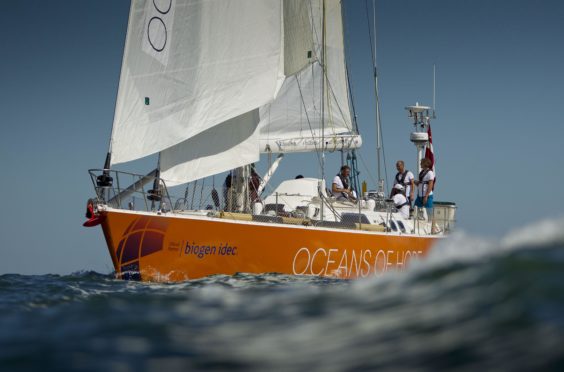 A captain who sailed from Copenhagen to Leith on a boat crewed by people with multiple sclerosis (MS) is already planning his next trip back to Scotland.
Dr Mikkel Anthonisen, a senior consultant neurologist from Denmark, helmed the Oceans of Hope for the 900 mile journey, with the mission to empower people with MS through his own love of sailing.
Age, ability and mobility are not an issue on board the yacht, which circumnavigated the world with a crew of people living with MS in 2014.
A new crew joined Oceans of Hope on Sunday at Port Edgar, South Queensferry to finish the last leg of the voyage alongside the permanent crew members, undertaking tasks from setting the mast to steering the 60ft craft.
With support from Trigon Foundation, a pilot study is being conducted on board to find out why and how people living with MS can benefit so much from being part of the project.
The study hopes that the positive benefits felt from being part of Oceans of Hope can be transferrable – further benefiting people with MS in everyday life.
Dr Anthonisen, 52,  said: "We had a good sail from Denmark to Scotland. It is always good crossing the North Sea which can be unpredictable at times.
"We have had a warm welcome and it was very special to visit Orkney which has a high prevalence of MS.
"I have plans for the next big sailing adventure to sail to the Arctic area taking in Scotland too – this is still on the planning table though. Oceans of Hope can help to change the mindset and change the story for people with MS.
"There are no patients on the boat, no passengers – we are all crew and work together."
Retired psychology lecturer Clive Davies, who has been living with MS for 28 years, joined Oceans of Hope as part of the sail.
The 73-year-old keen sailor, from Edinburgh, also crewed on the Panama to Galapagos leg in the 2014 world circumnavigation.
He said: "Sailing is a great leveller. On a sailing boat everybody is a bit unsteady on their feet, anybody can feel sea-sick, and anybody can sit and turn a winch. So sailing enables people with MS to do new things that they never thought they could do."
Carla Callaghan, a communications officer from Hamilton, was diagnosed with MS  in 2013. She joined her first ever sail on Oceans of Hope.
The 34-year-old said: "I heard about Oceans of Hope and couldn't wait to get on board and become a crew member for their sail into Leith. It was an empowering experience and I felt proud to be part of Captain Mikkel's inspiring crew.
"To be able to do something like this regardless of ability or experience is incredible and I would urge everyone with MS to get involved."
Scotland has one of the highest rates of MS in the world with more than 11,000 people living with the neurological condition.
It can affect how a person thinks, feels and moves.
Oceans of Hope, which is a registered charity, regularly run sailing events which take place in the UK and around the world which can be joined by anyone living with MS.
More information can be found at oceansofhope.org