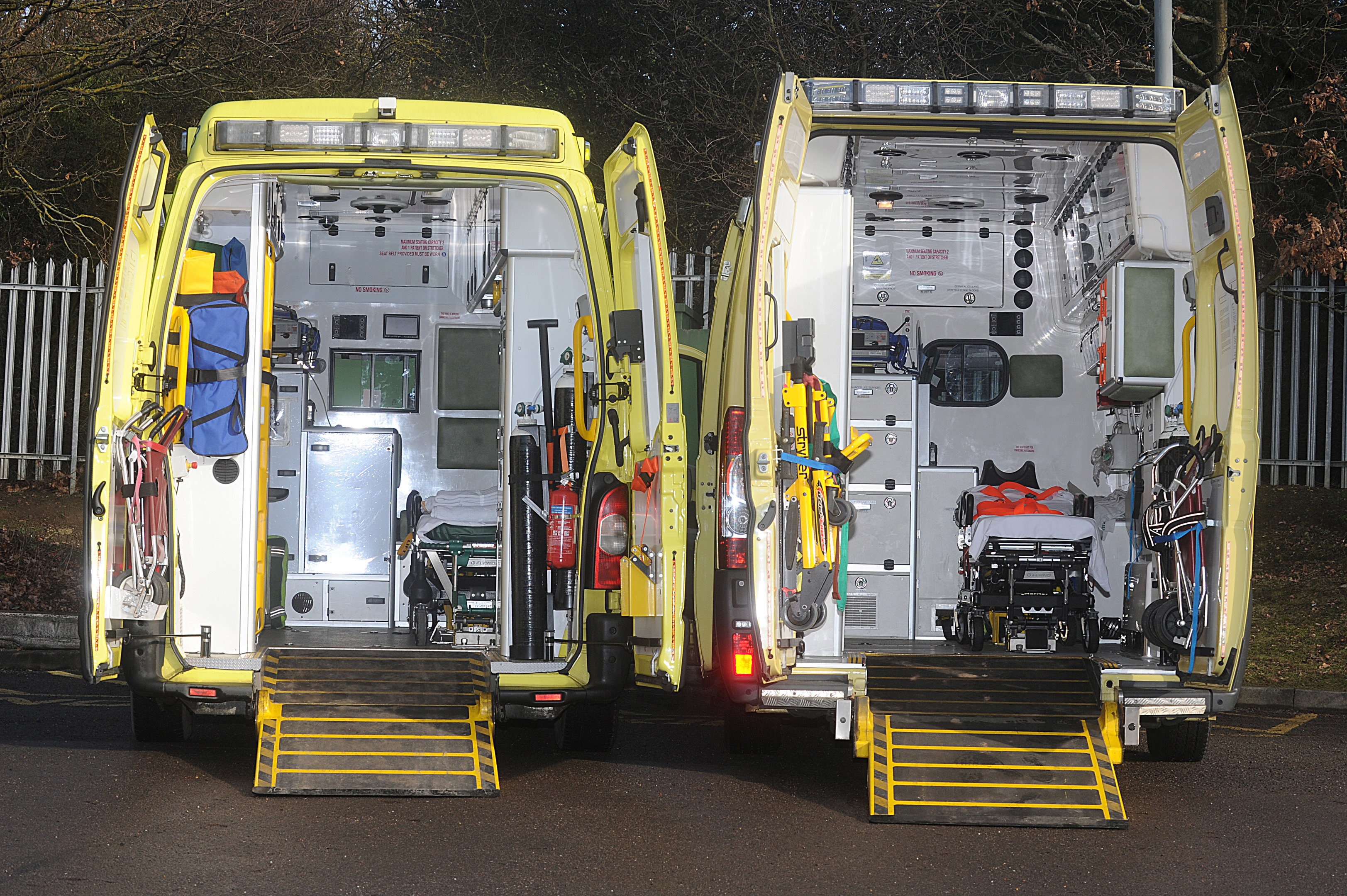 SOARING numbers of obese people are being transported to hospital in special heavyweight ambulances, placing a huge drain on the health service.
Overweight patients accounted for more than 21,000 ambulance journeys last year with the number needing specialist transport to get them to medical appointments more than doubling in recent years.
Figures obtained by The Sunday Post show obese patients were transported 21,041 times in 2016/17 compared to 9399 in 2010/11.
Specialist bariatric ambulances – which have wide loading doors and reinforced axles capable of carrying heavy loads – were also used 76 times to take similar patients to A&E wards in the last year.
And firefighters were called out 40 times during the same period to deal with call-outs for obese patients – the highest number since 2010/11.
The Scottish Ambulance Service says that overweight patients are one of the factors heaping increasing pressure on patient transport resources.
Health experts say the figures reveal the growing impact Scotland's obesity crisis is having on emergency services – and show the country is failing to shed its image as one of the unhealthiest in Europe.
Tam Fry, chair of the National Obesity Forum, said he was "not surprised" by the rise in incidents.
He said: "These ambulances can take people who weigh up to 70 stone. It's a tragic sign of the times that we now have people that big.
"The same is happening with the fire service. It is having to invest in bigger hoists and stretchers to bring these people out of difficult circumstances such as first floor flats.
"They are having to break down walls and windows to get these people out of their homes. It's a huge expense. You can be talking about six-figure sums with the number of personnel required.
"It's a tragedy but it's par for the course and it's going to get worse."
In Scotland, around 30% of people are obese with the proportion expected to rise to 40% by 2030. Meanwhile, around 200,000 Scots suffer from type 2 diabetes.
Treating health issues related to being overweight now costs the Scottish economy an estimated £2.37 billion per year.
As the number of severely overweight people increases, demand on emergency services has grown. In 2016/17 the Scottish Ambulance Service carried out 21,041 journeys for patients who required bariatric support.
And while this figure was slightly lower than it was in the previous two years it is still higher than any other period between 2010/11 and 2013/14.
Such is the growth in demand that since 2007 all patient transport vehicles in Scotland have been designed to cope with obese patients.
The same approach has also been taken for A&E ambulances since 2011.
Bariatric ambulances have specialist equipment designed for transporting obese patients, which can include wheelchairs and lifting equipment.
And it isn't just paramedics who are increasingly dealing with bariatric patients. The number of times firefighters in Scotland have been called to rescue morbidly obese people rose from 33 occasions in 2013/14 to 40 in 2016/17.
This compares to just five call-outs in 2010/11. However, the real number is likely to be higher as the figures do not include the Strathclyde area.
Bariatric stretchers, hydraulic winches and electric saws are among the equipment used, although firefighters are often required to lift obese patients by hand.
It costs around £400 to send out a fire crew to help, at a time when fire service budgets are under increased pressure.
The NHS is spending £11,000 a day on drugs and weight loss surgery for obese Scots. Between 2013 and 2015, 39,500 people are said to have sought medication for obesity while hundreds of people received weight loss surgery.
This included £5.3 million in prescriptions for drugs used to prevent fat absorption – medication which is usually reserved for people with a dangerously high body mass index. Over the same period, 815 people received weight loss surgery – which costs £7000 on average per operation.
Professor Michael Lean, chair of human nutrition at Glasgow University, said the number of people with severe obesity has grown.
He said: "We know that number is increasing. Collateral information shows the use of facilities for these people have gone up such as wider doorways, reinforced toilets etc.
"It's a good thing the medical facilities are there for people who need them. However, it does not detract from the fact we have a problem.
"The people in this category are the same people running into massive problems with medical complications and unlikely to lead an independent life. It's the tip of the iceberg."
A spokeswoman for SFRS said: "While the transportation and care of bariatric patients is a medical issue, we do provide assistance to our partner agencies.
"Where we have resources and appropriate specialist skills that could assist them in the safe resolution of an incident then of course we do so."
The Scottish Ambulance Service said it does not purchase any vehicles or equipment for the sole use of bariatric patients.
A spokesman said: "Since 2007 all standard Patient Transport vehicles have been designed to convey bariatric patients, and since 2011 the majority of Accident & Emergency ambulances are also designed to be bariatric capable."
The Scottish Government said it is due to consult on a new diet and obesity strategy this year. A spokesperson said it is also investing in areas to support healthier lives and is engaging with the food and drink industry on action to offer healthier choices.
CASE STUDY
AMY JOHNSTON knows how difficult it can be for obese patients to attend medical appointments.
The 21-year-old rarely leaves her house due to the pain she suffers in her joints and back as a result of her weight.
She said people can be often be "ignorant" of her situation.
Amy, from Airdrie, weighs more than 30 stone and would not be able to take public transport to attend hospital.
Instead, mum Sharon borrowed money from family members to buy a van to take Amy to doctors' appointments.
However, Sharon said Amy also had to rely on the Scottish Ambulance Service when she was left in crippling pain due to gall stones in 2014.
Sharon, 41, said: "She was in terrible pain. Her lips would go blue and her colour would drain.
"I said to the ambulance staff I was sorry for keeping them from a heart attack or a road traffic accident."
After several attacks Sharon, who is her daughter's full-time carer, said doctors removed Amy's gall bladder.
Discussing the increase in emergency call outs for bariatric patients, Sharon said: "It's sad the figures have gone up. I think education is the way forward to deal with the obesity epidemic."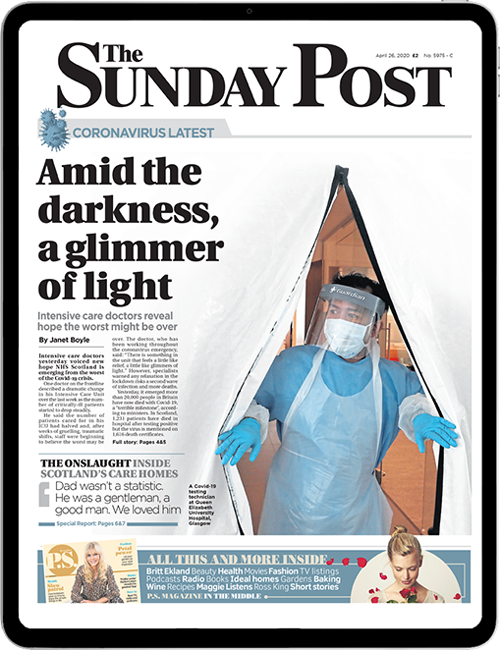 Enjoy the convenience of having The Sunday Post delivered as a digital ePaper straight to your smartphone, tablet or computer.
Subscribe for only £5.49 a month and enjoy all the benefits of the printed paper as a digital replica.
Subscribe