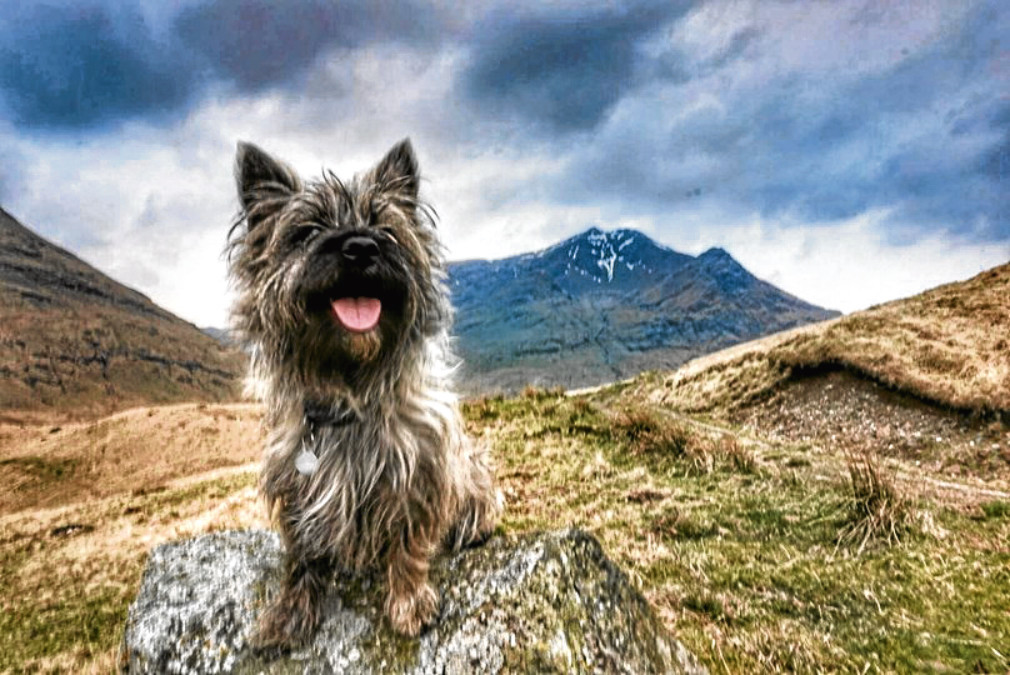 HE stands just 10in tall but plucky little Cairn terrier Oran has bagged almost 40 Munros.
Chris Nelson's pet dog braves sub-zero temperatures to scamper to the summit of some of Scotland's most iconic hills.
He scales peaks of more than 3000 feet for the love of Chris's girlfriend Kirsty Young who has cystic fibrosis.
Owner and dog are attempting to scale Scotland's all of 282 Munros in less than three years to fundraise for the Cystic Fibrosis Trust.
The determined duo have climbed 39 iconic Scottish peaks since April.
As pocket rocket Oran is less than a foot tall he often disappears in snow en route as he races towards the summit.
He then emerges to pose for pictures at peaks to record his hill-climbing feats.
As Chris revealed: "If he gets lost in the snow he just tunnels his way back to me and stands by my legs.
"Sometimes he pokes his nose out of the snow to be lifted.
"He fears nothing and scrambles up steep ledges that would defeat most dogs three times his size.
"He's just turned two and after covering 26 miles on a summit he will sleep for an hour or two and wake ready for a walk."
The courageous pup was named after Òran Mór, the Glasgow pub where Chis and Kirsty met.
PE teacher Chris, 30, and music teacher Kirsty, 28, from Kilsyth, North Lanarkshire, both carry the cystic fibrosis gene.
Only Kirsty has the debilitating breathlessness the disease brings to patients.
She takes lifesaving drugs to stay healthy.
Chris and Kirsty are now undergoing medical tests for embryo selection to have an unaffected baby.
Chris said: "We are just like any other young couple and want to live our lives normally. Hopefully, fertility scientists can identify an unaffected embryo and allow us the chance to be parents."
Kirsty said: "My two great aims in life are to be able to climb Munros and become a mum.
"But it will take a miracle drug to make my lungs fit enough to scale those beautiful peaks and medical science to help us have a healthy baby."
Talented singer Kirsty is a member of the National Conservatoire of Scotland's Les Sirènes choir which won the prestigious UK Choir of the Year in 2012.
She smiled and said: "Singing has been great for my cystic fibrosis. It helps keep my lungs clear."
Feisty Oran is now in training for abseiling Scotland's trickiest peak, The Pinnacle in Skye. The terrifying sheer flank is rated by experienced climbers as the toughest in the UK.
Chris is in the process of buying a special harness to allow Oran to be eased the last few feet to the summit for another triumphant picture.
He smiled and said: "Even humans need to abseil those peaks so Oran will need a helping hand.
"The breed is hardy and known for tolerating cold weather. I guess that's because of their genetic link to Skye and the Highlands.
"However, he has a soft side too, and slows down when he is out with Kirsty. We have never known a dog to pick up so well on his surroundings."
Chris teaches at Eastmuir Special Needs School in Glasgow's East End and Oran is a favourite with pupils.
"He is really gentle with children and he has a lovely sense of occasion."
To date, the kind-hearted terrier and his owner have raised more than £1000 for the Cystic Fibrosis Trust.
"We know the value of having good health and just want to help those with cystic fibrosis."
To donate, go to: justgiving.com/fundraising/chris-nelson10