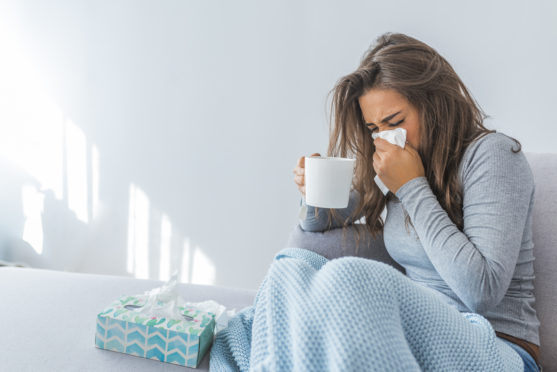 Autumn is a great season for so many reasons. There's the beauty of the leaves changing colour and the fact that you can wrap up in loads of cosy layers and hit the shops in search of a new winter coat and hat.
As if that wasn't enough, add into the equation that Christmas is just around the corner.
But there's an inevitable downside to the colder climes – and it's not just the drop in temperature.
With coughs, colds and flu bugs lingering in the air, and weakened immune systems, it's the season that can send your health into complete chaos.
Scientists still don't know why we catch more colds in winter than in summer, but it's one of the most common illnesses, which can be caused by around 200 different viruses.
Once colds and flu start to circulate in schools and offices, there seems to be no escape.
But there are precautions you can take to limit your chances of infection.
Instead of waiting for that first sneeze or tickle at the back of your throat, make sure your body is in tip-top shape by ensuring you have your five a day.
It could also be wise to take vitamin supplements to help fight off those nasty germs.
And consider having a flu jab, which the NHS says can be just as beneficial to children as the older generation.
Every year thousands of children are hospitalised with flu and even healthy youngsters can become seriously ill from it. Protecting children can also stop it spreading to family, friends and others.
To date more than 1.6 million doses of the nasal vaccine have been given to two to 11-year-olds as part of the Scottish childhood immunisation programme.
The Sunday Post Doc says others should consider the vaccination too.
"Pregnant women are given the immunisations, as are the very overweight, or those with certain medical conditions," says the Doc.
"That includes chronic respiratory diseases, like certain types of asthma, or chronic heart disease like heart failure.
"Those with kidney disease, or who have experienced a neurological disease like a stroke, should get themselves immunised too. And it's probably wise for people with MS or who have cerebral palsy to get it, likewise those who have diabetes.
"Anything that causes problems with your immune system – like chemotherapy or HIV – and those who have problems with their spleen, like coeliac disease should contact their local surgery."
The Doc added: "Everybody over 65 should be immunised to begin with. I often hear older people say they don't need it because they've already had flu. The chances are though they've experienced a flu-like condition and not flu itself – so it's worth getting in touch with your surgery to find out if you're eligible."
So if you don't fancy spending this winter coughing into your keyboard and sniffling into your shirt sleeves, it might be time to rethink your health strategy. Here are some recommended body boosters to help support you through the cold snap…
Vitamin D
Known as the sunshine vitamin, it is essential for keeping teeth and bones healthy, regulating mood and improving resistance against winter bugs. According to the British Nutrition Foundation, approximately one in five of us have low levels, and government advice suggests we should all be taking a supplement in the darker months.
"Your susceptibility to colds and flu increases in autumn and winter, partly because viruses survive better in cold weather, and partly because immunity is reduced by breathing dry, centrally-heated air," says Dr Sarah Brewer, medical director of Healthspan. "Another factor is having lower levels of vitamin D."
The best source of the good stuff is getting out in the sunshine; when the sun's UVB rays hit our skin, the body is able to synthesise vitamin D naturally. The problem is that sunlight is scarce during winter and it can be particularly hard to get your daily fix if you're cooped up in an office.
Vitamin C
Probably the most well-known defence against the coughs and colds of the winter months. Studies show that it can help bolster the immune system and reduce inflammation in the body as well as fight fatigue.
"A healthy, balanced diet rich in key immune-supporting vitamins and minerals should always be your first line of defence against colds and flu" says nutritionist Rob Hobson. "I recommend including plenty of vitamin C-rich vegetables and fruits."
Iron
Winter can easily affect your energy levels and mood, and if you find yourself feeling fatigued during the day, it might be a good time to check your iron levels.
This important vitamin plays a part in the production of haemoglobin, the substance in red blood cells that carries oxygen from your lungs to transport it throughout your body.
If you don't get sufficient oxygen to the body, it can leave you feeling exhausted, affecting everything from your brain function to your immune system's ability to fight off infections.
Garlic
Garlic has shown promise as a treatment for preventing colds and the flu. Studies have shown that it reduces the risk of becoming sick in the first place, as well as how long you stay sick. It can also reduce the severity of symptoms.
If you don't fancy eating raw garlic, try a supplement.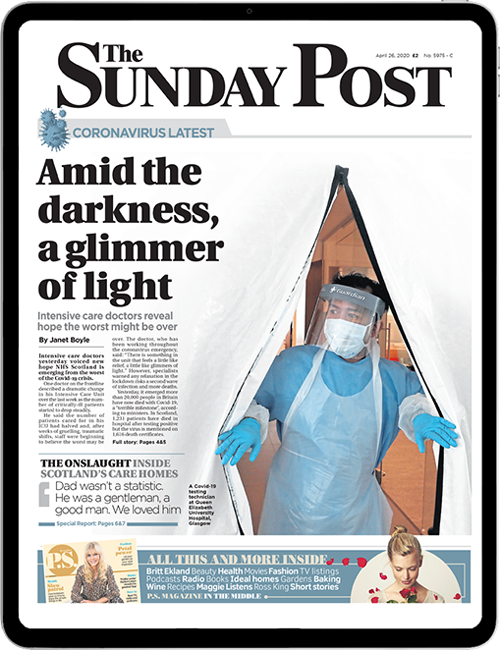 Enjoy the convenience of having The Sunday Post delivered as a digital ePaper straight to your smartphone, tablet or computer.
Subscribe for only £5.49 a month and enjoy all the benefits of the printed paper as a digital replica.
Subscribe