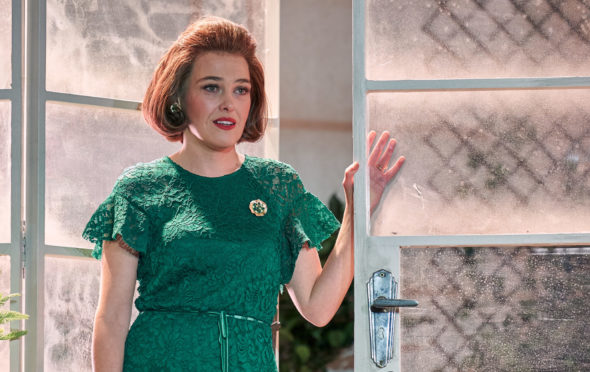 Not Going Out star Sally Bretton says the secret to the show's success is meticulously testing every joke live before filming begins.
The BBC sitcom, written by and starring comedian Lee Mack, began in 2006 and continues to deliver enviable ratings, so much so it has been renewed for another three seasons, taking it to at least 2022.
Sally, who has been in the show since its second series and plays Lee's wife, said: "Everything Lee writes, we'll go and stand in front of a theatre audience and test every joke – he doesn't put in anything that hasn't passed the test.
"There are fewer and fewer studio sitcoms on the telly and the audience knows what they are going to get when they turn it on. It's warm and doesn't demand anything more than to sit back and have a laugh.
"Everybody genuinely has a good time working on it and laughs a lot.
"Knowing the show is on for another three years makes it interesting for Lee to write and gives him freedom to try different things.
"When you see Lee on Would I Lie To You? or being interviewed, you see his brain is lightning quick. His gag rate is so fast and there are so many gags per episode. That has a lot to do with its success as well, I think.
"By the time the 13th season ends, I'll have been on the show for 15 years. It doesn't feel that long – it's only when I see reruns and see how young we all look that I realise."
The mum-of-three is on stage this month as Margot in the UK tour of Dial M For Murder, Frederick Knott's thriller which is best known for its 1954 film adaptation by Alfred Hitchcock.
Tom Chambers stars as the charismatic and manipulative Tony Wendice, a jaded ex-tennis pro who has given it all up for his wife Margot.
When he discovers she's been unfaithful, his mind turns to revenge and concocting the perfect crime.
"Margot is interesting," Sally said. "She is someone who wants an exciting life and falls in love with Tony, but it's a lonely experience for her and it's then she meets a writer who sees her for who she is.
"She falls for him but is overwhelmed by guilt and tries to rescue her marriage. It's a good journey and a nice part to play.
"This version is set in 1963, not only because so much of the period's interior design and clothing is reflected at the moment, but because the death penalty was abolished the following year and we need that hanging over the characters' heads.
"Frederick Knott wrote it in the '40s but he couldn't get it made – none of the theatres would take it. Then the BBC took it on and made it into a mini-series. People loved it, went mad for it, and the theatres decided they would like it after all. After that, of course, came the Hitchcock version that made it so famous."
Sally is looking forward to bringing the tour to Scotland, marking her first time working north of the border.
"It's half-term when we're in Aberdeen, so I'm bringing the family with me and I've been researching things for us to do while we're there," she added.
"I've been in Edinburgh and Glasgow before but I've never played in any of the theatres. I'm really looking forward to it."
---
Dial M For Murder, His Majesty's, Aberdeen, until Feb 22, King's, Edinburgh, Feb 24-29, Theatre Royal, Glasgow, Mar 2-7